Take a Trip to France and Experience Our Top Favorite Holiday Spots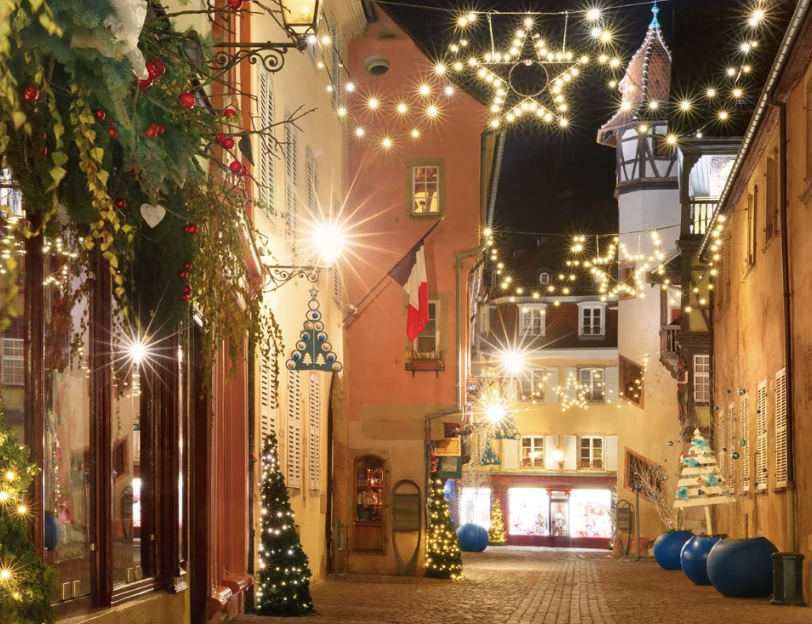 Every year, Christmas markets come to life throughout Europe, but those throughout France's Alsace region are truly magical, like a portal taking you to a place where goodwill and wassail seem to pour over everyone in sight. Each town hosts a unique market with treasures you can only get then and there. The narrow cobblestone streets are filled with the aromas of delicious treats, treasure troves of one-of-a-kind gifts, local merriment and gingerbread-like décor that will reinstate your belief in Old Saint Nick.
From the north to the south of Alsace, holiday cheer can be found around every corner. Of course, you have to hit the must-sees, but don't forget to head off the beaten path and discover local events and sites to immerse yourself in the Christmas spirit. Celebrating the holidays in France is an experience filled with wonder and a chance to let your inner child feel alive.
Where to Go
Strasbourg is the capital of Christmas in France, home to one of the oldest Yuletide markets in the world. It is the place to go if you love Christmas and a magical holiday atmosphere.
Not far from Strasbourg is the lovely, historic city of Colmar. Fairy-tale pretty, it positively sparkles at Christmas. The northern French city of Lille is a gastronomic delight and a shopper's paradise. The fabulous architecture, narrow winding streets and incredible museums and art venues here make this one of the best places for a spot of Christmas shopping in Europe.
Nestled between the foothills of the Vosges and the vineyards is the little medieval town of Kaysersberg, which hosts one of France's most authentically charming Christmas markets.
The little town of Le Touquet on the Opal Coast of northern France in Pas-de-Calais is stylish and dazzling at Christmas. Thousands of twinkling lights, Parisian-style shops and a sensational photo op spot—the bandstand in the park—are among the delights.
Irresistible, jaw-droppingly lovely Riquewihr is a special place all year round but, during the holidays, its streets are lit up and it's a truly captivating little town. There are special shops dedicated to Christmas, fabulous restaurants and exquisite architecture everywhere you turn.
If it's the glam you're after, it doesn't get much more opulent than Reims at Christmastime. This is a town that knows how to put on a show and then toast it with local champagne. Santé!
Many châteaux in France dress up for Christmas, but one of the best is the gorgeous Château Vaux-le-Vicomte (about an hour's drive from the center of Paris). Cue the elegant decorations, a carousel on the grounds and candlelight evenings—the effect is sublime and stunning.