An Artist with Animal Instincts
Q&A with acclaimed Western artist Susan Bell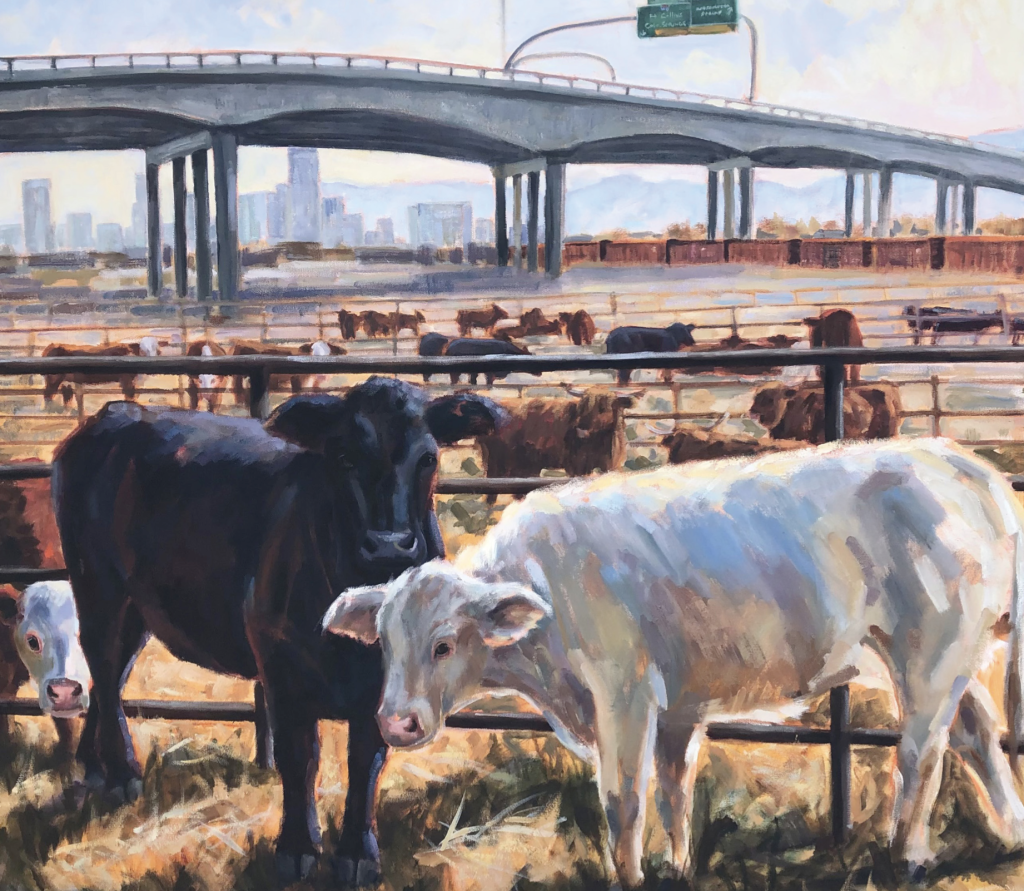 Colorado artist Susan Bell has garnered numerous accolades over the years for her oil paintings and sculptures, which have been shown in museums and galleries across the West. When she paints livestock at Denver's National Western Stock Show, crowds gather to admire her work.
But perhaps her highest compliment came from Cream drummer Ginger Baker's cat, who took one look at a life-size cat that portrait Bell created and hissed because the painting looked so real.
The 62-year-old artist, who lives in Sedalia, took time away from creating art and helping children through equine-assisted therapy to chat with Colorado Expression magazine. The interview has been edited for length and clarity.
I know you're a Colorado native. Where did you grow up, and did it inspire you in any way to become an artist?
I grew up in Denver. Where we lived, which was Harvey Park, it wasn't much south of Hampden. Actually, my cousin and I had horses and they lived right off Hampden, between Sheridan and Wadsworth. We rode our horses all over. There was nothing there— there was no development. Greenwood Village was like a farm, as was Cherry Hills. Other than that, there wasn't anything. From Denver west to Colorado Springs, you could always see herds of antelope. So I think growing up here definitely inspired me because you always had the mountains to the west to see, and they were so beautiful, and there was lots of wildlife.
As the developments commenced, I'd be in the car, driving with my dad, and I would get rid of it in my mind and just look at all the nature. So I developed a way to just not look at the things that were happening. When you are doing art, you choose what you want to put in for composition purposes and you get rid of what you don't want. I think I developed an early ability to do that.
What do you love about painting animals, and about animals in general?
I've always loved animals. They're beautiful, all of them, and they're authentic. Then within the species, the individuals are so different and interesting. I'm most interested in how they interact with each other and other species and in their environment, and what they do.
You seem to have an affinity for painting en plein air. When you're painting outside, do you have a favorite time of day when creativity or inspiration feels stronger in terms of the light?
In the middle of the day, things tend to be flat and it's not the most beautiful light. The most dramatic light is always early in the morning, and then later in the evening because the shadows are pronounced, and the colors change a little bit. Also, winter is better than anything.
Really?
Not that it's easy because it could be freezing, but really, it's great. Think about how bright white snow is, and how dark and blue and purple the shadows are. It's just dramatic. And then if the sun starts setting, it's pink. Winter's just really the best.
You also have some beautiful work where you use buttons and beads in some of your pieces, which seems like they'd require an amount of precision to create. What's that experience like?
That happened because my mother passed away and ladies used to save buttons. If a shirt turned into a rag, they'd cut the buttons off. So when she passed away, she left me with all these buttons, which I was not going to sew with. But they were really cool.
I always thought Huichol art was really beautiful, so that inspired me. I paint in the morning, but then in the afternoon I sit down and listen to a book on tape, and that's kind of a meditation just to place the buttons and the beads. I use combinations of glue and wax to keep them adhered.
What is your work with children for equine-assisted therapy like?
This one little boy came, and he was just so tied in a knot. Every part of him was tense and curled in. By the time he did horse therapy for a summer, he was like a little noodle: totally relaxed. His mom said it's changed everything with her family.
Award-winning journalist Jen Reeder is former president of the Dog Writers Association of America. Visit her online at jenreeder.com.