Rebecca Rich: Art on the Edge
Rebecca Rich's multilayered, color-rich canvases aim to pull you in and get you thinking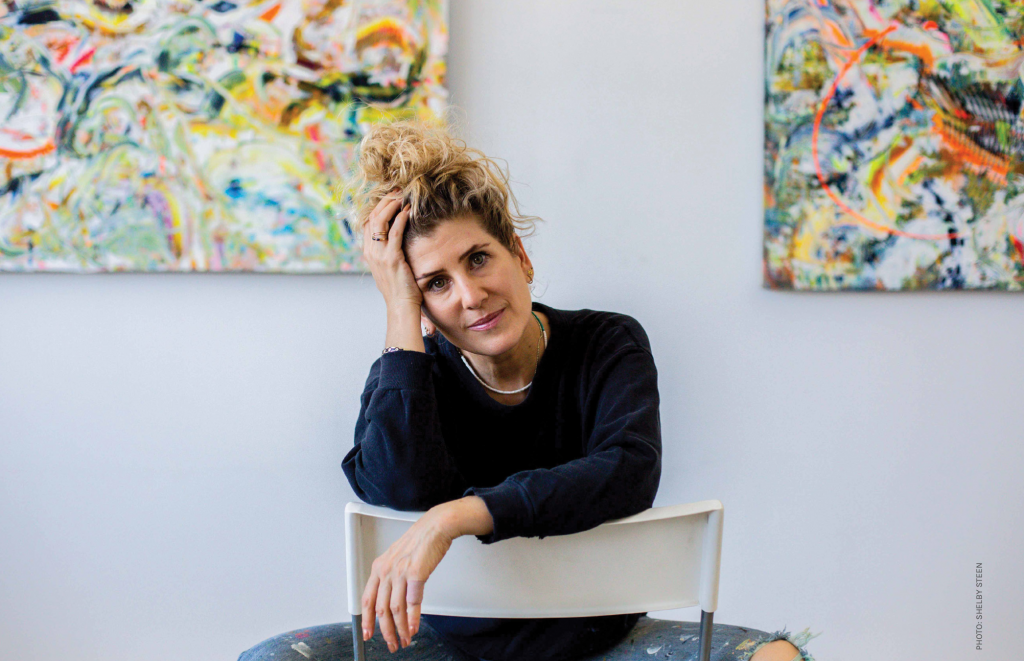 WHEN ARTIST REBECCA RICH looks at a blank canvas, she sees anything but empty space. "I spend a lot of time writing and thinking, and my art evolves from an umbrella idea. The canvas is a continuum of those thoughts," she explains.
Her work begins with spontaneous mark-making, then layers, then some recognizable form. The resulting mostly large-scale paintings are a mix between a dream state and reality that convey a tension that exists between abstract and concrete forms.
Rich, a Colorado native, left Denver in 1998 for Occidental College in Los Angeles, where she received a bachelor's degree in fine arts. For more than 15 years, Rich used her talents as an artist and as a clothing designer with her own label. She was also a creative director for top brands such as Velvet, Soloway and n:Philanthropy Apparel. In 2017, Rich was awarded a fellowship at Claremont Graduate University where she earned a master's in fine arts.
Today, her art is full of color, layers and sometimes text. "There are forms that might be a representation, an idea or allude to an idea," Rich says. She has been writing down her dreams for many years and says ideas and dreams are similar to art, "going in and out of
focus, splintering off … leaving different people with different emotions. All traces of me and my life are removed in my work. The goal is for the user to create their own narrative."
Rich has collectors who span the country. "The ultimate compliment for an artist is when someone wants to wake up every day and live with your work. I like to create art that challenges your mind, expands the idea of possibility and brings about conversation," says Rich. "If my art brings you joy or enhances your space and is complex enough that you can have a long-term relationship with the piece, then I have succeeded."
Fellow abstract painter Michael Reafsny- der says he first met Rich when he visited her studio at Claremont Graduate University. "(Rebecca) is able to achieve a luminosity and vibrancy of color, an expansive range of gestures and poetic compositions in her paintings," says Reafsnyder. "As a fellow abstract painter, I understand the difficulty in achieving such things and recognize Rebecca's innate talent."
Art constantly pushes her to think in different ways, she says, and she works on several- al pieces at any given time. "Each piece is in a different state of completion. It is like solving multiple puzzles at the same time" she says.
A recent artistic discovery quite literally pushed Rich to the edge. She found that in order to discover the center, you must go to the edge. "When you see a still life painting, like an apple, it's the center that holds the attention. The activity is in the center of the piece and there isn't much relationship to the edge. I discovered that when I pushed myself to explore the edge of my canvas, rather than just the center, I found space where I didn't expect it.
"It opened new ways of seeing, being and thinking," she says. "Suddenly the work and my relationship to the work expanded."
Rich's intellect is mirrored in her work. Deep layers, text, unexpected color palettes, tension, form and abstract all are intertwined. When talking about the evolution of her creative process, she says it has a lot to do with color. "I used to use oil paint, and I had a lot of rules. Sometimes I made the paint myself, and I had self-inflicted rules about what colors I could use and when. I was very serious about the history of oils and certain colors. When I switched to acrylic, I threw out the rules." Her recent work reflects that abandonment of self-inflicted rules. "You might think certain colors are masculine or feminine or happy or sad, so I like to push that concept. I use color as volume and to reveal depth. My work is largely about movement, so color is a tool to get you to rest or to move across a surface."
"When I go into my studio, there is no judgment. I don't think to myself, I am going to create a happy painting or a sad painting," says Rich, explaining that her work is a transmission of energy, so each person's experience is their own. "I might feel a painting is unresolved, and someone else might feel totally differently. I see one thing in my painting, but someone else might get a completely different experience, and that is wonderful."
THE DETAILS
Rebecca Rich
Rich grew up in Colorado and says the Rocky Mountains continue to be her favorite place to relax and recharge.
Info@rebeccarich.com
Instagram: @rebeccarich_studio
Lindsey Schwartz is a Denver-based writer and an editorial producer for ABC News, 20/20.