Beautiful Views in Buena Vista
A visit to Buena Vista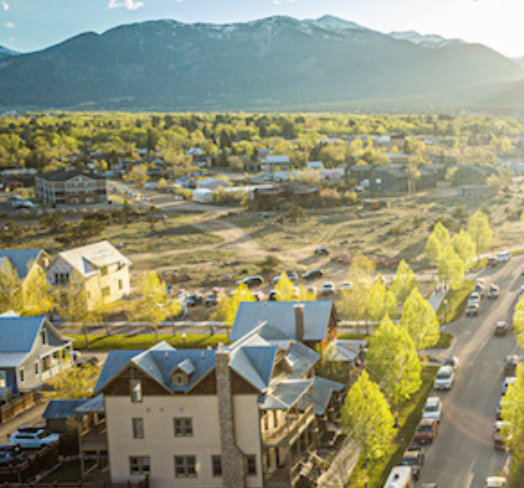 Buena Vista has long been a destination for fresh air, running rapids and the general pursuit of outdoor adventure. Situated between the
Collegiate Peaks and the Arkansas River at about 8,000 feet in elevation, this understated historic town celebrates Colorado culture in all its glory—and with 264 days of sunshine each year, this "beautiful view" is a slice of heaven right here in the Centennial State. From kayaking to hiking, fly-fishing to rock climbing, snowshoeing to mountain biking, each season yields a fresh crop of trails and terrain to explore, plus inspired shopping, dining and spas.
Here's your guide to making the most out of BV this summer.
Unwind
Relax like a local at one of two nearby natural geothermic hot springs, open all year. Historically noted for their medicinal and therapeutic value, the odorless springs were used for centuries by the Ute Indians as a spiritual gathering place. Today, people come from all over the world to rejuvenate and restore themselves in the curative waters that bubble out of the ground at 140 degrees Fahrenheit. Mount Princeton Hot Springs and Cottonwood Hot Springs offer spa and massage services in addition to their hot springs pools. These peaceful spaces help to balance mind, body and spirit with therapeutic soaks with views to match.
Hit the Trails and the Waves
There are countless off-road trails to explore outside of Buena Vista with your dirt bike or ATV. The Fourmile Recreation Area is open pretty much all year, plus the many dirt roads traversing the Continental Divide are a summertime treat with 57 miles of scenic byways. And you have to check out the unique riverside trail system at the end of Main Street on the Arkansas River.
These trails not only cross the river and access other seemingly endless trails but also link the river park to the South Main neighborhood. Plus, the in-town pump track and numerous rocks with built-in climbing options will entertain the kids for hours. The Collegiate Peak Wilderness, fourteener summit trailheads, Colorado Trail, Sawatch Range and Continental Divide are all at your fingertips, so there's no shortage of outdoor fun.
Rafting is big business in this "whitewater capital," and Browns Canyon (recently declared a national monument) offers an array of rafting tours. River Runners is one of the oldest rafting companies in BV and will ensure you have a memorable day on the river—from casual family floats to more epic adventures on the Narrows.
Home Away from Home
The late 1800s historic Railroad and Main building sits on the corner of Main Street in the heart of downtown Buena Vista. It underwent a massive renovation and has been thoughtfully curated and reimagined with luxurious details and custom finishes throughout to preserve the historic architectural integrity. The renovation even uncovered details from the past at the well-appointed boutique hotel, The Inn at Railroad + Main. With modern amenities and mountain-chic vibes, the 13-room inn is quintessentially BV.
The Inn at Railroad + Main
theinnbv.com
The newly developed South Main neighborhood fits so well with the landscape and the culture, you'd think it's always been a part of BV with its stone facades and ironwork, stucco townhomes, colorfully painted front porches and river-stone streets. At the heart of this district are the impressive Surf Hotel, Surf Chateau and South Main Residences. Inspired by the understated elegance of European hospitality and the spectacular natural beauty of the Rockies, the unique perspective and location offers guests a sense of luxury that's welcoming for all.
Overlooking the waves of the Whitewater Park on the Arkansas River, plus views of surrounding trails and mountain peaks, it's a spectacular place to be. In addition to their modern approach to classic architecture and design, the accommodations sport spa-worthy showers, clawfoot tubs and cozy beds. Additionally, the Ivy Ballroom and The Lawn both host sought-after events, concerts and festivals. There's nothing quite like listening to Keller Williams in an intimate setting or grooving out at Reggae on The Lawn.
The Surf Hotel
surfhotel.com
Local Shops
Before you head out on your next adventure, The Trailhead is your go-to local outdoor outfitter. The staff pride themselves on helping create opportunities for people to get out and play in some pretty amazing parts of the Colorado Rockies.
The charming home and décor store called The Mercantile will have you dreaming of decorating and entertaining. With a mix of local and regional artisan housewares, artwork and much more, this gem of a shop is a must-stop.
If you're a "craft addict," then Rock Paper Scissors is your kind of place. Filled with paper goods, jewelry, ceramics, plants and local art, it's always blooming with uncommon curiosities you didn't know you had to have.
Since 2008, Rock Run Gallery has been a South Main institution, reflecting the surrounding valley and culture through the lenses of more than 40 regional and local artists. Peruse the original serigraphs of rainbow trout, watercolor landscapes, sculpted vessels made from aspen trees, handmade tables with painted tiles, animal skulls embellished with natural elements and mosaic glass, and so much more.
For funky finds, check out Sundance & Friends, which features handmade products from over 50 artists. Metal fire pits and sculptures, sheepskin slippers, handmade pottery and jewelry with local gems and precious metals, and hand-carved ukuleles and guitars—it's like walking into a life-size treasure chest.
Sips, Snacks & Savory Bites
With its Scottish-style direct-fire, 140-gallon copper pot still—made by an artisan from Arkansas who answers to "The Colonel"— Deer- hammer Distillery has created a unique whiskey steeped in history yet brewed with a pioneering perspective. Located in the heart of BV, the grain-to-glass distillery features a tasting room that includes a facility tour and a guide-selected tasting of five whiskies.
For a casual meal, Eddyline Brewing offers wood-fired pizza that pairs perfectly with its River Runner Pale Ale. Another favorite casual spot with surprisingly gourmet dishes is Simple Eatery. Located inside The Trailhead shop, this local bakery serves the most mouth-watering sandwiches, soups and salads that you will dream about.
From freshly baked artisan breads and beignets to crisp salads, specialty cocktails and grass-fed Colorado beef, Wesley & Rose Lobby Bar offers a rotating selection of seasonal handcrafted cuisine. Favorites include the burrata with grilled pears, sage and citrus clove liquor; Colorado lamb pops; and Basque burnt cheesecake topped off with the signature Wizard Trick cocktail. With a private dining room and an adjoining patio, this flexible, elegant space and chef-centric menu is not to be missed.
Other noteworthy jaunts include Midland Stop for all your coffee, breakfast burrito and gelato needs; House Rock Kitchen for healthy bowls and plates and a lively patio scene; Old World-style pizzas and wines from Crave; and the historic Quincys Tavern for prime rib and filet mignon.
Historic With a Modern Twist
Buena Vista's first natives were the Ute Indians, but in 1725 Anglo explorers came through the area. Around 1860, the first gold was found in Denver, drawing settlers to the Arkansas River Valley thanks to the area's plentiful water, which made the land suitable for agriculture. Travelers, speculators and miners traveling up the Arkansas Valley toward Leadville made Buena Vista a popular stagecoach stop, and a railroad depot followed in the 1890s.