Colorado's Western Slope Harvest Season
Take a trip out west and discover many local wineries, distilleries, farms and restaurants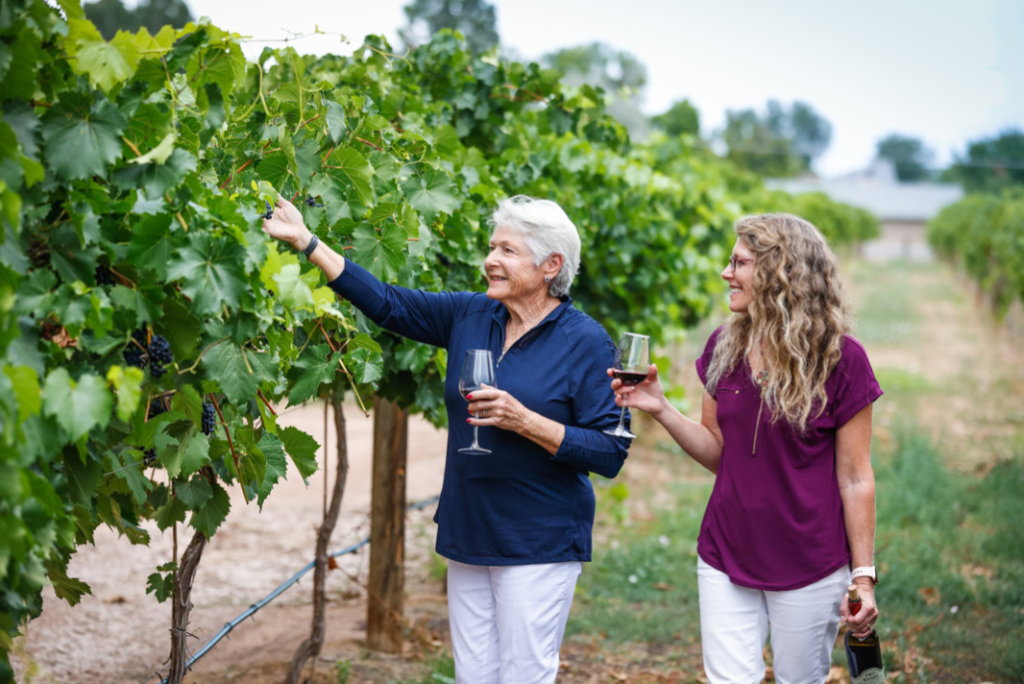 Move over, Napa. Grand Valley is quickly becoming the incubator of innovation and creativity within Colorado's food and beverage scene. Tucked away on the Western Slope (less than two hours from Moab, Utah), Grand Valley is producing more and more wineries and eateries every year.
The small towns of Fruita, Grand Junction and Palisade are nestled in the verdant valley, with its array of vineyards, farms and orchards producing the state's famous Palisade peaches. Plus, there are plenty of outdoor activities that make it easy to enjoy the beautiful mesas and mountains.
From its soil sprouts a microcosm of flavors that can be sampled throughout the valley, with its farm-to-table restaurants, organic bakeries and home-grown distilleries and wineries infusing local flavors. Family-owned businesses are at the heart of it all.
This fall, take a trip out west and discover how you can experience the full bounty of the Grand Valley's harvest season with a visit to local wineries, distilleries, farms and restaurants.
Home Base in Grand Junction
Located between Fruita and Palisade, Grand Junction makes a great home base for exploring the Grand Valley. Lying at the intersection of rivers, mountains, canyons and the high desert, Grand Junction is not only a mecca for outdoor enthusiasts but also turns heads with its arts and culture, including the culinary arts.
Spend some time downtown, where you will find an array of local eateries specializing in seasonal menus, including 626 on Rood. Offering out-of-this-world seasonal Colorado cuisine, the restaurant opened its doors more than 16 years ago, bringing the farm-to-table movement to Grand Junction. Although, chef/owner Theo Otte says, "I don't like to use the term 'farm-to-table movement.' It's just what good food should be."
The restaurant's fresh take on locally sourced ingredients and unique menu items taste just as good as they sound. With a menu printed daily, Otte says, "We'll buy everything from local farmers in Grand Junction and Palisade. We create our menu based on what's available and what's in season. Every season ties us to the menu we create."
For example, Otte and his staff use heirloom tomatoes from a local hydroponic plant in Palisade to make their Heirloom Tomato plate. Come August and September, they round up homegrown fruit for their Peach Galette and other peach favorites. Plus, they grow their own basil at the restaurant as well as utilize other ingredients from their garden in Palisade.
Brenda Otte, Theo's wife and co-owner of 626 on Rood, helps run the show at the front of the house and is the restaurant's wine director. "We love introducing people to good food and good wine," she says. This is why you will always find a rotating list of wines, including local pours, which you can sample by the glass or in wine flights.
"I believe there is a vibrant food scene in Grand Junction, so don't just stop here," says Theo Otte. Other farm-to-table restaurants he suggests trying in the area are Bin 707 Foodbar, Taco Party and Devil's Kitchen at Hotel Maverick.
Located on the campus of Colorado Mesa University, Hotel Maverick combines the best of Grand Junction's food and beverage scene at its restaurant, Devil's Kitchen. Similar to other restaurants in town, the Kitchen creates a seasonal menu using what's available in the Grand Valley. Overlooking the red-rock mesas that sweep the skyline, the rooftop bar is a perfect location for watching sunsets with drinks or dinner lit by the moon.
Continue your culinary tour at one of the newest eateries in Grand Junction, Kulina Lani Organic Sourdough Bakery. Originally from Colorado, owner Pam Harsh and her husband, Shane, moved back from Hawaii in 2020 to help with family and brought with them their famous sourdough bread that had created a cult following on the Big Island.
Pam Harsh prides herself on making beautiful bread that is good for the mind, body and soul. The organic bread is made with natural fermentation, not using any commercial yeast. "We make bread you can actually digest," she explains. "It's a big responsibility to feed people. We need people we can trust to make our food." In fact, some of Kulina Lani's best customers are gluten-free who can't get enough of her bread. Others stand in line for the bakery's grab-and-go sandwiches, complete with a free cookie, and its famous pastry pop tarts.
For a one-stop shop of local flavors, food and drinks, spend the afternoon at Belli Fiori Lavender Farm and Highlands Craft Distillery. Mother-and-son duo Lisa and Dylan Proietti have created a full-destination experience where you can taste your way through Grand Valley. It takes about three years to get a de- cent lavender crop, and the Proietti family has been hard at work generating a viable lavender farm for nearly 10 years. The farm grows 11 varieties of lavender—eight English and three French—with 1,600 plants total. "My favorite variety that we grow is the Royal Velvet, mainly meant for cooking," says Lisa Proietti. The farm also grows the Croxton's Wild variety, which is used in the distillery's gin.
"What we hope for is a mild spring," says Lisa Proietti. In addition, she says dry weather is a key component of a great crop. "Our lavender hits peak season about mid-June," she says. The crop is harvested and bundled right on the property.
The small farm has grown into a lavender retail hub, selling everything from soaps and sprays to candles and oils, with everything made on-site by Lisa Proietti. If you can't make it to Grand Junction to sample Belli Fiori's products, you can find Proietti at Den- ver's South Pearl Street Market every Sunday.
Lisa Proietti's best advice for those wanting to experience harvest season on the Western Slope is "to check what's blooming and when. We go with the flow of the season and work with ingredients available in the area."
Dylan Proietti, Lisa's son and brainchild of the Highlands Craft Distillery operation, uses the farm's lavender, mint, tomatoes and other ingredients grown on the property to create three spirits: vodka, gin and whiskey. You can sample each with a tasting or enjoy the spirits in one of the distillery's many mixed drinks on tap. Staying in sync with the seasons, the distillery features a rotating lavender tap in the summer, and in late August into September during the peach season, staffers pour the distillery's popular drink, Peach Orchard Punch. If your taste leans toward botanical gin, be sure to try the Majestic 12 gin, infused with the farm's lavender and Olathe sweet corn.
Plus, with the most recent addition of Belli Fiori's on-site food truck, Picnic, visitors can now enjoy a full experience with food, drinks and shopping. Visit year-round at the outside patio or inside the yurt tasting room. In town, you can find Highlands Craft Distillery spirits used at Hotel Maverick, Feisty Pint and the Glorious Fig.
Across the Colorado River, with the Colorado National Monument as a backdrop, is Two Rivers Winery and Chateau, Grand Junction's only winery. The vineyard holds 10 acres of grape vines, yielding about 15 percent of its total production, with most of the winery's grapes coming from nearby Palisade, primarily Talbott Farms. "We try to preserve what is unique about Colorado wines, the high altitude, very fruit-forward grapes," says Billie Witham, proprietor and owner of Two Rivers.
Witham and her husband, Bob, run the winery with their son, Brandon, who is the winemaker. Since starting their business in 1999, they have worked to create reputable wines even though the vineyard is situated slightly higher in elevation than those in Palisade, making it more susceptible to a bad harvest. The destination winery offers accommodations at its chateau, wine tasting, tours and events.
Palisade Is the Wine Mecca of Colorado
With Palisade welcoming its 39th winery this year, it's not just peaches that make the area a feast for your senses. In addition to its bountiful wineries and produce, Palisade welcomes new eateries, distilleries and farms that highlight all that is available to grow in Grand Valley.
"Most of your wine you enjoy along the Front Range is made from the grapes grown in Palisade," says Jessica Burford, executive director of the Palisade Chamber of Commerce. "The future is agrotourism here in Palisade," which is why she says local generational farms like Talbott Farms and Clark Family Orchards work to collaborate and support new growers coming to the valley. This welcoming and supportive environment, along with ideal weather conditions, has been the catalyst to the area's growth.
Popular wineries such as Colterris, DeBeque Canyon Winery and Restoration Vineyards have put Palisade on the map as a wine destination. But don't forget to check out the newest wineries on the scene, including Ordinary Fellow. Ben Parsons, who some might know from the Infinite Monkey Theorem in Denver, is now making wine in Palisade on the site of a historic peach-packing shed. Find more of your favorite wineries at the Colorado Mountain Winefest on Sept. 17 (coloradowinefest.com).
For a more elevated wine experience, stop in at TWP Winery and Farm House. The owners hail from South Africa, bringing with them the taste and sophistication of a true winery experience. The decadent bed-and-breakfast boasts exceptional rooms, starting at $235 a night, that include wine tastings complete with a thoughtfully prepared charcuterie board—much of which includes items cured on the property.
To keep your spirits lifted, a visit to Peach Street Distillers is a must. What began as a small distilling operation in 2005 has grown into a destination for good food, good drinks and a good time with a full food menu and occasional live music.
While Palisade in past years hasn't exactly been noted for its culinary options, the farm-to-table movement has caught on, with new restaurants like Pêche, Le Snack (the food truck available at Ordinary Fellow) and Fidel's Cocina and Bar, from the owners of the Spoke & Vine Motel.
Continue your feast with a visit to one of the area's u-pick farms. Talbott Farms is easily the most well-known in the area and is a major provider to local wineries. As a sixth-generation farm, the owners know a thing or two about what thrives in the valley, including their peaches and wine grapes. They grow a variety of peaches, allowing for a longer harvest season from mid-July through the end of September. Clark Family Orchards, a seven-generation peach farm, is another fruitful stop, with cherries, peaches, plums and tomatoes available for picking. Take in the views at PeachFork Orchard and Vineyard, where you can sample from the tasting room and enjoy the full experience with dinner in a peach orchard.