Western Painting at the Western Stock Show
Coors exhibit wrangles fine art at Denver's National Western Stock Show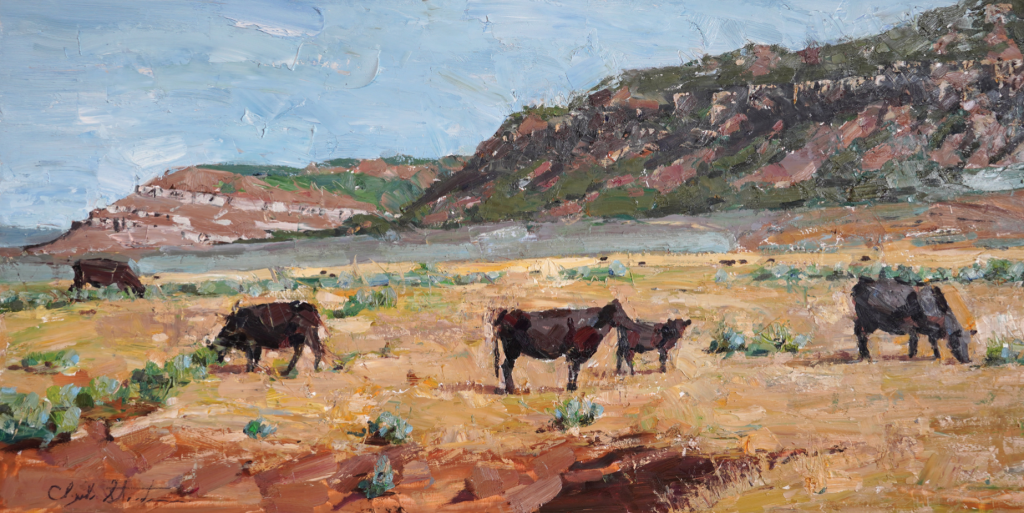 FOR THE 29TH CONSECUTIVE YEAR at Denver's National Western Stock Show, the Coors Western Art Exhibit & Sale is brewing. The show presents creative contemporary Western art and raises philanthropic funds, to boot.
Rose Fredrick, the event's longtime curator, culls the artistic herd by branding the show with a theme of American West subject matter rendered in contemporary realism. But the curator loosely holds the realism reins.
One of the painters pushing the edges of realism is Clyde Steadman, bringing his impasto oil paintings to the Coors show for a third year. Steadman, who grew up in Santa Fe, did not set out to become an artist. In college, he studied math and philosophy, and when he graduated, Steadman aspired to write a book. Then, as he sat struggling to write that book in bars and coffee shops, he began drawing people and discovered his true calling. "My first love is the figure and portrait," Steadman says. Today he says, that has changed. "These days, I probably do more still life than anything else."
Whatever his subject matter, Steadman distinguishes his paintings with his ragged brushwork in luscious and generous amounts of pigment. "My painting has the trace of the time," Steadman says. "I don't erase the record of my work. You can see I've taken marks out, fixed marks, moved paint around. You can see the physical relic of time and attention I put into it."
A Denver resident of 22 years, Steadman did not consider himself a Western painter until the Coors exhibit focused his work for the show. "The stock show was a chance to pay attention to where I am in a way I hadn't before … to go outside and look at the hills, to ground myself where I am—Carbondale or Craig or Steamboat Springs or La Veta," he says. "I live as intensely as I can here in the West, and I love this place."
For Steadman, the annual events bolster his prestige as a painter: "To be able to say, off-handedly, 'I'm in the Coors show,' that's a big deal," he says.
Steadman particularly appreciates the event as a benefactor that underwrites education. "The idea of creating scholarships for people to leave the small-town, rural West, get an education and take their skills back to rural America—that's a wonderful and urgent thing that needs to be done to preserve the West that we love. It's really cool to be doing something so worthwhile."
Another standout at the Coors show is Amy Laugesen, a Denver native and long-time participant in the show. "I am honored to say that my equine ceramic and mixed media sculptures have been included in the Coors Western Art Exhibit & Sale since 2013," Laugesen says.
This year, Laugesen will be presenting four horse sculptures that simultaneously evoke ancient art history and contemporary art. "All four sculptures stand calmly on their bases. They are very grounded in the moment," she says. "In memoriam, I dedicate this year's sculptures to Richard Weldon, who helped with the fabrication of my bases for several Coors shows. He passed away this year, and he is profoundly missed."
Laugesen's sculptures hold memories, particularly of her childhood horse, Tic Tac ("forever my muse," says the sculptor). "One of the reasons I love to work in clay is because it is directly connected to me and holds the impressions of my hands and tools in its memory."
As a sculptor, Laugesen recognizes her tactile and spatial relationship to the world around her and how she influences the perceptions of others viewing her works. "Sculptures hold a space and presence that a painting cannot. A 3-D work takes the viewer on a journey in, around and through the negative and positive spaces, through the light, shadow and textures," she says. "Without your sense of sight, you can tactilely experience the work of a sculptor."
Laugesen recently relocated from Denver to Crestone with her husband, Stephen Hume, a photographer. While they finish their off-the-grid home and studio, Laugesen works at Peter Durst's ceramic studio in Denver, but already she envisions inspiration arising from her new home on the range. "The breathtaking view from our Sangre de Cristo mountain home and the rich horse heritage of the San Luis Valley is definitely influencing my work," she says.
In addition to paintings and ceramics, Fredrick emphasizes the wide variety of works she curated for the Coors show— everything from sculpted glass by Evelyn Gottschall Baker to compositions that Chris Maynard creates from feathers, and the fine art landscape photography of Andrew Beckham, who gathers minerals on location and grinds them to add subtle finishes to his work. At the Coors show, expect the highest caliber of Western art in every genre.
THE DETAILS
coorswesternart.com
The Coors Western Art Exhibit & Sale is Jan. 8-23 and includes works from 75 artists. The art gallery is located on the third level of the Expo Hall at the National Western Complex, 4655 Humboldt St. Hours for the art exhibit are 9 a.m. to 8 p.m, Sundays through Thursdays, and 9 a.m. to 9 p.m. on Fridays and Saturdays.
Colleen Smith, a longtime contributor to the magazine, writes about arts and culture for many publications.