Grand Canyon Climb
Rim to Rim to Rim trip tests the body, buoys the spirit.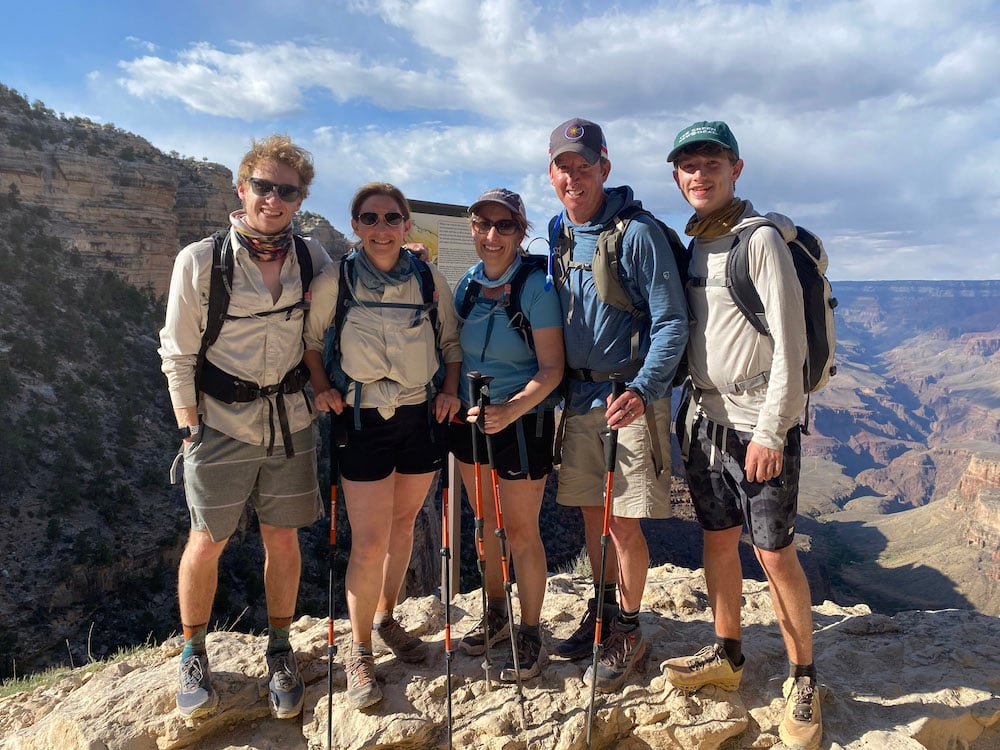 It is 4:30 am and I am standing on the North Rim of the Grand Canyon with my fiancé, my sister and her son, and my oldest son. The wind is whipping through us as we start down the trail. Everything is completely dark except the small area illuminated by my headlamp.
We have driven 11 hours from Denver to the North Rim of the Canyon, and this morning we head off for a two-day journey known as Rim to Rim to Rim or R2R2R. We will descend the North Rim, hike across the bottom of the canyon and up the South Rim. We will sleep on the South Rim and hopefully head back to the North Rim the next day. Fifty miles total; 22,000 feet of vertical change. There are crazier people who do it all in one day. That is the true R2R2R; no sleep. Or the world record-holder who did the entire R2R2R in 5 hours, 55 minutes. We are just walking for two days with a night's sleep in the middle. So that makes us semi-sane, right?
Together we are walking away our COVID-19 anxiety, depression, missed opportunities and a few extra pounds gained in a year. Each of us had our reasons for taking this plunge. My 21-year-old nephew Max is taking a semester off from college. Online classes and very little social interaction didn't appeal. With no certainty about how freshman year would look, my 19-year-old son, Ethan, took a gap year and won't start college until September. My fiancé, Brian, a Colorado native, is in the ski industry, and is all about extremes. My sister Andra and I, also born and raised in Colorado, just like a good challenge. Each of us trained differently for the hike, with our collective favorite exercise being the Manitou Springs Incline.
My goal is to walk off the year of pandemic isolation by hiking through a desert. Seems logical. But it is not common logic, because less than 1 percent of the 6 million annual visitors to the Grand Canyon embark on this hike. After day one, we understood why so few attempt this feat.
The sun comes up about 5:50 a.m. and the Canyon stretches farther than you can see. To our left, the cliff just drops, a sheer face descending straight down.
At mile 15, five hours in, we arrive at Phantom Ranch campground, the bottom of the canyon. PB&J rolls and salty potato chips taste like fine dining. Dare I say we feel great?
At mile 18, we cross a long bridge over the emerald green Colorado River and start the ascent up the south side of the canyon. It is about this time that my sister starts suffering from heatstroke. Looking up at the 4,800-foot cliff, I feel overwhelmed and a bit depressed at the fact that we are about to hike in extreme heat without shade. Each hour drags. The South rim is relentless. With blisters that feel canyon-sized and suffering serious dehydration, my sister is moving on pure grit. That, combined with a team effort, forcing her to drink small sips of water and take tiny bites of food, brought us at long last to the top of the South Rim.
Eat. Sleep. Resume hiking.
Day two, 4:18 a.m. We are down to three. Ethan, Max and I start out alone. Brian hurt his Achilles tendon and made the smart choice to stay behind and drive around with my sister, whose blistered feet prevented her from wearing shoes.
There are shuttles that go from the South Rim to the North, but since we had planned to hike, we didn't have a reservation and the shuttles were booked. Andra found and hired a pricey car service to drive her and Brian the four hours around the canyon back to the North Rim, where they awaited our return.
Switchback after switchback, sand, rocks, crossing a few streams heading over the Colorado River. More gooey peanut butter and jelly rolls and several liters of water. There are water stops along the way, but anticipating how much you will need can be tricky. Carrying too much just means a lot of weight in your pack. Too little means you run out, which is what happens to all of us about 2 miles before the Cottonwood Camp stop. We have to cross the base of the canyon completely exposed, without water.
We sit in silence at the water stop, aware of our pain, but not uttering a word. Time to start the 5,800-foot vertical climb up the North Rim. I am mentally done, but unfortunately the only way out is to walk. The conditions in the Canyon change quickly, and heatstroke, blisters and injury are real and unpredictable. You can try to avoid some issues, but at the end of the day, the Grand Canyon is like a slot machine. It usually wins.
The last 5 miles take 31⁄2 hours. The boys are patient as I put one leg in front of the other. Ethan and Max seem to skip up the last half mile of the trail. I feel like I am walking through quicksand. There are moments when I wonder if I could finish, then I get to the last step and think, I could probably do that again. The mind has an amazing ability to forget pain. The hours where I contemplated falling down and waiting for a park ranger to come rescue me are washed away with an oatmeal raisin cookie that Brian and Andra have waiting for us at the top.
And like most things, when it is done, you can reflect. There is something beautiful about age and knowing the limits of your body and respecting that. There is something inspirational about watching a 19-year-old and 21-year-old push their limits beyond what they know is possible. And the most unexpected and wonderful part was seeing our team go through every stage of selflessness, teamwork, collaboration and respect. Then the beautiful irony that the boys ended up taking care of their moms. They had their own mental and physical obstacles to overcome, but they didn't hesitate to pull my sister through day one, and me through day two.
I am thankful for the moment of COVID-19 craziness that allowed us to take this adventure together. Rim to rim, or R2R2R, pushed us past our own expectations and together we found a way to the other side. Now, back to Colorado. What's next?
THE DETAILS
Planning to visit the Grand Canyon?
A permit is required if you plan to camp overnight in the canyon, but not if you are hiking or staying on the North or South Rim. For permit information, visit nps.gov
For reservations on the North Rim, visit grandcanyonforever.com or call 877-386 4383.
The North Rim Lodge is open May 15 to Oct. 15.
For reservations on the South Rim or to book camping reservations at Phantom Ranch, visit grandcanyonlodges.com.
Lindsey Schwartz is a Denver-based planning producer for "48 Hours" on CBS News, and a frequent contributor to Colorado Expression.