Sean McNicholas: SSA Group Entrepreneur
From flipping burgers to crunching numbers, Sean McNicholas is an entrepreneur who does it all.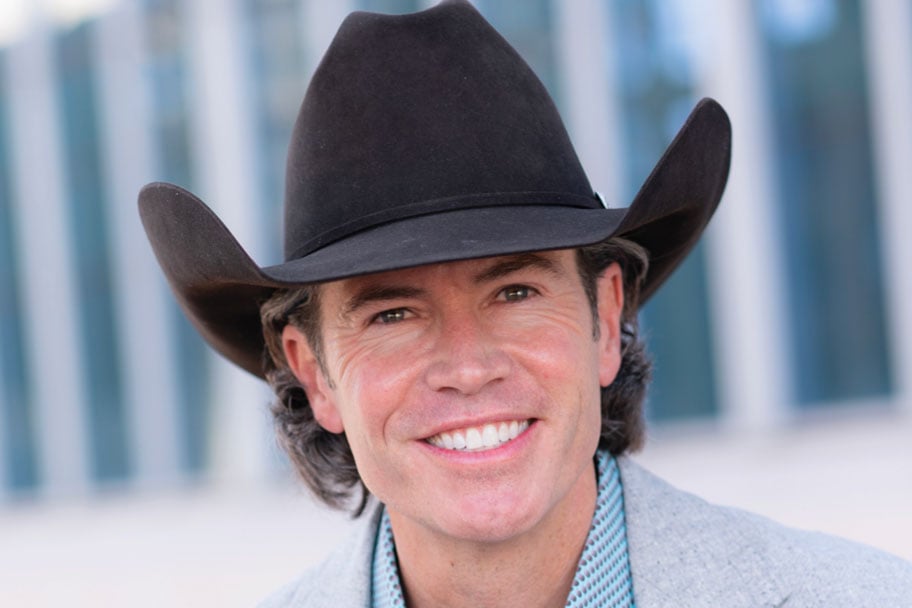 Portrait by Jensen Sutta
WHEN SEAN MCNICHOLAS walks through the National Western Stock Show's Members Club, many of the regulars assume he is the maître d.' That's because McNicholas, CEO of SSA Group, the business that runs merchandise, ticketing and beverages for the stock show, is just as comfortable flipping burgers as he is crunching numbers. In fact, he loves to roll up his sleeves and do the work. "That is how you get to know your customers and what works and what doesn't work," says the CEO, adding, "Last year one of the members told me she thought I was really getting better each year, and she asked if she could tell my boss how much I have improved," he says. "That was the ultimate compliment."
Service Systems Associates, or SSA Group, was founded in 1971 by Kevin McNicholas, Sean's father. The company started on a handshake and a promise to operate food and beverage for the Denver Broncos and the National Western Stock Show. Today, SSA Group operates in 10 states with 72 partners and from 5,000 to 9,000 employees, depending on the season. The company works closely with its partners to integrate retail, admissions and dining at zoos, aquariums and cultural attractions, with the aim of providing customers the best possible experience. Employees focus on sustainability, inclusivity and innovation, which is transforming the industry.
"No matter what we get into at SSA—new technologies, different partner industries—the common thread is family," McNicholas says. "The partners have one thing in common: They serve the families in their communities, and we do, too."
The company's current focus and a source of a lot of pride is dedication to community and sustainability at each venue. At SSA Group, giving back to local nonprofit organizations is a priority. In Colorado, the company partners with local food banks to find productive outlets for excess food.
The focus on sustainability shows up in packaging and on menus, with an emphasis on local items and responsible choices. At the Monterey Aquarium in Monterey, California, for example, where SSA Group provides all the merchandise, the venue's shop will be the first location to eliminate all plastic packaging.
The National Western Stock show will see 700,000 people come through in January, consuming 30,000 pounds of meat. This is the 51st year that SSA Group will provide the food and beverage for the stock show, and it is dedicated to partnering with regional farms and supporting local businesses whenever possible.
McNicholas takes a detailed approach to everything he does. At home, the family has five horses, dogs, cats, chickens and a pig. Each morning, McNicholas, his wife, Audra, and their two young girls get up and feed the animals together. McNicholas admitted he is not a morning person, but "the animals don't feed themselves." Sundays at the McNicholas home is dedicated to chores, which include picking up poop and working around the house. Then, the family goes horseback riding. "Everyone has duties, but we also have fun," says the CEO.
McNicholas always wanted to be a cowboy. He met his wife in 2009 at National Western night at a Colorado Rockies game where he was throwing out the first pitch.
Audra, Miss Rodeo Colorado that year, was also at the game, and McNicholas says he was immediately taken by this true cowgirl. The two sat together, started dating soon after, and married in 2012. McNicholas laughs at the thought that he is an Irish city slicker, a wannabe cowboy, but is quick to point out that Audra is the real deal. She grew up on a ranch on the Western Slope, riding horses and competing in rodeos. On top of being a cowgirl, Audra McNicholas runs her own equine therapy business, where she takes miniature horses to visit patients in hospitals, nursing homes and to community events.
In addition to their two daughters, the couple recently adopted a boy, Shamus now six months old. The child was in a high-risk situation, and McNicholas felt it was his and Audra's calling to adopt the child. He says Shamus has been a wonderful addition to their full family. "Life is chaotic, but Shamus has given us beautiful clarity and forced us to take a step back."
McNicholas grew up in South Denver and attended Regis Jesuit High School, where he now serves on the board of directors. Both of his parents pushed education, giving back to the community, and entrepreneurship. His dad, who died nine years ago, "always told us to treat everyone the same—from the person who washes the dishes to the person who runs the company," says McNicholas. "And that is how we operate the SSA Group. There is value in every single person."
McNicholas acknowledges that running a 50-year-old family-owned business isn't always easy. But, he says, partnering with his sister and brother, cousins and extended family members brings many more plusses than minuses. "We all know our job is to move the business forward, and we are extremely proud to work together," he says. SSA Group is investing in digital operations, technology and e-commerce, and prioritizes convenience, sustainability and diversity for all of its partners and business operations.
McNicholas is also proud to be a Colorado native. "Colorado is a positive place," he says. "It's a great place to run a business and have a family, and I love how upbeat Coloradans are."
Lindsey Schwartz is editor of Colorado Expression.