Trending 2022 Vibrant Holiday Interior Decor to Light Up Your Home
Helpful tips from the pros to get your home into the holiday spirit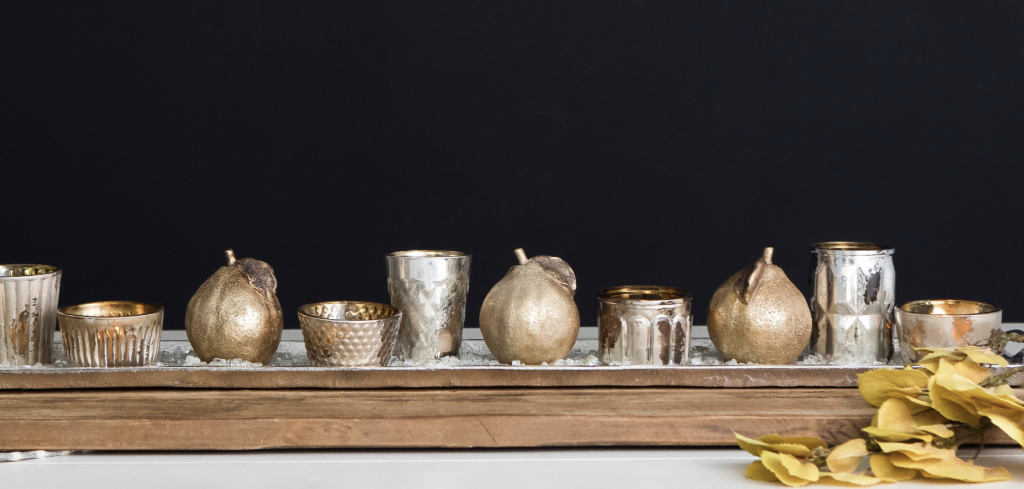 As with interior design, holiday décor trends take their cue from the runway, and this year is no exception. Yes, traditional decorations will always reign but, according to the experts, 2022 brings vibrant "festival" colors like bright pinks, oranges, blues and purples to the celebrations. Out-of-the-box decorations like paper lanterns, honeycomb balls and swagged lighting that we typically see during summer months are also on tap to bring joy to the season.
It will be a white Christmas with flocked (snow-covered) or all-white Christmas trees aglow. Helping us live out our dreams of a snowy Christmas, white-dusted pre-lit trees from Balsam Hill will take center stage in living rooms across the country, or as tabletop tree scenes adorning entryways (can you hear Bing Crosby now?). According to Laura Stroud of Homefest (a cherished Denver destination for over 28 years), you shouldn't forget the wreaths, swags, garlands and birch branches adorned with ribbons and botanical elements. "Bringing the outdoors in with greenery will immediately set the tone for the holiday season," she says.
If a faux tree isn't for you, foraged bare branches adorned with baubles, year-round home plants covered in tiny fairy lights, or anything and everything flora-related has the potential to replace or add to the Christmas tree décor in your home this year. Jäala Sheldon, owner and creative director of jäala & co., is a local event planner with global experience and more creativity in her pinky finger than most of us have in our entire beings. "Large trees aren't always an option if space is limited. Plus, it's fun to think out of the box and find creative, environmentally friendly ways to decorate your home. For example, I always like to put together little tree-decorating kits for kids with mini ornaments and ribbons to create their own special trees for their rooms."
As for setting the mood, candlelight is just the ticket. Traditional candlesticks with tapered candles are a key part of Christmas tablescapes, but vibrant two-tone, twisted, shaped and embellished candles add a pop of color to festive aesthetics, Sheldon says. Another ambiance-enhancer: coveted Simon Pierce glass trees, which add layers of warmth and elegance to your table or mantel. Plus, they're the perfect gift for the collector in your life.
Hand-poured candles in seasonal fragrances will be high on everyone's gifting list. Their hand-blown vessels can be repurposed as vases or as the perfect catch-all for your desk, as Stroud suggests. But if you're going "all in" on the candles, don't forget the matches—these little flames are a gift in their own right, with oversized, eye-catching matchboxes in a rainbow of colors and patterns.
With the retro décor trend still riding high, expect to see vintage Christmas decorations widely available this year, and nothing says "retro Christmas décor" quite like bottle-brush Christmas tree collections. These little tree decorations come in every size and color imaginable; some with tiny baubles, some without. At Homefest, they take big, long metallic trays and deck them with an assortment of bottle-brush trees or other seasonal elements for a truly breathtaking look. "They range from chic and sophisticated to whimsical, traditional and kid-focused themes," says Stroud, making them the perfect centerpiece.
Whether it's honeycomb Christmas trees, paper stars or the resurgence of paper chains and garlands, there is no doubt that paper décor is set to be one of the biggest Christmas trends this year, and it has had a serious upgrade of late. "Paper décor ticks all the boxes—eco-friendly, fun, easy to make and get the kids involved," says Sheldon. "It's been a key trend all year long and is the perfect way to add a bit of festive whimsy to your home." We love the variety of paper table runners and mats from Hester & Cook in everything from classic bold stripes and metallics to more kid-friendly candy-cane patterns and paper placemats with trees and gingerbread houses—perfect for the kids' table.
With a passion for the great outdoors, woodland creatures have been widely popular in recent years, but on top of the list for 2022 are bright-eyed snowy owls of all shapes and sizes. Used in combination with reindeer, foxes, squirrels, mice, hedgehogs, bears and bunnies, these symbols of winter wonderland seem perfect for a Colorado Christmas. Woodland scenes nestled in a corner nook, or collections of woodland ornaments for a children's tree, are simple ways to embrace this fairytale trend, Sheldon says.
Both Sheldon and Stroud believe that mixing traditional family heirloom decorations with trendy pieces creates a sort of time capsule for years to come and allows your unique style to take center stage as you celebrate with loved ones. How you decorate for the winter holidays is an extension of your personal family—so no matter what décor you choose, it's sure to bring joy to all who walk through your door.
*Set your table early so you can enjoy the beautiful holiday scene for longer than one night.**
*Create your menu in advance and ask your guests to bring a dish; the holidays are hurried enough without the stress of last-minute dinner disasters.
*Have a premade signature holiday cocktail in a decanter so guests can help themselves as they arrive. Then, offer drink stations throughout your home with wine and beer, allowing the crowd to mingle instead of getting stuck at the bar. Don't forget mocktails for the kids, too!
*Opt for no-bake appetizers such as grazing boards and charcuterie, and save the oven for the main event.
*Set the mood with music. Hire a DJ or create a curated Christmas playlist to get the party going.
*Don't forget the parting gifts: Write a heartfelt note to each guest with instructions to open on Christmas morning. They will feel so loved and remember what a gracious host you are!