Kristen Blessman: Denver's PBS12 Head of Public Broadcasting
Becoming a leader through strong women & girl scouts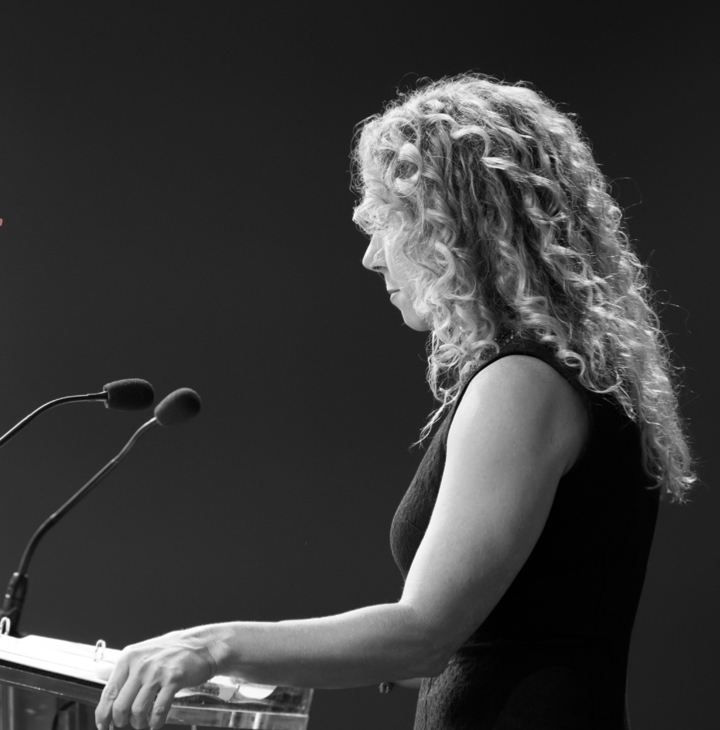 Kristen Blessman didn't grow up with the idea of becoming a chief executive, let alone the head of a Public Broadcasting Service station, Denver's PBS12. In fact, she says, her life easily could have gone in a different direction had it not been for two things: Girl Scouts and the support of strong women.
Blessman, who in September 2021 became president and general manager of PBS12, had what she says could best be described as a "chaotic" childhood. Her parents were still in their teens when they married, and they struggled with addiction and other health issues as they raised their six children.
"They did the best they could," Blessman says, "and were incredibly loving. My mom, especially, rode me and my sister to do well in school. Both of them were super book-smart. I did OK in school, getting mostly Bs and Cs, but once I started on my MBA, I knew I had found my niche and started to soar."
Joining Girl Scouts provided an early boost. "I got my sash and a book that listed all the badges there were to earn, and I quickly realized that if I put my mind to it, I could be super successful and earn every single badge. Which I did."
Having former Colorado Lt. Gov. Donna Lynne for a mentor provided her with no-nonsense, down-to-earth advice. "She asked the hard questions about my choices, and that gave me incredible perspective."
After moving to New York to do media relations and advertising for a company that specialized in corporate turn-arounds, Blessman returned to Colorado to become associate director of media relations for Regis University and then vice president and chief marketing officer for Goodwill Industries of Denver. From there, she spent five years as president and chief executive officer for the Colorado Women's Chamber of Commerce.
Leanna Clark, CEO of Girl Scouts of Colorado, was chair of the Colorado Women's Chamber of Commerce board when Blessman was the CEO.
"Kristen is an incredible leader who really put the Women's Chamber on the map," Clark says. "During her five years with the organization, we approached the $1 million mark in revenue, elevated the CWCC brand with fresh new events and programming, rebuilt the governing board, and created a young professionals board and several other leadership committees to help Colorado become the top state in the nation for women to advance in business."
A key goal for Blessman at PBS12 and its 625,000 viewers is to offer content that creates hope. "Our job, first and foremost, is to serve the community. We also want to expand viewers' horizons by laying out the facts and telling both sides of a story–none of this 'I'm right and if you don't agree, you're the one who is wrong.' We want to give voices to the people whose voices aren't being heard."
Where do you call home today?
Denver, near Regis University.
Educational background?
I started at Loyola Marymount in California, then transferred to the University of Colorado Boulder, where I received a bachelor's degree in English. I earned my MBA in marketing from Regis University.
How do people describe you?
Visionary, fun.
How would you like to be remembered?
For how much light I shine on people and how much I love and value those in my circle.
Who do you most admire?
Ruth Bader Ginsburg.
What is the one thing you absolutely cannot live without?
Coffee and sparkling rosé. I can't decide which I like most.
What was your last major purchase?
Shoes and new bedding.
What are your hobbies?
Cycling and running.
What is the last great book you read?
The Body Keeps the Score, by Bessel van der Kolk.
When it comes to relaxation, nothing beats …
Hot yoga.
What is your most memorable Colorado experience?
Camping on the way to Telluride, stopping at the Great Sand Dunes and Durango, then into Telluride—Colorado's most beautiful city, hands down.
What is your favorite Colorado restaurant?
El Tepehuan in Englewood. Growing up in California, I developed a love for authentic Mexican food.
What word would you use to describe those who live in Colorado?
Pioneers.
Are you involved with any Denver-area charities?
I tend to give my time to nonprofits that help people become self-sufficient and strong, so the Colorado Women's Chamber Foundation, Western Colorado University and, of course, Goodwill Denver.
You have been honored as a Girl Scout Woman of Distinction. What made that a memorable experience?
I grew up in a sometimes difficult environment, and Girl Scouts was a successful distraction for me. It gave me something to work hard for. While there was chaos at home, I could focus on earning badges and learning about new things. I've been lifted up my whole life by strong, inspirational women. I believe that Girl Scouts sets the stage for us to be strong, successful women and shows us that other women are key to getting there.
Does PBS12 have any type of internship program where Girl Scouts, or others, can learn more about a career in broadcasting?
It's more common than not for our current employee base to have started at PBS12 as interns and grown into their roles today. We are also in the process of putting in place a more formal partnership with universities.
Describe your career path and what led you to your present job.
I never realized until recently that growing up in a chaotic and difficult environment helped shape my career. I'm great at navigating organizations that need change in a meaningful way. Most people don't like or embrace change, but I'm very comfortable in an innovative, change-agent state. It's what makes me good at nonprofit turnarounds and growth.
What are your plans for PBS12?
Establishing Impact Media for Colorado. People are tired of the "my opinion is right, yours is wrong" approach to media. We are seemingly at odds with each other, but I believe our desire is to be brought back together again. Storytelling has that power. It helps us better understand one another. So our approach to content and storytelling will be different. We'll still present the issue, but we'll also show a potential solution and an impact being made to spread hope, not fear.
What should people know about the station and its programming that they otherwise might not know?
There are two PBS organizations in our market. Our station is the grassroots, hyper-local organization. I look at PBS12 as a nonprofit whose first goal is to serve our community and happens to have broadcast as a means of delivery for our programs. But we will use every means of outreach available to us to get our message out there. We were founded by a group of individuals who were frustrated with the anti-gay environment in the late 1980s and early '90s and were one of the only media organizations that was showing LGBTQ programming at a time when most media organizations wouldn't. We are getting back to our roots and are going to be storytelling for people who want to have an open mind to perspectives other than their own and want to be brought back together as a local community.
Is there a show or program that's in development that is going to wow PBS12 viewers?
We have an amazing partnership with Axios that airs once weekly; we're filming with the Tattered Cover for Leaders as Readers and are hoping to host all the final political candidates for mayor and governor. We're also working on a program called said/unsaid with Gloria Neal that's basically a dinner-table conversation with local leaders discussing topics that are difficult to openly discuss in public like race, gender and culture.
THE DETAILS
Kristen Blessman
Hometown: Claremont, Calif.
Current job: President and general manager, PBS12
Website: pbs12.org
Joanne Davidson is a frequent contributor to Colorado Expression.