Yellowstone in the Winter
Head to Yellowstone in winter for twice the experience and a fraction of the crowds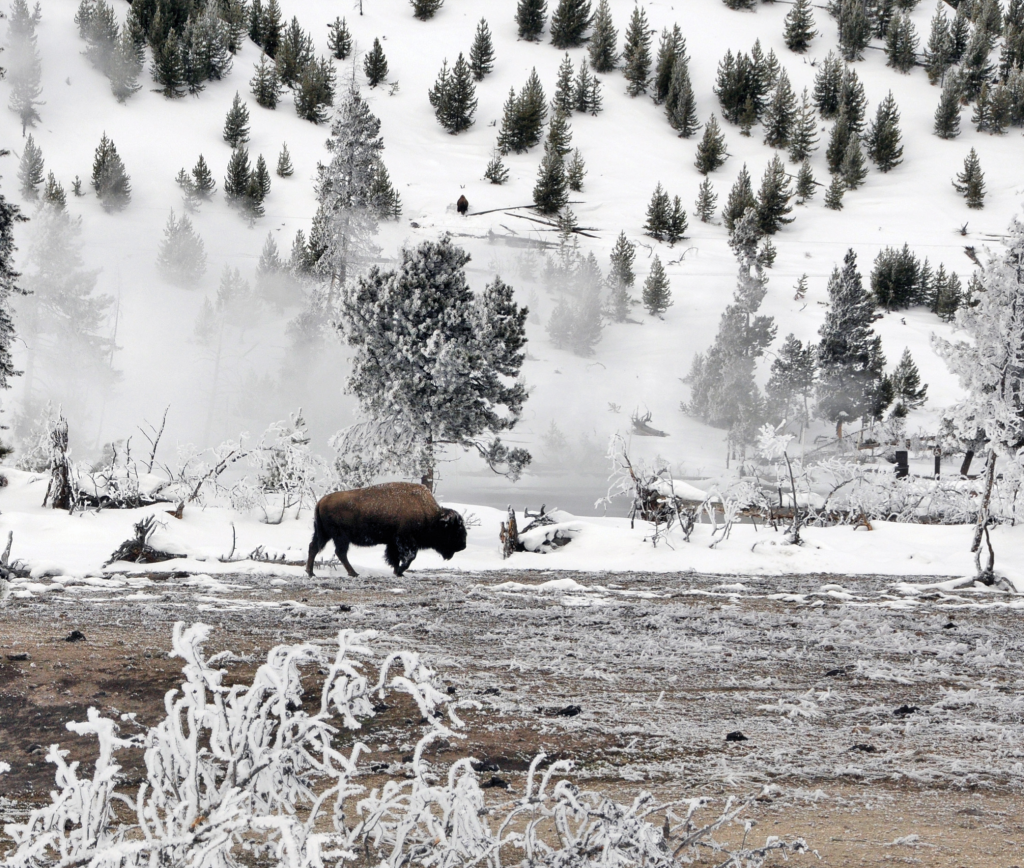 Photography Courtesy of Yellowstone National Park Lodges
FEWER THAN FIVE PERCENT of visitors to Yellowstone National Park go in winter, yet snow season showcases the nation's oldest national park's raw beauty and abundant wildlife with way more drama than summer. And, with Yellowstone celebrating its 150th anniversary this year, the park is likely to draw even more visitors than normal, making winter an even better time to visit.
Usually, the road between the northeast and north entrances stays open in winter while all other roads are closed to cars. Our visit happened to coincide with a blizzard, so when we arrived from Bozeman on a snowy January day, all roads were closed.
Snowmobiling
While waiting out the storm, we squeezed in a memorable day of snowmobiling in West Yellowstone, a small town just outside the park's west entrance and a mecca for snowmobilers. Outfitted with thick snowsuits, sturdy helmets, warm boots and mittens— even the sleds defied the cold with heated handlebars—we headed out single file on a network of 300 groomed trails in the national forest. We rode along snow-covered banks of the Snake River, through frosty old-growth trees and up to Two Top Mountain overlooking Yellowstone Park. It was a fun and exciting way to enter the spectacular white world of winter.
Inside the park, guided snowmobiling has been allowed since 1963; however, only BAT (Best Available Technology) machines are al- lowed. Now, permits for individual trips are issued through a lottery system at recreation.gov, and riders must adhere to strict park regulations.
The only other way to travel around the park between early November and late April is by guided snowcoach, a specially designed over-the-snow van equipped with large, low-pressure tires that can run on pavement as well as snow. This new generation snowcoach is 40 percent more fuel-efficient and quieter than the ones we rode that had rubber tracks on the back (think snowcat) and skis instead of wheels on the front. Inside, it was warm and cozy, and our driver had a Google's worth of knowledge of Yellowstone in his head as an interpretative specialist for the park.
We learned the park covers 2.2 million acres, and its terrain climbs from 5,282 feet to 11,358 feet, encompassing northwestern Wyoming, southern Montana and eastern Idaho. It holds the world's largest concentration of geothermal features, and we saw many of them—bubbling hot dances of fire and ice steaming through the snow—including "Old Faithful," the iconic geyser named for its predictable four-minute eruptions every hour. Big bison hunkered down in the muddy earth beside it, warming themselves in the hot water's mist.
Bison Everywhere
Ah, the ubiquitous bison. With frozen snow crystals clinging to their fur, they ambled slowly along the snow-packed road ahead of our snowcoach. Our driver seemed annoyed that they were slowing us down, but he was ever respectful of their plight. "They walk on the road to conserve energy," he said, noting that the deep snow had covered most vegetation down by the river. "It's all about survival. Those that die become food for others."
Even bears will come out of hibernation to finish a wolf's kill, according to a park ranger, so it's possible to see bears in the park every month of the year. Hibernation is a result of lack of food, not cold weather, he explained.
Wolves in Lamar Valley
We didn't see bears, but on a pre-dawn outing to Lamar Valley—the park's best viewing area of wildlife in their winter habitat—we witnessed a dramatic standoff between a herd of elk and a pack of hungry wolves. Through strong telescopes, we watched the alpha wolf advance toward the herd and then a brave elk break from the herd and charge, causing the wolf to retreat. This spectacle continued for about an hour. Hearing haunting howls from across the valley, we turned to see more packs, with one wolf hovering over an elk kill and another prowling the hillside like a sentry guarding the gate. Their howls traded sides and echoed in the distance. It was riveting! We counted 21 wolves in all as the snow drove them down to lower elevations.
Winter Lodging and Tours
Cozy groups by blazing fireplaces, mugs of warming drinks, fabulous sustainably sourced food and amazingly dark skies are the hallmarks of winter overnights in Yellowstone. Of the nine diverse lodging options in the park, only two are open in winter: Old Faithful Snow Lodge with the geyser nearly in its backyard and Mammoth Hot Springs Hotel.
The lodge, built in 1999 in the classic "parkitecture" style, is accessible only by over-the-snow vehicles. While it sounds remote, the lodge is rustically handsome, modern and comfortable. There are no TVs, phones or radios, and Internet is spotty, but skiing right out the back door kept me occupied. The trail is one of six networks of maintained trails sprinkled around the park for Nordic skiing and snowshoeing, either on your own or on a guided tour. Seeing the dreamy landscapes on skis is an experience I'll never forget. The nightly two-hour "Steam, Stars and Winter Soundscapes" excursion heightens your senses as you explore the enchanting winter forest away from any hint of light pollution ($64.50 per person).
Mammoth Hot Springs Hotel has made some extensive renovations to guest rooms and common areas, making it even more comfortable and cozy. From the hotel, you can take guided tours to wintertime must-see places like Lamar Valley, Yellowstone's spectacular Grand Canyon, and Norris Geyser Basin, a magical place when blanketed in snow.
On May 6, the park will kick off its anniversary year on opening day of the summer season at the historic Old Faithful Inn, but there's still time to experience the sensuous season of winter.
THE DETAILS
Denver native Claudia Carbone is an award-winning journalist, author and longtime contributor to Colorado Expression. She also writes for The London Sunday Telegraph, GoWorld Travel.com, RealFoodTraveler.com, The Denver Post and other local publications. Visit her travel blog Sleepin Around on GoWorldTravel.