Melinda Smith Haymons: Painting the Outdoors
Bringing En Plein Air paintings to life through composition, color & light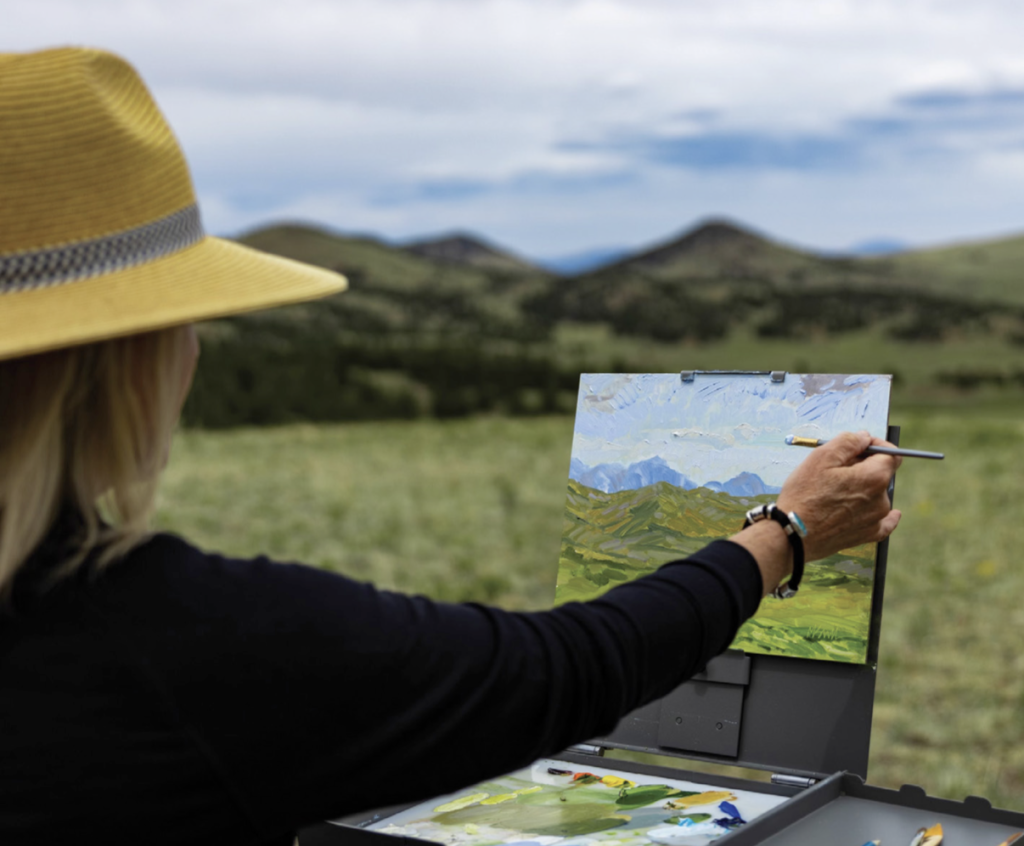 With a heart that's as passionate about the outdoors as it is about painting, Melinda Smith Haymons' instinctual eye for composition, color and light brings her en plein air paintings to vivid life. Whether capturing a cloudscape in Wyoming, a seascape in Mexico, a New England landscape, the Italian sunlight or the endless possibilities of subjects that might grab her on any given day, Haymons continues to be transfixed by light and shadow while mixing paint on her palette. We caught up with this talented woman who is living her life by beautiful design.
Tell us about your background and what led you to become an artist.
I am blessed that my parents instilled in me a passion for fine art. I spent a lot of my childhood in Santa Fe, where fine art and collecting art were paramount. I was obsessed with the story of the Taos Society of Artists and how the Toas Six put the town on the map for art and tourism, exposing the world to new cultures and a ruggedly beautiful landscape not seen before. When I went to Colorado College, I studied art and worked at a gallery before I began my painting career almost 30 years ago.
Why this medium and this process? There are certainly easier ways to paint. What do you get out of your immersive style of en plein air painting?
I'm about the "whole process" and being present to the full experience as I work. I would be taking a shortcut if I didn't paint from life. Plus, the thrill of going out into the field and seeking what I want to create with my brushes and oils is the ultimate treasure hunt for me. There is nothing easy about this process, but the reward is being able to paint a moment in nature and fully connect to my true self.
What inspires you to paint? What subjects are you drawn to? Any favorite locales?
So many things are inspirational to me. Mixing color to paint a cloudscape or mountainscape captivates me in all the seasons. I'm drawn to the Vail Valley and Colorado rivers. I also have a passion for seascapes and beaches, and florals continue to be a favorite. When I travel, I always have my paint kit with me whether I'm on a mountain, near a river, on a beach or on vacation.
Tell us about painting with Altoid boxes. Is this a thing, or something you stumbled upon?
Having love and curiosity for miniature paintings, I decided to convert an Altoid box into a paint box. Rather than discarding such a cool little box, I thought, why not have a paint box that fits in the pocket of my fly-fishing waders and ski jacket?
As a mother, you're a great source of inspiration for your kids to follow their passions. Can you tell us about how you instill and encourage your children to go deeper with their own art?
Our kids have observed me painting outside, and I'm honored they have grown to enjoy and respect what I do. They have been encouraged to follow their passions and live their lives with grace and integrity, enjoying the gifts of creating, learning and exploring. Our son Tyler loves tying flies, and it's a joy to see his work—it makes us proud as parents to see him and our other kids devote time and care to forms of creative expression that suit their personalities.
Scientists say that women's intuition is real and very powerful, that women have developed a deep sense of observation by becoming hyper-sensitive to feelings and nonverbal cues. We feel this in your art as you connect with the landscape or subject in front of you. Do you feel that? Is there a process or a ritual you do to allow your mind to innately put paint on the brush and create?
I have a deep intuition, and my close friends and family remind me of that constantly! When I'm not painting, I'm observing the landscape with brushstrokes. The challenge isn't always the execution of the painting but rather solving the puzzle of how I'm going to organize and tackle my subject. Once I see the painting in my head and I've touched the brush to my palette, I'm immediately engaged, and my deep concentration begins.
How do you see your art evolving?
My art is evolving to include large-format and paintings emphasizing linear brushstrokes and shapes with bold colors. In some cases, this evolution directly ties to my plein air roots and is a fun outlet for me. Also, my talented son Reed and I have talked about working on a series together in large format with his incredible photographs and my art. I'm continually revisiting earlier paintings and I see these pieces with new eyes.
Do you have any advice for women looking to go after their passions, art or otherwise?
Don't lose sight of your goals, and stay on your path. One of the greatest challenges has been to learn this personally and convey these principles as a mom. Watching my beautiful daughter mature into an impressive young woman and aspiring marine biologist, Alexandra has learned to grow and thrive in her passions as she navigates the twists and turns of life. Do what makes you happy, be a good person, have gratitude, and surround yourself with people who support who you are and what you do. Be strong and be OK with being tested, as it's all part of the path. These things to me are what empower women.