Michelle Griego: CBS4 News Anchor Beginnings
Denver resident found her calling in TV news at a young age and is happy to be back at the station where she started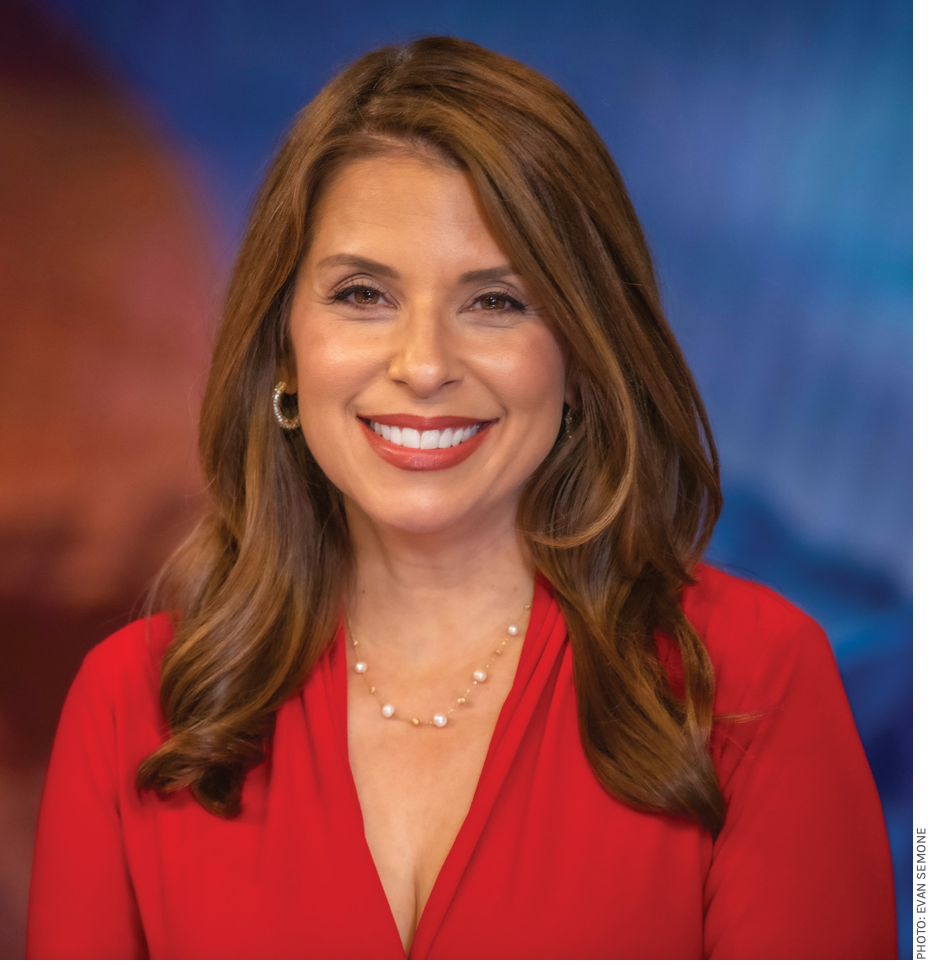 MICHELLE GRIEGO got her first big break in television at the age of 11. She went on a casting call at a local talent agency and was hired to co-anchor a children's news show, "Two Bits." The program was on KWGN-TV and ran for nearly three years, airing in Colorado, Wyoming, Utah and Nebraska.
The news bug stayed with Griego through high school and college at Colorado State University and Metropolitan State University of Denver, where she studied speech communication and technical journalism and worked on campus television stations. Her first big job was at KCNC-Channel 4, the CBS affiliate, in 2005, working as an online editor, reporter and then anchor.
An opportunity to break into a major market came in 2012 when Griego was hired by KPIX 5, the CBS station in San Francisco, to be its morning anchor. There, she co-hosted weekday mornings and covered everything from tragic events such as mass shootings to sporting events like the Super Bowl. She also hosted a local talk show and won Emmys for her work in 2014, 2016 and 2021.
While living in California was great for her career, Griego and her husband, who also grew up in Colorado, missed the mountains and their families in Denver. They would order a bushel of roasted chiles each fall, and were loyal to their sports teams. "We would dress in Broncos gear and go to 49ers games, and wear Rockies gear to Giants games," Griego laughs. "I kept a Broncos plaque on my desk."
When the CBS station in Denver offered Griego a morning anchor spot in 2021, the couple and their three daughters happily moved back. Griego now shares anchoring duties Monday through Friday with Dominic Garcia.
We sat down with her for coffee one morning at Melita's Greek Cafe & Market. The conversation has been edited and condensed.
How do people describe you?
That is a tough one; I have no idea. I would say that I talk a lot.
Who do you most admire?
I have so many positive role models in my life. But I say my parents, especially my mom. She is not only a hard worker, she'll also do anything for people, anything for her family.
What's your favorite Colorado restaurant?
Las Delicias has to be it.
What was the last great book you read?
I read Alexander Hamilton [Ron Chernow's biography], because I'm obsessed with Lin-Manuel Miranda and wanted to know what he was thinking about when he was creating his Broadway show.
What is your biggest fashion faux pas?
I had that 1980s pouf hair, but it wasn't a faux pas then.
What is one thing that you absolutely can't live without?
Besides my family, dark chocolate is the best.
What was your last major purchase?
My new house.
What gadget can you not live without?
I couldn't live without my alarm clocks; I wouldn't have a job. I set three alarms.
What are your hobbies?
I love cross-stitching. And during the pandemic lockdown, I bought a machine, watched YouTube and I learned how to sew. I made my daughter's Halloween costume. I also love salsa and cumbia dancing.
What is your most memorable Colorado experience?
We took a great road trip, visiting Great Sand Dunes National Park, Durango, Aspen, Telluride and Mesa Verde. It made me fall in love with our state all over again.
What one word describes Coloradans to you?
Loyal.
What is your favorite spot in Colorado to visit?
Estes Park.
Where's your next, or favorite, destination when you leave Colorado?
Europe.
Are you involved with any charities?
I have been involved with the Latin American Education Foundation and Adelante Mujer, which sponsors and promotes programs dedicated to helping Latina college and high school students pursue higher education, career growth and cultural leadership development.
What took you down this career path?
When I was 10, I thought I wanted to be an actress, so I talked my parents into signing me up with a talent agency. They called and said an audition was coming up to hire three kids to do this TV news show by kids and for kids. I went to the audition and got the job, and for two and a half years was on a show that aired Monday through Friday. It was a big deal because there weren't a lot of Latinas on TV. I fell in love with it.
What is your typical day like?
My alarm goes off at 2 a.m. Our show is from 4:30 to 7 a.m. and then we have cut-ins until 9 a.m. I do the noon show some days. I usually leave by about 12:30 p.m.
Does getting up in the wee hours ever get easier?
Your body never gets used to it. I'm not a good sleeper anyway. If I get five hours, that's a treat. The hardest part is in the afternoon, and a 20-minute nap can be good.
How has the news business and anchoring changed since you started in the business?
In 17 years, it has changed a lot. The biggest change is there is more of a connection with the community. There's two-way communication now. We can access things from people and they can access us. If we get called out on something, we have to answer to that. Newsrooms are getting smaller, so people are doing a lot more than we ever did.
Did you ever want to anchor evening news?
Yes, but I do love mornings, because when it comes to family, it's the best shift ever. I'm home every afternoon, I pick up my kids.
I am home for dinner time. I might be a zombie some days, but I'm there.
What's the best part of your job?
Being on the front lines of history, but that's also the hardest sometimes, especially when you're dealing with tragic situations where it affects you as a person. You have to keep it together, but later it will hit. I've always looked at this job as a service to the community. There are times like during COVID when you're relaying information that is a matter of life or death and you realize this is very important and you have to get it right.
What skill or interest do you have that might surprise readers, outside of your work?
I'm pretty good at pool. I have played the flute since the fourth grade. And I have loved salsa dancing since I was a kid. My mom is an excellent dancer. She was a competitive ballroom dancer and I used to go to her practices and her competitions.
THE DETAILS
Michele Griego
Age: 45
Family: Married, with three daughters ages 6, 13 and 21
Career: Morning news anchor, KCNC-TV
Hometown: Denver
Website: denver.cbslocal.com
Suzanne S. Brown is a regular contributor to Colorado Expression.