Denver Art Museum Makeover
The Denver Art Museum director shares 10 "don't miss" aspects in the reimagined facility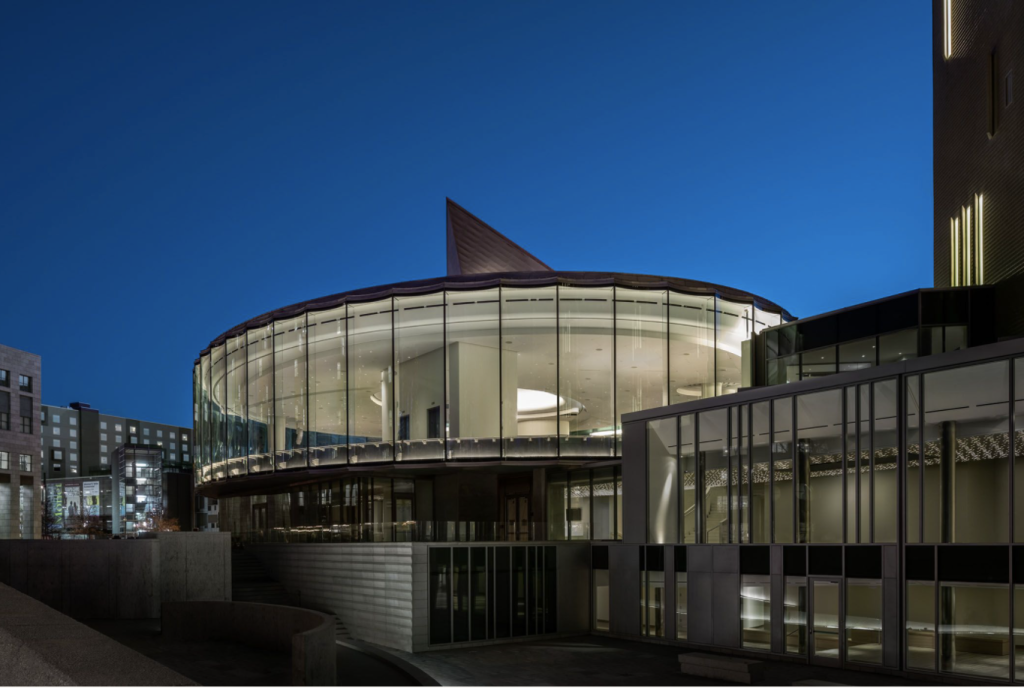 THE MILE HIGH CITY'S art scene reached a new height as the Denver Art Museum unveiled the boldly reimagined $150 million transformation of the north campus in late October. Christoph Heinrich, the museum's director, and his staff of 400 happily anticipated the date when they could share the space. The details of the project are almost as numerous as the DAM's extensive collection, but to simplify, Heinrich offered his top not-to-miss aspects of the project
1 MARTIN BUILDING RENOVATION Coinciding with the DAM's major upgrades, the city's first dedicated art museum build- ing marks its 50th anniversary in 2021. Gio Ponti's iconic seven-story, ceramic tile-clad, castle-like structure is a sculpture unto itself and the only building completed by the Italian architect in the United States. The comprehensive sprucing-up includes dramatic new lighting that amplifies the effects of Ponti's unusual lines and remarkable windows.
When the DAM opened the Hamilton Building, Ponti's masterpiece was named the North Building. The museum has renamed Ponti's building for the institution's chairman of the board, Lanny Martin and his wife, Sharon. The couple's lead gift of $25 million was just the latest of many major donations to the Denver arts scene. Lanny Martin describes the new and improved museum campus as "a beacon of creativity for all."
2 SIE WELCOME CENTER
With 50,000 square feet, the transparent and reflective ellipse of glass designed by Mach- ado Silvetti and Fentress Architects is the cultural complex's new architectural crown. Constructed with innovatively engineered curved glass panels, the new building links the campus visually. The curvilinear welcome center softens and balances the sharp lines of the existing two buildings.
Heinrich called the Sie Welcome Center "the wide-open arms of the museum to the community." The new building contains flexible event spaces and purpose-built art conservation laboratories visible to visitors.
3 BARTLIT LEARNING & ENGAGEMENT CENTER
To design dynamic and interactive indoor and outdoor spaces for exhibitions, receptions and classes, the museum brought back Mexico City-based Esrawe + Cadena. In 2017, the wildly creative and community-minded duo designed La Musidora, the oversized, woven, musical lawn chairs—an artful version of patio furniture installed as interactive public art on the Hamilton Building's piazza.
"Creativity is vital at all stages of life, and we look forward to unveiling these new spaces and programs designed for preschoolers to older adults," said Heather Nielsen, chief learning and engagement officer.
4 PONTI RESTAURANT AND GIO CAFÉ 
Art feeds the mind and the spirit, yet the body needs to eat, too. The museum's two new restaurants offer indoor and outdoor seating. Gio Café is fast-casual. Ponti—created in collaboration with Denver's celebrated James Beard Award-winning chef, Jennifer Jasinski—will serve locally sourced and seasonally inspired dishes.
5 WESTERN AMERICAN ART GALLERY IN THE MARTIN BUILDING
The DAM unified formerly separate galleries to create a large new display space. The exhibit offers an American art history lesson from a distinctly Western perspective, showcases the museum's collection, and focuses on Denver as a hub of the Rocky Mountain West.
6 WHISTLER TO CASSATT EXHIBITION, NOV. 14 TO MARCH 13, 2022
Heinrich said that during his 14-year tenure as director, his most personally rewarding exhibition was the Monet show he'd long dreamed of presenting. He also included the Van Gogh show as a milestone exhibition at the DAM. "But we don't reminisce too much," Heinrich said. "We're always looking to the next exhibit, and Timothy Standring [the DAM's curator of painting] has curated our next beacon show."
7 NEW TEXTILE ART & FASHION INSTITUTE AND SUITED: EMPOWERED FEMININE FASHION EXHIBITION, NOW THROUGH MARCH 6, 2022
The museum's posh and tremendously popular Yves Saint Laurent and Dior couture exhibitions likely inspired the recent anonymous gift of $25 million to support the museum's textile art and fashion collection. Fashion exhibitions, Heinrich said, often draw visitors who are less interested in the art museum, adding, "We have a beautiful show, Suited, in the new Martin building with the same curator from the Yves Saint Laurent show, Florence Müller."
8 BY DESIGN EXHIBITION, NOW THROUGH JAN. 1, 2023
More than 400 objects are showcased in two exhibitions: By Design: Stories and Ideas Behind Objects and Gio Ponti: Designer of a Thousand Talents. The exhibitions were designed by OMA New York and the Colorado firm McGinty Co.
9 FREE DAYS: NOV. 6, 9 AND DEC. 14
If you missed the DAM's free opening-day activities, check out these additional dates to visit without charge. "Art is for everyone," Heinrich said. "We have amazing offerings, and many of them are free. And kids under 18 always come in free."
10 DENVER'S UNIQUE CULTURAL COMPLEX
The radical architecture of Denver's cultural complex creates an artful impact with strong shapes for a rugged region. As if the triumvirate of Ponti's gray art castle, Libeskind's titanium-clad architectural origami and the new glass ellipse weren't enough, add the neighboring Denver Public Library's Michael Graves-designed building with simple but enormous shapes. "Maybe it is the spirit
of the West, which is entrepreneurial and open-minded. Denver is a young city and doesn't have centuries-old structures as temples of art," Heinrich said.
THE DETAILS
Denver Art Museum
100 W. 14th Ave. Parkway
Denver, CO 80204
Plan your visit and find information on tickets, parking, current COVID-19 protocols and more at denverartmuseum.org.
Colleen Smith is a regular contributor on art and design to Colorado Expression.