5 Businesses for Our Pampered Pooches
These businesses and services cater to your four-legged friends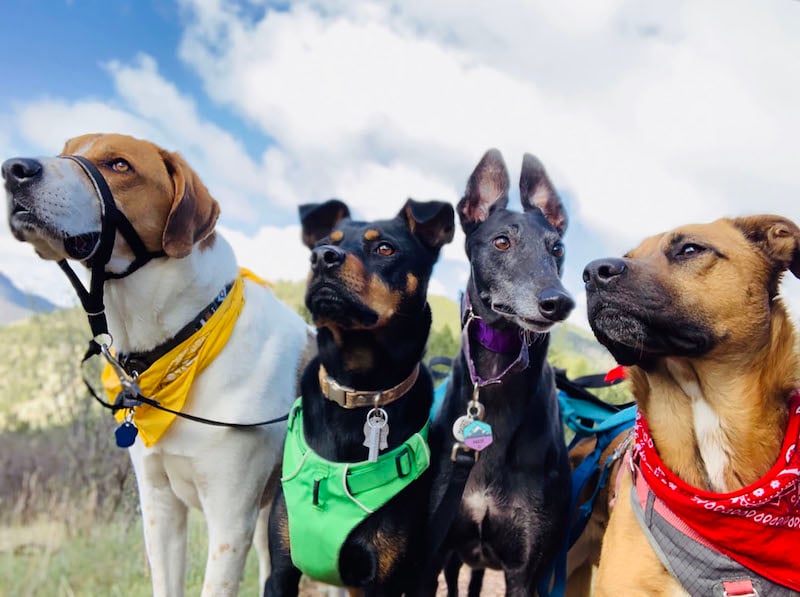 For everyone who considers their pet a part of the family and believes nothing is too good for Fido or Tigger, this story is for you. Armed with tips from happy customers, we've assembled a guide to some of the metro area's best pet-pampering providers.
Who let the dogs out?
Exercise is every bit as essential to a dog's well-being as it is to your own, but what's a pet parent to do when taking Rover for a stroll, run or game of fetch simply isn't possible? The answer is Hike Doggie, which Kath Allen founded in 2016. She and her team of leash-management and dog safety-trained hikers take dogs of all breeds, ages and physical abilities on two-hour, on-leash hikes on mountain trails throughout the Denver metro area.
"Hiking, sniffing and snacking in beautiful open spaces with an energetic and dog-loving hiker is a dream come true for me and my furry crew," says D Diamond, whose three pups—Chia B, Moet and Mojito—are long-time Hike Doggie clients. Dana Davis, whose dogs Nick and Hunter also are Hike Doggie regulars, says: "The pure joy that (the hikes) bring is priceless. When my big guy, Nick, was having some health issues, Kath and her team created a special hike for some of the more mature dogs. I believe it helped him recover faster. My boys get so excited when that blue bus pulls up. It is pure love and joy!"
Allen does a meet-and-greet prior to taking on a new client to gain the information critical to better equip her hikers to be in sync with the dogs with which they'll be working. Hikers also take pictures and videos during each hike and present them to the pet parents, along with a "report card" that details miles walked, rest stops and other information.
The dogs are transported to and from the trailheads in blue vans with interiors structured for doggie comfort: heat, air conditioning and, in cold weather, fleece blankets. After completing one of three hike levels— Stroll 'n' Sniff, Carefree Jaunt and Leg It Out—the dogs are washed and towel-dried and given snacks that can include freeze-dried lamb lungs, bone broth and yogurt-filled Kongs before settling in for naps on the ride home.
"The ride home is pretty quiet," Allen says, "because the dogs are all tuckered out." How much do our canine companions enjoy Hike Doggie? "Many clients tell me that their dogs love Hike Doggie so much that on non-hike days they sit and stare at the door, waiting for the van to arrive," Allen says.
Hike Doggie
$80 for one dog, once a week; discounts for multiples.
Tasty treats for Fido
What began as a gimmick to attract passers-by to the luscious baked goods she was selling at a pop-up farm stand that operates every Sunday during the summer has blossomed into an important element of Bella Butzie's Cakes, a Colorado Cottage Foods Act-approved business that Polly Dicker operates from the kitchen of her Denver home. "A lot of people were walking their dogs during the hours that the farm stand was open, so to get them to check out my cakes, breads and cookies I'd ask if their dog would like a biscuit," Dicker said. The treats were so well-received that she decided to add them to her weekly repertoire. Though she no longer participates in the farm stand, Dicker continues to take special orders for the crunchy, coin-shaped biscuits that sell for $2 per dozen. Dicker offers a different flavor each week; a recent batch was made from pumpkin, parsley, ginger and oats. "Whenever I want to add a new ingredient (to the water, salt and flour base), I Google to see if it's OK for dogs. I'm very careful about what I put in them."
She takes orders by phone or email with porch pickup at her Hilltop neighborhood home.
Pop-Up Farm Stand
414-460-3768
Fluffin' 'em up
Locally owned and family operated, Urban Dogg operates out of two locations: 695 E. 19th Ave. In Denver's Uptown neighborhood and 278 S. Downing St. in the Washing- ton Park neighborhood. It is one of the city's few pet salons serving dogs and cats. Groomers there have an average 10 years' experience each. Dog grooming includes the cut of the pet parent's specification, a double-shampoo bath and conditioner, a teeth-and-breath freshener, nail trim or grind, anal gland expression and a blueberry facial. Cats can be bathed or brushed. Food, treats and toys also are sold at both locations.
Urban Dogg
Price is based on breed and size.
Pretty as a picture
It took two college degrees and jobs in sales and green-build consulting for David Kennet to find his passion: creating custom oil paintings of companion animals. "I started taking art classes when I was 7, but it wasn't until an ex-girlfriend asked me to paint a picture of her dog that I knew for sure what I wanted to do," he says. Kennet, who resides in Denver, has 1,000 clients around the world and completes between 100 and 135 paintings per year from photographs submitted by the pet parent. Most are of dogs, with cats and horses a close second. He has also painted a raccoon, guinea pig and goldfish. In addition to a photograph of the subject, Kennet also asks the pet parent to provide a brief description of the animal's personality so he can be sure to capture its essence. Prices start at $575.
Care to spend the night?
In December, 2020, Melanie and Dave Knudtson purchased the Doggie Dude Ranch and O'Cat Corral in Watkins from founder Laurie Mattke, and they assure clients that none of the boarding/daycare facility's luxurious features have changed. "We'respotless, safe and care for your pets like they are our own," Melanie Knudtson says. Dogs are never left untended during playtimes in two yards, where they're grouped by size, age and/or agility, or the heated pool that is open daily, weather permitting. Life jackets are put on dogs swimming for the first time. Cats repose in climate-controlled, five-level "condos." Dog "suites" also are climate-controlled, with custom beds and daily maid service. Morning and evening meals, using the pet's own food and fed by hand, (if that's what the dog is used to), are served, along with afternoon treats. Medication delivery, if needed, is included in the all-inclusive nightly fee. A staff member is on-premises 24/7, and the Strasburg Veterinary Hospital is on call. Pickup and drop-off service is available for a fee.
Doggie Dude Ranch
$49, one night, one dog;
$20, one night, one cat.
Discounts for multiples.
Joanne Davidson is "Mom" to Lulu, a 9-year- old terrier mix, and Fortune, an 11-year-old Tibetan spaniel. Both were adopted from the Dumb Friends League; Lulu when she was an 8-week-old puppy and Fortune when he was 2. They love to be pampered.