Snow Fashion in Aspen
Top ski brands and retailers are expanding their high-country presence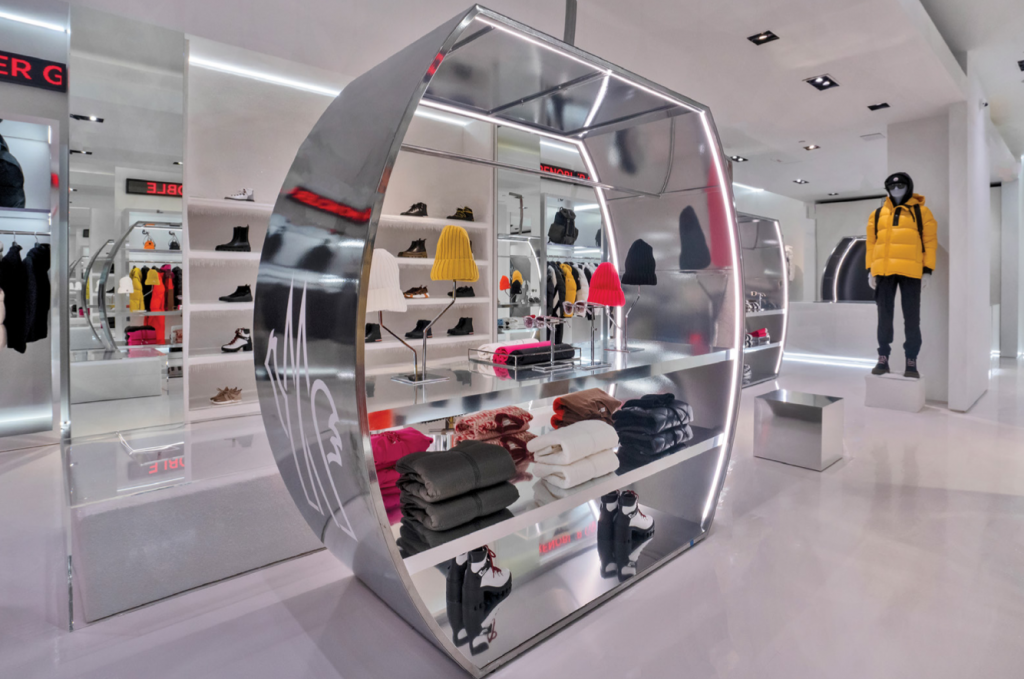 COLORADO'S LEGENDARY SKI TERRAIN and culture have made it the epicenter of luxury skiing in the United States. Look at any top-10 resort list, and you'll see at least three Colorado ski towns on it, with Aspen frequently taking the No. 1 spot.
Alpine skiing has been part of Colorado's outdoor culture since before we were even a state. The now-luxe sport got its humble start in the mid-1800s as a mode of transportation for miners and mailmen, and it wasn't until the late 19th century that it evolved into a recreational activity. Since then, our mountains have served as training grounds for everyone from the 10th Mountain Division to Olympic athletes. It was during the 1950s that Colorado's ski areas began to feel like European-style resorts, complete with chic restaurants and posh hotels. Of course, stylish skiwear goes hand-in-hand with high-end resorts, and it wasn't long before ski luminaries like Klaus Obermeyer and Willy Bogner and retailers such as Gorsuch brought a refined sense of style to the slopes.
Today, excitement in Colorado's ski and outdoor sports community doesn't just extend to which brands are opening new stores—like Aviator Nation in Vail—but pop-ups and collaborations as well. From Bogner's FIRE+ICE x LoveShackFancy pop-up in Aspen to the reopening of AETHER Apparel Lounge at Boulder's Corrida restaurant, ski fashion and culture are creating a buzz throughout Colorado.
One of the biggest announcements has come from Moncler, known for its luxury fashion-meets-function ski and outerwear. This season, the Italian brand decided to expand its presence in the Rockies with a winter pop-up in Vail (the brand's first U.S. store opened in Aspen in 2008). The boutique's modern winter vibe emanates from its high-shine white and chrome finishes and graphic orange and black signage. Moncler Vail carries all-weather essentials for the whole family, including the Moncler Collection and Grenoble Genius Lines for men and women, an elegant kids' line, and even Poldo for the pampered pooch.
In Aspen, the resort is celebrating its 75th anniversary. To coincide with the festivities, the Aspen Skiing Company has introduced a ski apparel collection called ASPENX. The clothing line is the first performance product line developed by any ski resort. Created with the input of the resort's own expert on-mountain team for comfort and safety standards, the line includes men's and women's jackets, pants, base layers, sweaters and beanies. ASPENX opened a boutique last month that, in addition to its clothing collection, will offer bespoke retail, rental equipment, and even food and wine services, both on- and off-mountain.
Speaking of on-and off-the-slopes, if braving the elements in style from mountain to town is top of mind, visit Dan Sharp Luxury Outerwear before heading to the high country. Many Denver fashionistas know the retailer for its high-end outerwear, but Sharp also carries timeless fur-collar jackets that can be worn on the slopes. They're available in-store in beige and black, but if you're willing to wait a few weeks, you can custom order your favorite color.
If you're a dedicated skier, a number of tried-and-true Colorado-based brands continue to refine technical wear and expand their collections. This season, Aspen-based Obermeyer has partnered with Dermizax, a Japanese-developed high-tech, high-performance material to create a hyper-technical line. The experts at Obermeyer have engineered a variety of pieces in its men's collection, including the standout Iba Down Hybrid Jacket ($599) with Dermizax's four-way stretch material to create a piece that allows for a full range of motion, while also being waterproof and breathable. The innovative fabric is lightweight enough to let you move freely while also providing the insulation and water resistance necessary to keep you comfortable in rain, sleet or snow.
Known for its use of color and dressing the female figure in stylish, high-performance skiwear, Vail-based Skea turned to the art world for inspiration when designing this season's line, transferring paintings to fabric to create bold and colorful technical apparel. The first painting is an upbeat, watercolor print called Aloha, with cheerful bright hues of white, fuchsia and aqua. The second is a graphic paintbrush motif in bold tones of pink, turquoise and black. Of course, there are solid pieces to mix back to both prints, as well as a clean, sophisticated line in black, white, navy and taupe. Skea's winter collection allows for maximum variety in styling, while staying true to its ski performance roots.
Whether you're shopping for high-tech performance wear or looking to rent or demo equipment, you're likely to find your shopping experience this winter is better than ever. At Christy Sports, new back-of-house technology is making the customer rental equipment experience quicker, more seamless and paperless. In fact, Christy's can even retain your rental information and recall it at any of its locations, allowing any store to access your favorite gear and rent it to you again or put you in something different that you'll like even better. Rental packages are available for skiers and snowboarders, and include everything from skis, boots and bindings to poles and helmets. In addition, this season Christy's has expanded its selection of ski boots.
Georgia Alexia Benjou is a regular contributor to Colorado Expression.