Morris Price Jr.: A Community Optimist
Whether working in education, government or philanthropy, Morris Price Jr. brings his "A" game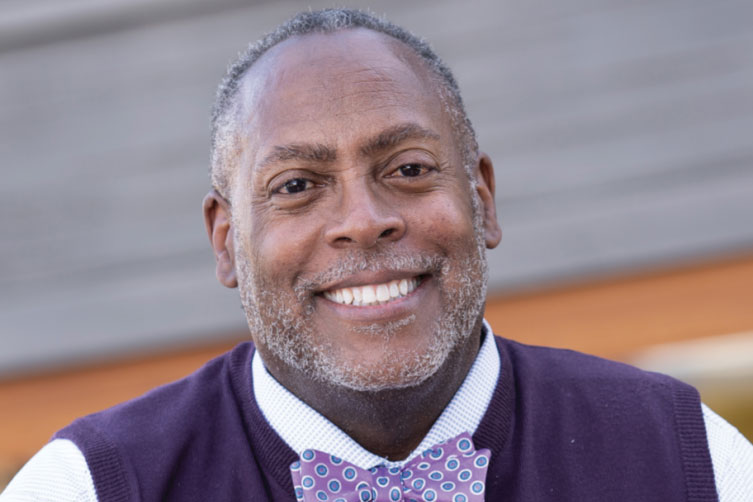 Portrait By Jensen Sutta
MORRIS PRICE JR. exudes charisma. He's an extrovert, dapperly dressed, impeccably mannered and effortlessly generous with his genuine smile. It comes as no surprise to learn that Price was nominated homecoming king at Colorado State University in 1985. "I came out my freshman year in college, and I was the first Black and first openly gay homecoming king at CSU," says Price, 59. "Some people in the crowd called out the 'N' word. It was disappointing, but I wasn't going to let them steal my joy."
Price went on to a career that encompasses 15 years working in higher education, including as associate dean and director of admissions at the University of Denver, 10 years in nonprofits including as a founding staff member of the Daniels Fund, and five years in the federal government as chief of staff in Denver for U.S. Rep. Diana DeGette, D-Colo.
"Morris Price is a force to be reckoned with!" DeGette wrote in an email. "As my congressional district director, he used his intelligence and people skills to make our office always accessible to the community. I still count him as one of my closest advisers."
Dan Ritchie, DU chancellor emeritus, wrote, "Morris did great work for DU, very devoted and conscientious, always friendly and approachable."
In August, Price assumed his new position as vice president of grants at The Colorado Trust: A Health Equity Foundation. "It's a different model for philanthropy," Price says. "We're a private foundation founded in 1985, but we're not just sitting in Denver on an endowment of half a billion dollars. We let community members around the state decide their needs, whether playgrounds or help with food scarcity in the community. We empower communities to learn to use resources there and engage in creating power and change at local levels. We award grants of $22 million per year. It's a lot, but it's never enough."
Price and Teddy, his Westie-wirehaired terrier puppy, live in Denver's Mayfair neighborhood. Growing up in a military family, Price moved frequently. His father, Morris Price Sr., was the first in his family to leave Louisiana, when he enlisted in the military and landed at Lowry Air Force Base in 1961. From Denver to South Dakota, after stints in Spain, California, Kansas, Germany and South Carolina, Price and his parents and two sisters returned to Denver in the late 1970s. Despite his years in other cities and states, Price considers the Mile High City and the Centennial State home. "I love this state, and there's not another major city where I could have accomplished what I did here," he says. "It wasn't my money that got me recognition, it was being present. I've learned to be engaged. I serve on boards. I show up for events. I get to know people. Denver is small city with a lot of friends, and you can get to know anybody here with three handshakes."
Price credits his parents, in large part, for his success, as well as his evident peace of mind, which he admits is hard-won. "Inner peace after a long time," Price says. "I'm not naive, but I am constantly optimistic. I am a community optimist."
MORE ABOUT MORRIS PRICE JR.
HIS HAPPY PLACE IN DENVER:"My patio. It's small, but I can be myself and have friends over for a BBQ."
HIS GUILTY PLEASURE: "I don't drink or gamble, but I do like clothes: Tom James Custom Clothier. Joseph Abboud. Stubbs and Wootton shoes. My passion for clothes began in college when I worked in clothing stores."
HIS FAVORITE WAY TO UNWIND AND RESTORE:
"Hot springs. My favorite in Colorado is Mount Princeton, also Iron Mountain. And Ojo Caliente in New Mexico."
HIS FAVORITE FILM: "Shawshank Redemption. 'Get busy living or get busy dying.' "
HIS PSYCHE SONG: " 'Everyone's Free to Wear Sunscreen.' I listen to it once a week."
HIS READING LIST: "In my 40s, I discovered I was dyslexic, but I read a lot. I stockpile magazines. I like biographies and self- improvement books; right now Atomic Habits, What a Re-Imagined Society Looks Like (And how we get there), and Healing After Loss."
HIS AWARDS: 2009 Professional Man of the Year Award: Gay and Lesbian Chamber of Commerce; 2021 Swanee Hunt Leadership Award: Women's Foundation of Colorado; 2019 Charles A. Lory Award for Public Service: Colorado State University; 2013 Al Matthews Civic Engagement Award: Urban League of Metro Denver; 2014 Paul Hunter Outstanding Community Leadership award, Human Rights Campaign. "I've won a lot of awards, and they mean a lot to me," Price says, "but what meant the most to me was hearing my dad as he was dying say, 'I have a good son.'"
HIS BOARD SERVICE: Rose Community Foundation; Colorado State University Foundation; Colorado Nonprofit Association, First Baptist Church of Denver; Compass Academy; the Denver Art Museum Marketing Advisory Board; and the Colorado State University LGBT Alumni Alliance.
HIS CURRENT STATE OF MIND, POST-GEORGE FLOYD: "I have more anger than pain. I am unhappy that in America promises have been made but not kept. I believe in the promise. I want people to stop making excuses. The opportunity that George Floyd gave us is that we are primed to reset."
HIS HOPE: "We need policies to follow protests. We have a narrow window to define this work before it is institutionalized with an office of equity as a line item and to push the definition wide when it solidifies, because this is broader than just Blacks. Look at the attacks on Asians, continued marginalization of immigrants and all but ignoring the needs of indigenous people. We need to teach humility and manners and civic education. We need to be energized by people who are different from us. If we gather only with people who look like us and think like us and reinforce our likeness, we're not growing."
THE MYTH HE'D MOST LIKE TO DISPEL: "That Black fathers aren't involved with their kids: That's not a Black thing."
HIS BOW TIES: "My dad wore bow ties and taught me how to tie one, because the rules of a gentleman: no clip-ons. My dad said a bow tie should have an imperfection. It shows it's OK to have a flaw."
HIS PARTING ADVICE: "Consistently check your personal brand. Also, learn to embrace all the things you know about yourself that you think people won't accept. The worst-case scenario usually doesn't happen. In fundraising, there's asking and not asking. I've found that asking works better. And in life there's hiding parts of yourself or celebrating all of yourself, and I've found celebrating the whole self works better."
"I'VE WON A LOT OF AWARDS, AND THEY MEANT A LOT TO ME, BUT WHAT MEANT THE MOST TO ME WAS HEARING MY DAD AS HE WAS DYING SAY, 'I HAVE A GOOD SON.'"
— MORRIS PRICE JR.
Colleen Smith is an author, screenwriter and journalist who has devoted much of her career to creating multimedia communications for nonprofit institutions in Colorado, across the U.S. and in the Philippines.