Colorado Ballet: Ready to Dance
Colorado Ballet looks ahead; principal dancer Dana Benton calls it her "dream season"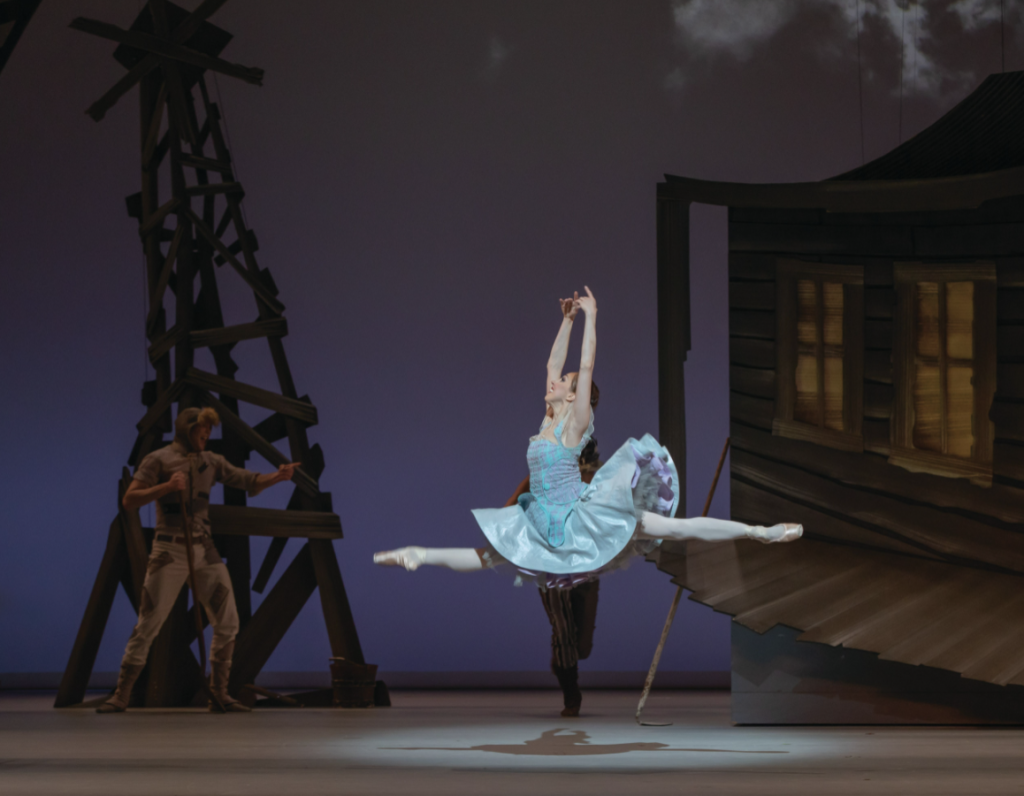 THERE'S SOMETHING MAGICAL about ballet: The soaring music. The opulent sets and costumes. The sheer athleticism that is key to the grace with which the dancers move.
For 60 years—but especially since the 2006-07 season, when Gil Boggs was named artistic director—Colorado Ballet has continued to gain in importance in the dance world, winning new fans through programming that's a mix of old favorites and bold new works.
Boggs, a former principal dancer with the American Ballet Theatre, is particularly proud that Colorado Ballet is considered one of the top five companies of comparable size in the nation, and that it emerged from the throes of 2020 on solid financial ground.
"When I arrived, Colorado Ballet was struggling," Boggs said, adding that his first priority was to move it into the black. "If I'm going to sit through a performance, it better be good," he said. "So we made sure we were putting a great product on the stage."
It worked.
Soon, the company was receiving prestigious awards and invitations such as the 2009 Colorado Masterpieces Award, an honor that enabled the company to tour the state in 2009-10 as part of an initiative funded by the Colorado Council on the Arts: American Masterpieces, Three Centuries of Artistic Genius. In addition, Colorado Ballet was invited to participate in the highly acclaimed Vail International Dance Festival in 2011, 2015 and 2017.
PATRONS SHOW SUPPORT
"From a financial standpoint, we are solid," Boggs said. "We've had five years of record ticket sales and revenue, and in 2014 we bought our own building, after years of leasing space near the State Capitol. That's a strong statement that we are here to stay."
Patrons and donors, Boggs added, "really stepped up" during the pandemic, even though there were no in-person performances or fundraising events. An anonymous donor gifted the company $500,000, and a charitable foundation that asked its name not be used contributed $1 million.
A financial turning point for the ballet came earlier, in 2016-17, when ticket sales passed the $4 million mark for the first time and attendance topped out at 87,000. Today, the company that the late Lillian Covillo and Freidann Parker started in 1951 as the Covillo-Parker School of Dance operates on a $7.8 million annual budget; and has 31 professional dancers from 11 countries, including Japan, Russia and Cuba, 150 full- or part-time employees and 125,000 patrons.
Ticket sales are strong for the 2021-22 season, which opens Oct. 8 with the masterwork Giselle. A classical ballet, this tragic romance was first performed in Paris in 1841. The Nutcracker, which opens Nov. 27, will have new sets and costumes that were made during the pandemic, replacing ones that date back to 1986.
TWO DECADES OF DANCE IN COLORADO
After not being able to perform with the company for most of 2020, the dancers were excited to start preparing for the 2021-2022 season.
Dana Benton, one of Colorado Ballet's three principal dancers, will perform the title role in Giselle. "It's Gil's favorite ballet, so no pressure there," she said with a laugh. "But this is truly my dream season."
A native of Hamilton, Ontario, Canada, Benton will celebrate her 21st year with Colorado Ballet by starring as Juliet in Romeo and Juliet. It will be her first time in that role, offering her the opportunity to "dive deep into the dancing and the acting." She also will dance the role of Dorothy in her childhood favorite, The Wizard of Oz. "It was one of my favorite movies growing up. I'd dance around the house every time it was on."
Benton's formal ballet training began when her parents enrolled her in Canada's National Ballet School when she was 9. She remained there until her graduation at age 18. After one season as an apprentice with the Alberta Ballet, Benton joined Colorado Ballet in 2001 as an apprentice dancer. Skill and dedication propelled her to the corps de ballet and, eventually, principal dancer.
She feels that spending the better part of a decade in the National Ballet School played a large part in getting her to where she is today. "You're away from your family and so you learn to grow up by yourself and become independent early on, which is great for this career," she said.
Never once has she regretted her choice. "From the time I was a child, I always thought ballet was so pretty," she said. "And when I got to dance it, it was even better."
The 39-year-old is the mother of Poppy, 3, and Felix, 1, and says keeping to a schedule is critical in managing her time and staying prepared to dance. "In the offseason I try to get up before they do so that I can get my ballet and whatever else exercises in."
She said she continues to enjoy both the challenge and the athleticism of ballet. "You have to prove yourself at every stage: corps de ballet, semi-solo, solo and principal. There's a lot of dedication involved. You have to prove you are able to do what's expected of you. Becoming a principal dancer was something I'd always dreamed about but didn't know if it would happen. I just kept moving ahead, and I'm glad I did."
FUN FACTS ABOUT DANA BENTON
She has a "LITTLE FEAR" OF HEIGHTS, yet has no qualms about the flying that Dorothy has to do in The Wizard of Oz. "I'm OK when I'm all wrapped in. But I have had some anxious moments" when propelled into the air in other roles.
In season, "Most of us eat whatever we want because we're working so hard and need all the nutrients. We're more careful in the off-season, but I do have a sweet tooth and a PARTICULAR FONDNESS FOR CINNABONS and any gummy candy."
To stay in shape during the pandemic, she took advantage of the UNLIMITED VIRTUAL YOGA CLASSES that Colorado Ballet offered its dancers. She also did daily online workouts with her family in Canada.
During Colorado Ballet's season, dancers meet at the studio every morning for a ONE-HOUR, 15-MINUTE CLASS IN MOVEMENT AND TECHNIQUE. Following a 15-minute break, THE COMPANY REHEARSES FOR THREE HOURS, from 11 a.m. to 2 p.m. An hour's break for lunch is next, during which time many of them squeeze in A MASSAGE, A PILATES WORKOUT OR PHYSICAL THERAPY.
Her frequent partner, fellow principal dancer YOSVANI RAMOS, ALSO HAS BECOME HER BEST FRIEND. "We mesh well together; there's a lot of mutual respect. It is so helpful to have a partner who always has your back."
THE DETAILS
Colorado Ballet
Armstrong Center for Dance
1075 Santa Fe Drive
Denver, CO 80204
303-837-8888
coloradoballet.org
2021-22 SEASON
Giselle, Oct. 8-17
The Nutcracker, Nov. 27-Dec. 24
Romeo and Juliet, Feb. 4-13, 2022
The Wizard of Oz, March 11-20, 2022
Ballet Masterworks, April 15-24, 2022
All performances are at the Ellie Caulkins Opera House
One of Joanne Davidson's most treasured souvenirs from her days as The Denver Post's society editor is the 1995 En Pointe Award–a well-worn pointe shoe mounted on a base of wood–given to her "In Appreciation of Your Support of Colorado Ballet."