Playing Golf at Flying Horse North
Flying Horse tees up its second golf course, enhancing the community's impressive stable of amenities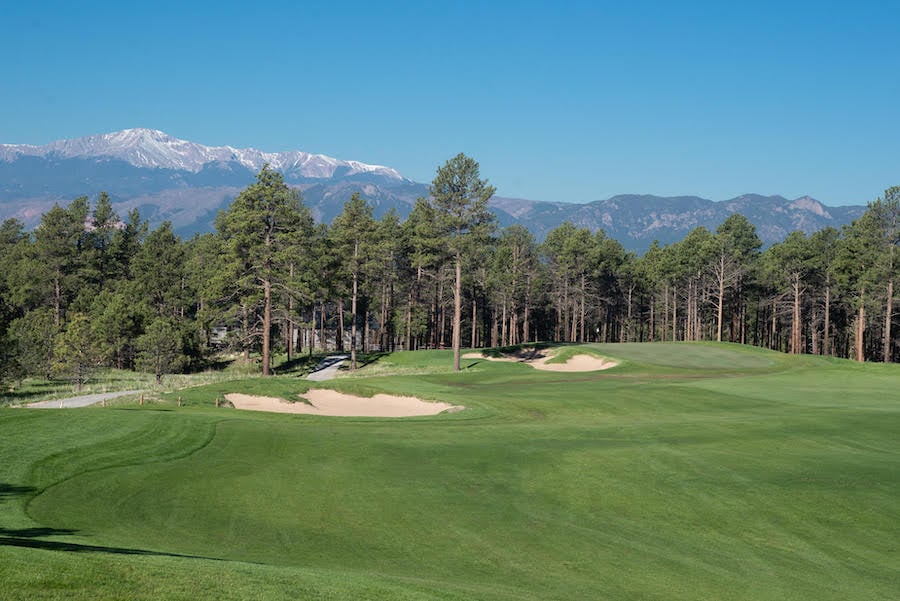 Photo Courtesy: EJ Carr
THINK OF GREAT PAIRINGS such as Butch Cassidy and the Sundance Kid. Steak and lobster. Cowboy boots and blue jeans. Together, some things are exponentially better. That includes the Club at Flying Horse and Flying Horse North, two remarkable golf courses just northeast of Colorado Springs.
Golf aficionados teeing up at Flying Horse North, the newest of the two championship courses, are immediately wowed on the first hole's tee box, whose vista puts
Pikes Peak front and center. Playing 4,873 yards from the forward tees and 7,166 yards from the gold tees, the Phil Smith Signature Course rewards golfers not only with impressive views of Pikes Peaks but also a tapestry of rolling ranchland, hillsides and ravines covered with scrub oak, and forests dense with aspen and pines that create one of the most picturesque landscapes in Colorado.
"When I first walked the site at Flying Horse North in 2012, I was astounded at the raw potential of this property," said Smith, principal at Phil Smith Design in Scottsdale, Ariz. "Simply put, it was my job not to screw it up! I couldn't be more pleased with the final product."
Smith, who worked for Jack Nicklaus for a decade and Tom Weiskopf for 14 years as his exclusive golf course architect, definitely brought his A-game to the Flying Horse North layout, which had a soft opening in the fall of 2020 and debuted officially over Memorial Day weekend.
An Impressive Portfolio
Avid golfers may be familiar with Smith's collaborative efforts at Catamount Ranch in Steamboat Springs; Frost Creek (formerly Adam's Mountain Country Club) in Eagle; The Yellowstone Club in Big Sky, Mont.; Snake River Sporting Club in Jackson Hole, Wyo.; Hualalai and Hokuli'a in Kona, Hawaii; and the Club at Flying Horse just down the road.
Club members, their guests and people staying at The Lodge at Flying Horse recognize by the third or fourth hole that this golf course is as golfer-friendly as it is challenging. That said, Smith deliberately designed the course to say "bring it on" to scratch and single-digit handicappers but fashioned the layout so higher handicap players, those just taking up the sport and kids would find their rounds enjoyable each time out.
"I'm excited to see the members play Flying Horse North," Smith said. "Nothing gives me more satisfaction than knowing people are having fun playing a course that I've designed. The game of golf is tough enough, and I hope I've designed a course that rewards risk and demands a fair penalty when necessary."
Further illustrations of the course's playability are its wide, well-manicured fairways, many of which play downhill, which often results in tee shots rolling an additional 15 to 40 yards. Though fairway- and green-protecting bunkers may seem visually intimidating, a well-struck ball takes those out of play, while Smith's "potato chip" greens, whose contouring resembles the popular snack, create generously sized landing zones.
An Array of Member Benefits
There are numerous ways to belong to the club, ranging from a membership allowing golf privileges at one or both courses, to social, fitness and dining membership tailored to non-golfers. Currently, the Flying Horse community is the setting for most amenities, including the magnificent Tom Weiskopf-designed course that opened in 2005 and a stunning clubhouse. Its athletic club has a 25-yard lap pool, a seasonal adult pool and splash pools, dozens of state-of-the-art fitness machines as well as a Yoga and Pilates studio. Indoor basketball, volleyball, pickleball and red clay tennis courts are especially popular in winter, while five outdoor tennis courts invite fair weather play. Collectively, the facilities provide more than 90,000 square feet of recreational, relaxational and socially interactive gathering space.
"The Athletic Club and Grill do a great job in the summertime with poolside service and, of course, our high-end steakhouse is extremely popular," said Jake O'Dell, director of golf. "The Tack Room is our members-only dining area where you can have breakfast, lunch and dinner, and we recently introduced a food wagon that serves golfers at Flying Horse North."
Golf and lodging can be arranged at either course for non-members hosting a corporate retreat, wedding and/or reception, non-profit fundraiser golf outings, or enjoying a stay-and-play at The Lodge at Flying Horse. The AAA Four-Diamond Designated property features 48 luxuriously appointed rooms and suites. There also is nearly 7,500 square feet of meeting space with eight conference rooms. A lodge expansion, scheduled for spring 2022, will introduce 56 more rooms and suites, as well as a restaurant, lobby bar and 3,600-square foot ballroom. Flying Horse's amenities make it a one-stop place for the whole family to come and enjoy so much," said Wendy McHenry, general manager. "We have golf and golf lessons, tennis camps, cooking and cartooning classes for kids, and those types of activities continue through the winter." It is definitely a club with plenty of giddy-up.
THE DETAILS
Flying Horse North
15268 Allen Ranch Road
Colorado Springs CO 80908
719-487-2620
flyinghorseclub.com/northgolf2020
Flying Horse memberships range from allowing golf privileges at one or both courses to social, fitness and dining options. Golf and lodging can be reserved at either course for non-members, and the facility also hosts meetings and conferences.
Kim D. McHugh, a Lowell Thomas award-winning writer, is a long-time contributor to Colorado Expression. When playing Flying Horse North, he was wowed by views of Pikes Peak and equally thrilled seeing his tee shots travel downhill those extra years.