Fairytale Wedding at Denver Botanic Gardens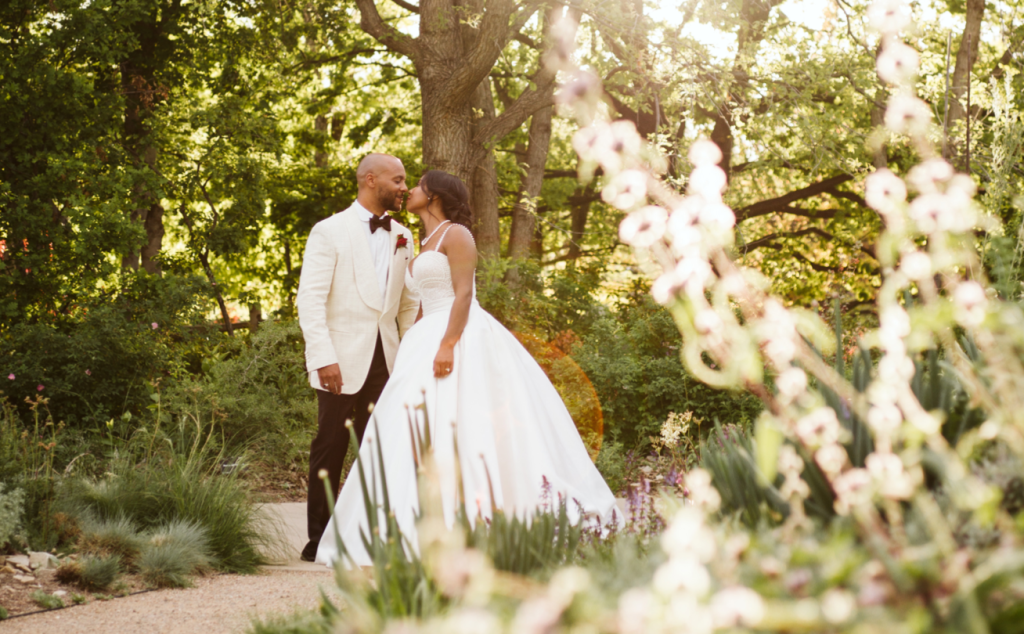 Romance in the Gardens
Courtney and Cameron's love story is what fairytales are made of! Their vision of a romantic, elegant day filled with love at the Denver Botanic Gardens came to life with no detail left unattended. Guests enjoyed a custom menu featuring all of the bride and groom's favorite foods and marveled at the hand-designed cake with two doves at the top, signifying purity, gentleness, devotion and faith. The wedding day stretched late into the evening as guests danced the night away, with the bride and groom showing everyone how it's done.
Summer Garden Wedding
After exchanging vows during a small, intimate ceremony in 2020, Caitlin and Patrick knew they wanted to bring their Texas roots to Colorado for a celebration one year later. Luckily, their original Denver wedding date was still available in 2021. Beautifully blending their past and present, they took a moment to restate their vows in Caitlin's mother's garden. It was such a special way to honor their vows from one year prior before heading off to celebrate with dinner and dancing.
Age of Aquarius
Taking a trip back to the past, Age of Aquarius was an event for the books! This nonprofit's fundraising event was planned in just over four months due to the pandemic. Guests were welcomed with crowns made of flowers, then snacked at a variety of food stations as well as passed hors d'oeuvres inspired by the elements and zodiac signs. After taking photos in front of a flower-festooned VW bug, guests moved inside the barn for a culinary feast. Everyone enjoyed a delicious meal featuring freshly harvested produce and ended the night with an ambrosia ice cream station.
Elegance in the Rocky Mountains
Stephanie and Matthew chose the majestic Ritz-Carlton Bachelor Gulch as the location of their destination wedding, bringing more than a bit of the Big Apple along. The couple broke the glass on the skier's-bridge-turned-temple as the festivities began. The celebration continued under a crystal-clear, twinkle-lit canopy positioned at the base of the mountain. Guests dined on the Rocky Mountain West's finest fish and game prepared by the Ritz-Carlton's culinary team.In true New York fashion, the couple and their guests danced the night away in a private NYC club atmosphere. Moving into the wee hours of their memorable celebration, the couple then hosted their guests for nightcaps, espresso martinis and sushi bites at the hotel's Sakaba Lounge.
Sweet Orange Summer Wedding
This couple's design featured bright summer colors and fresh pops of real citrus. A lush floral arch welcomed guests to the riverside ceremony, where they were greeted with lavender-infused lemonade. Family and friends found their table assignments on a custom three-dimensional escort board adorned with fresh oranges, grapefruits and flowers. Once guests were seated, the bride and groom made their grand entrance wearing traditional Ethiopian kabas. Guests enjoyed a gourmet dinner of filet mignon and salmon, paired with a favorite of the bride: cheesy scalloped potatoes, which were served in individual Balti bowls. While on the dance floor, guests were surprised with a Little Man Ice Cream Cart for a late-night snack.
Telluride and the Train Station: A Wedding Celebration
After eloping to Telluride for an intimate wedding ceremony in the fall of 2020, this couple couldn't wait to celebrate their marriage the following spring with a 150-person reception at the iconic Crawford Hotel in Denver's Union Station. It was important to them to have a very bright, fun and colorful event. Their vision came to fruition with incredible design and amazing florals, which carried the venue's classic Art Deco design throughout the event. The Crawford Hotel provided the guests with a 5-star food and beverage experience. Everyone danced the night away in Denver Union Station's Great Hall, and will certainly remember this special wedding celebration.