Ronald McDonald House Charities of Denver
Family-centered care, just steps away from the best treatment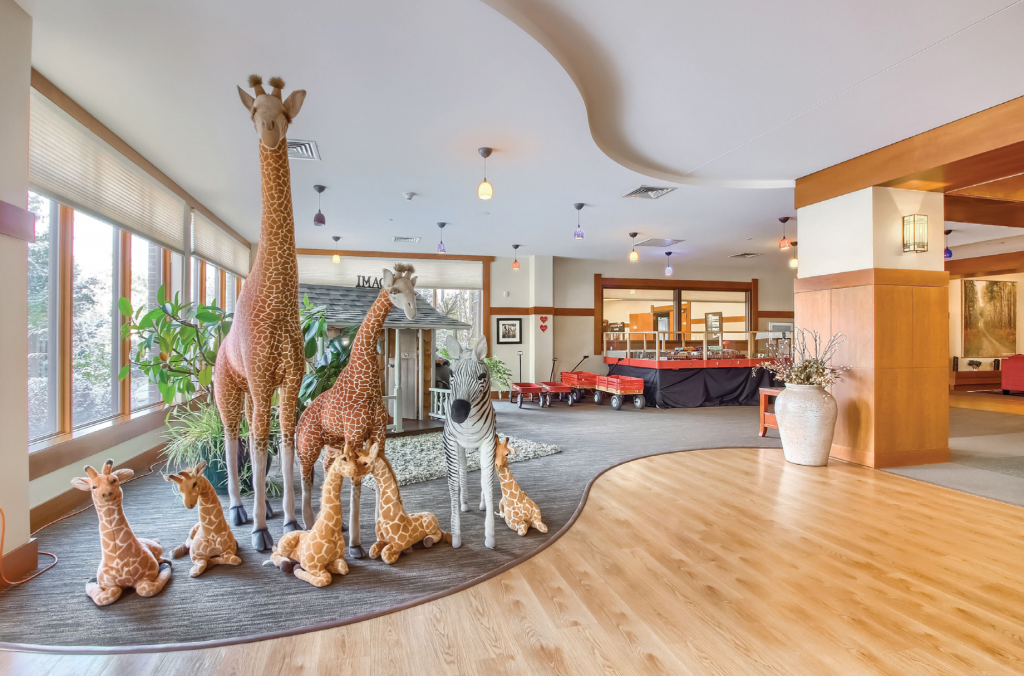 THE NEXT TIME you're grabbing a bite at McDonald's, go ahead and say "yes" when the order-taker asks if you'd like fries with your burger—and not just because McDonald's French fries are delicious. For every pound of French fries that the fast-food chain sells, McDonald's corporate gives a penny to Ronald McDonald House Charities, the parent organization for the international network of Ronald McDonald Houses. And it all adds up.
"In 2021, we received about $250,000 from French fry sales in Colorado and southern Wyoming," says Laura Cordes, executive director of Ronald McDonald House Charities of Denver (RMHC-Denver), which operates the two Ronald McDonald Houses in Denver and Aurora that provide a free room and other comforts for as many as 118 families per night. RMHC-Denver also maintains family rooms at Rocky Mountain Hospital for Children, Presbyterian/St. Luke's Medical Center and Sky Ridge Medical Center. These on-site rooms allow families to take a break from being at their child's bedside without having to leave the hospital.
There is no charge for families of patients to stay at a Ronald McDonald House, for as long as their child is in treatment. The average stay is two weeks. "Ronald McDonald Houses are a home away from home with all the comforts that you'd have at home or at a nice hotel," explains Cordes. Each house has a spacious lobby with comfortable couches, video games, books, movies, board games and more. In addition, each room has two beds, a desk, dresser, chair and private bathroom, along with a fully stocked kitchen and pantry, including milk and eggs, coffee-makers and "grab-and-go" items like cereal, fresh fruit and granola bars. Pre-COVID, volunteers would prepare and serve meals on-site; currently, they make and package meals in advance and leave them for the families to heat up and eat at their convenience. The houses, which are staffed 24/7/365, also have 24-hour laundries and yards with barbecue grills, playground equipment and bicycles.
The first Ronald McDonald House was established in Philadelphia in 1974, the result of an effort led by then-Philadelphia Eagles tight end Fred Hill. The director of the oncology center where Hill's 3-year-old daughter was being treated for leukemia told Hill of her dream to make life easier for families by creating a home away from home while their children were in treatment. Hill and his teammates persuaded McDonald's to help raise money for the purchase of a house; McDonald's responded by donating all proceeds from the sale of its Shamrock Shakes to the cause.
Cordes, who joined RMHC-Denver in 2017 after five years as chief operating officer of Mental Health Colorado, recalls that when seven Denver-area franchisees caught wind of what their colleagues in Philadelphia and subsequently Chicago had done, they embarked on a fundraising campaign that would allow them to purchase a 16-bed- room, historic mansion at E. 16th Avenue and N. Ogden Street. It was the third Ronald McDonald House in the world and served 17,000 families from 1979 to 2001, at which time a larger home was built at E. 21st Avenue and N. Downing Street, near the former location of Children's Hospital Colorado. The newer location recently expanded to accommodate 73 families per night. When Children's Hospital Colorado moved to the Anschutz Medical Campus in Aurora, a second Ronald McDonald House was built adjacent to it. It opened in January 2008, with the capacity to house 45 families per night.
Today, there are 379 Ronald McDonald Houses across the United States and in 45 countries, including Germany, China, Brazil and Thailand. "Our purpose is to offer family-centered care, with welcoming, calming faces," Cordes says. "We do all that we can to relieve a little bit of the stress that families with seriously ill children are experiencing. We cry with them when they need to cry and laugh when they need to laugh."
THE DETAILS
Ronald McDonald House Charities
Denver House
1300 E. 21st Ave., Denver 80205
303-832-2667
Aurora House
932 N. Potomac Circle, Aurora 80011
720-324-2400
rmhc-denver.org
Joanne Davidson had the pleasure of covering several editions of the Storybook Ball during the time she was society editor of The Denver Post. It is one of the city's most heartwarming fundraisers.