2022 Wedding Trends in Floral & Decor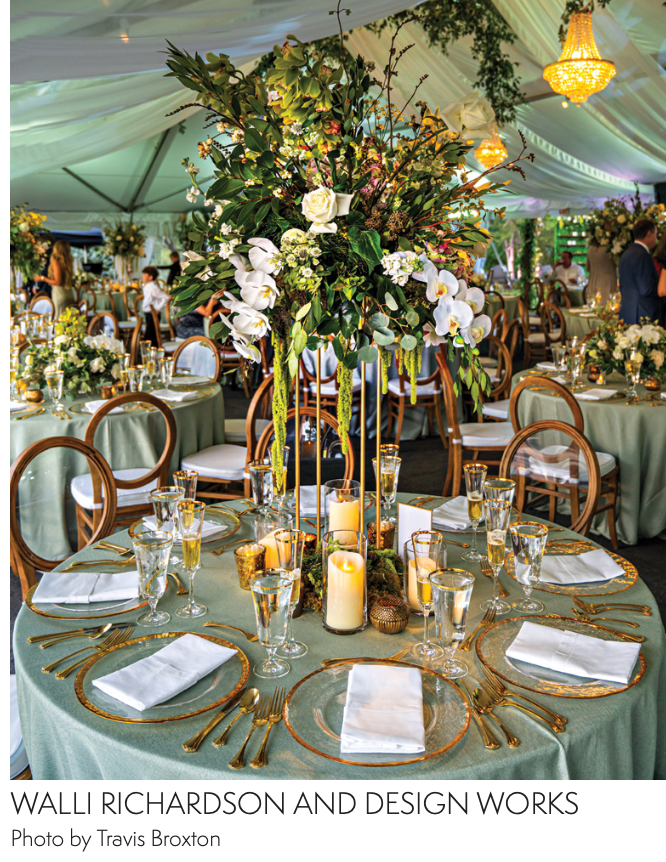 TRENDS IN FABULOUS FLORALS AND DÉCOR FROM DENVER'S BEST FLORISTS AND PARTY PLANNERS
Couples are tying the knot in record numbers and are ready to celebrate with family and friends.
THE YEAR 2022 is poised to be one of the busiest for weddings in recent history, surpassing 1984's record numbers. After two years of dealing with varying levels of pandemic guidelines, couples are ready to say "I do" with ceremonies big and small. From elegant neutrals to celebrating scenic locations, here are some of the trends emerging in florals and wedding décor.
TEXTURE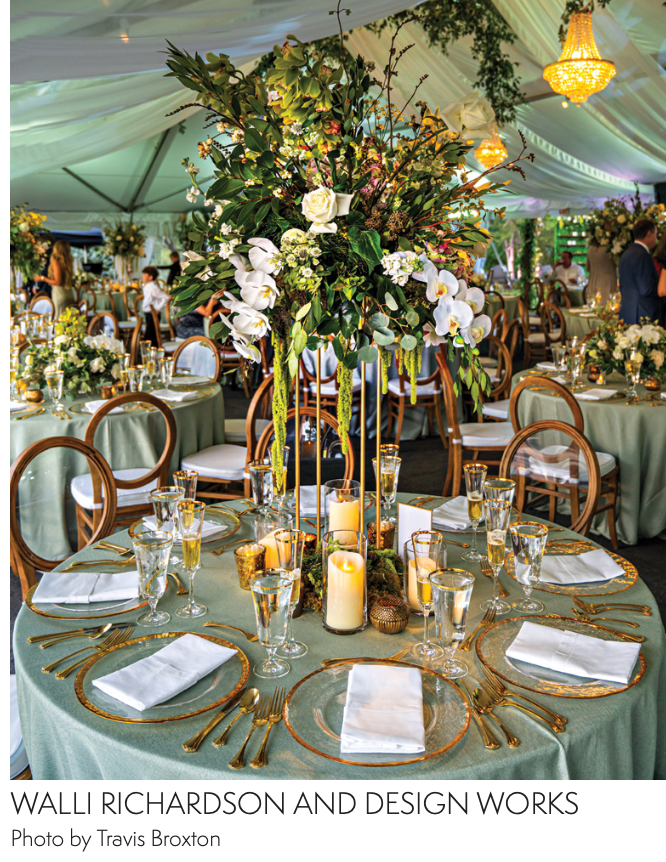 Earthy, organic Bohemian looks have been popular with brides for the past several years, and though the "full-blown Boho" look might be falling by the wayside, according to Newberry Brothers' lead event designer, Myisha McCarthy, elements of that trend are being updated and integrated into current looks as well.
"I do have brides that love that organic feel, but they're shifting that more into flowers," McCarthy says. "It's really blown-open blooms, lots of texture—the design is a lot of in and out; it's not this pavé, tight
look. They want it airy. They want a natural, organic feel … It's kind of like this glammed-up, elegant shift of that relaxed, textured look."
There also is a shift to a more stream-lined look. Massive centerpieces are gone; instead, bringing the outside in through greenery and floral installations creates more texture and adds interest to a more neutral color palate.
"We're seeing a lot of dried material," explains Angela Rohr, owner of Bella Lu Floral. "People are incorporating a lot of dried bunny tails grass, pampas grass or Ruscus [also known as butcher's broom]. It's still embedded with fresh floral, but I think the trend right now is more texture-driven material."
COLOR
If the trending "neutral" palette sounds beige, think again—these looks are anything but boring.
It's not just ivory and cream, Rohr explains, as a wide range of colors fall into a neutral palette: mauve, lavender and peach tones are popular, as are caramel and champagne. Adding in texture from dried materials elevates the look: "There's a lot of really fun specialty bleached product that aids in a white palette," Rohr notes.
McCarthy says that neutral earth tones and cool, purple tones are the most popular color palettes she's working with currently.
"Brides still want that soft look as a whole," McCarthy explains. "Now a lot of girls are saying they want to see those beiges, sand and champagnes. They love the depth and warmth of that range of colors … . For the girls who want color, those really cool purple tones like the lavenders and periwin- kle are popular for this upcoming season."
Though achieving these purple tones can be expensive—the small, delicate blooms like Dutch tulips, anemones and scabiosa that make this palette pop are pricey—McCarthy suggests that incorporating soft gray foliage like eucalyptus helps achieve the look.
Trudy Lundberg, who manages sales at DesignWorks, says their clients are returning to more elegance. Owner David Squires is designing a lot of romantic, neutral looks incorporating dried elements and natural-looking roses—there's very little pink these days, Lundberg notes.
"We're seeing a lot of people who want an elegant look: not fussy, not messy," says Lundberg. "It's an eclectic mix of décor, personalized to each of our brides. No style is repeated."
AMBIENCE
As the past two years have made getting together more difficult, weddings continue to be an opportunity to connect with those who mean the most; this is illustrated with seating arrangements, too. Nathan Pearse, president of Colorado Party Rentals, says that the trend of having various seating areas with soft furnishings—lounge-type areas—started about two years ago and shows no sign of stopping. Perhaps it was once a comfortable place for grandma to relax, but now weddings may include several different specialty areas, even for large parties.
"It's really cool," says Pearse. "It's almost like creating a nightclub, afterparty experience for people."
And for those who want to go beyond the specialty cocktail, how about a specialty bar? Colorado Party Rentals builds pieces for clients, and Pearse notes that a lot of their time has been spent in the woodshop, creating specialty bars.
"Unique bars, round bars, modular bars that could come together and do different things," Pearse says. "Versus just saying, 'We have a bar, here's the cocktail, go for it,' it's making that a place of gathering."
Lundberg says that she's also seeing a departure from traditional plated dinners to a more informal, intimate set-up.
"It's more like a Hamptons-type cocktail party, where people are mingling. Nothing is like, 30 people to a table," she explains. "You're not on top of each other, and you're not sitting down for a meal. The staff is passing heavy hors d'oeuvres—it's more cocktail wedding inspired."
Outdoor options are morphing, too. Instead of the boxy, white vinyl frame tents, Pearse is seeing couples embrace the outdoor feeling with a more translucent, sailcloth fiber tent. An option for those who are em- bracing the natural color palette and want to highlight the landscape, these tents impart a light and airy feel with plenty of options for customization.
ADDRESSES
NEWBERRY BROTHERS FLORIST
5301 Leetsdale Drive, Denver
303-322-0443

newberrybrothers.com
BELLA LU FLORAL
303-909-1476
bellalufloral.com
DESIGNWORKS
11720 E. 49th Ave., Denver
720-941-7440
designworksevents.com
COLORADO PARTY RENTALS
5005 Ironton St., Denver
303-781-1111
cpartyrentals.com
890 Elkton Drive, Suite 101, Colorado Springs
719-425-2637
cpartyrentals.com
Katie Coakley is a Colorado-based freelance writer who is tempted to get married just to have a gorgeous party. Her work has appeared in newspapers, magazines and online outlets like Hemispheres, The National, Business Insider, 5280 and Outside.