Sharon Magness Blake & Denver Broncos' Thunder
A Legacy of teamwork & a love of animals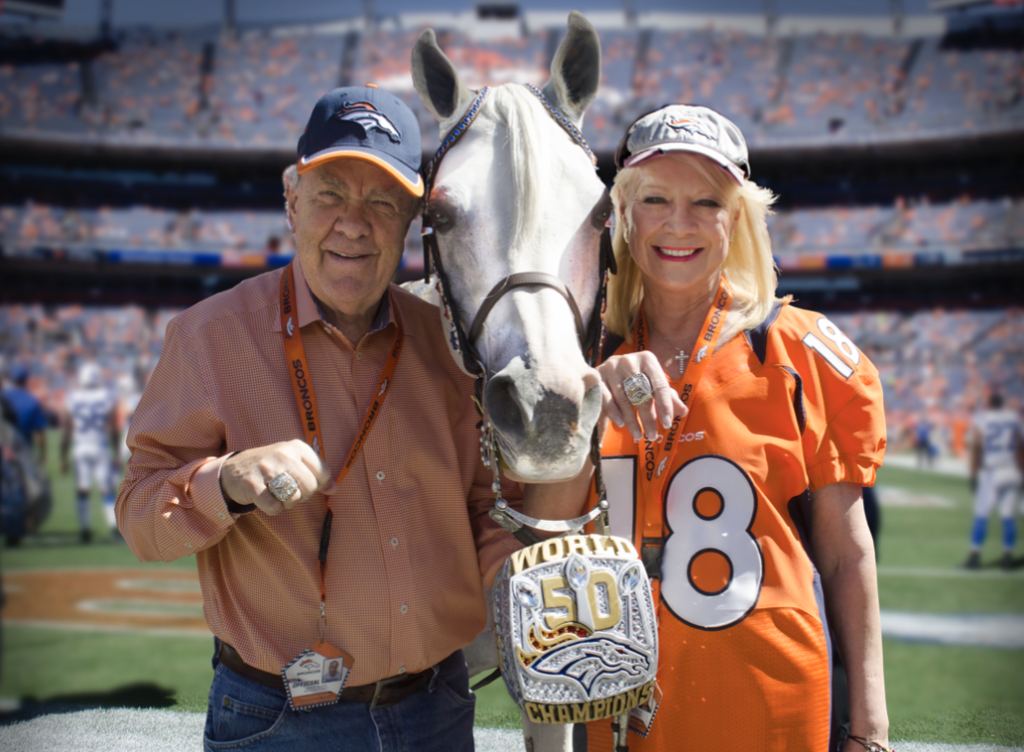 Football games can be pretty exciting—especially when a nail-biter of a win is involved.
The rush that fans of the Denver Broncos experience with every home-game touchdown or field goal is amplified when a majestic white Arabian who goes by the name of Thunder puts a figurative exclamation point on the score by triumphantly galloping from one end zone at Empower Field at Mile High to the other.
The roar of the crowd can be deafening when Thunder and trainer/rider Ann Judge, flying the team colors of orange and blue, make the celebratory lap.
The 2022 season is Thunder's 30th year as the mascot of the three-time Super Bowl champion Denver Broncos, and to mark the occasion, owner Sharon Magness Blake met with Colorado Expression to share highlights of the horse's crowd-pleasing ways.
The idea for having a live animal mascot dates back to 1993, when Sharon and her first husband, Tele-Communications Inc. founder Bob Magness, received a call from general manager John Beake. He asked if they would be interested in bringing one of their horses to the stadium to add to the fans' entertainment.
"Absolutely," Sharon told him. "We would love to do it."
At the time, Bob and Sharon Magness had 900 Arabian horses in their Magness Racing Ventures. Arabians, Sharon notes, are "super friendly and people-oriented," making the breed a perfect candidate for a team mascot.
Bob Magness died in 1996. In 2004, Sharon married Ernie Blake, an attorney and former mayor of Breckenridge who shares her love of horses.
The first horse to go by the name of Thunder was JB Kobask, a 10-year-old stallion who had experience as a show horse, something that would make it easier for him to adapt to situations involving large crowds, lots of noise and other distractions.
"We'd play tapes of crowds cheering and replicated the black-and-white field markings on the floor of our arena," she recalls. "We did this so the horse wouldn't shy or try to jump the lines while galloping on the field."
And adapt he did. Judge has described Thunder No. 1 as a "bold and courageous horse with a huge ego" who "so loved the crowds."
Thunder has his own team on the field—Ann Judge, who trains and rides him; and Sharon Magness Blake, who helps take care of him and helps direct him on the field. Then there's Ernie Blake, who works with the photographers and personnel on the field to help keep everyone safe, and Rudy Mendiola, who saddles and holds Thunder before he runs. Rick Holman helps protect him and clears people out of the way, and David Blake loads the flag and alerts the referees. "And we all scoop poop," Sharon laughs.
Thunder also helps rev up the crowd by leading the team onto the field at each home game's start. "There is such a sense of pride and emotion as he leads the team out to the field," Sharon says. "I get that every time I see it." Thunder also participates in a meet-and-greet prior to each game where fans can have their picture taken with him and visit with trainer/rider Judge.
Thunder traveled with the Broncos to four Super Bowl appearances, including the 2014 matchup with the Seattle Seahawks that was played at MetLife Stadium in New Jersey. Thunder flew to the game and though the Broncos were defeated, Thunder scored several press appearances in New York City. Sharon vividly remembers walking Thunder through Manhattan for his spots on the Today Show and Fox Sports.
Thunder No. 1 retired after 10 seasons and was succeeded by Winter Solstyce, a gelding who had been Sharon's personal riding horse. As Thunder No. 2, Winter Solstyce was timid at first, but with each season he became "very social, quite the poser and eager to experience new things." Thunder No. 3, Me N Myshadow, also is a gelding whose run as the team mascot is nearing an end.
Off the field, Thunder makes appearances at various community and charitable fundraising events, most notably Western Fantasy, a dinner, auction and country music extravaganza benefiting Volunteers of America that Sharon founded 29 years ago with Jean Galloway. Sharon opens the event by circling the National Western Events Center arena floor astride Thunder, carrying the American flag, as Lee Greenwood, either in person or via recording, sings God Bless the USA.
Every December, Thunder rides the freight elevator to the Empower Field club level to mingle with 300 members of the Boys and Girls Clubs of Denver—many of whom have never seen a live horse—for a Christmas party hosted by the Broncos.
Sharon, whose concern for the most vulnerable earned her the title of Best Live Philanthropist by Westword in one of its Best of Denver issues, is expanding her philanthropic reach by partnering with veterinarian Kelly Tisher and Littleton Equine Medical Center to form the Thunder Fund. It is a foundation that will help provide life-saving emergency surgery for horses whose owners cannot afford the cost. Littleton Equine Medical Center has cared for all of Sharon's horses, including each Thunder, since 1965.
"We are excited to work with the foundation Sharon has created to help people with their horses in the most stressful time," Dr. Tisher says. "This will be a great tribute to all of the Thunders."
Joanne Davidson contributed to this story.