Skiing Up in Aspen Colorado
Aspen Ski Co. marks its 75th anniversary this year, and what a lot to celebrate!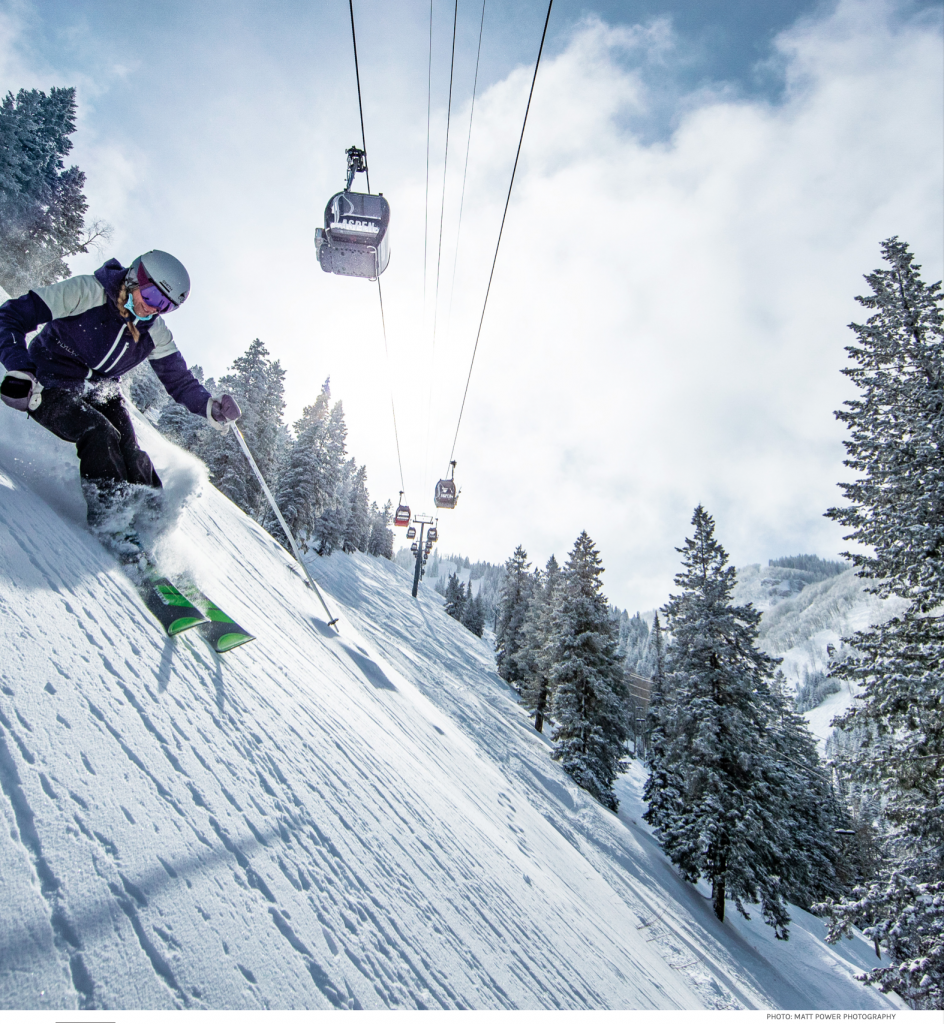 AS A COLORADO NATIVE, Aspen holds a special place in my heart. I have wonderful memories of visiting this charming town with my family as a child, a tradition I'm fortunate to have been able to carry on to this day. And I am not alone: Aspen holds
a special place in the hearts of skiers and snowboarders who travel to Colorado from around the world to experience the resort's four mountains, as well as the town's culture and amenities. Given its international reputation as a world-class destination, it's hard to believe that the first ski lift was installed just 75 years ago.
Although Aspen got its start as a silver mining town in the 1870s, the '40s is when the town's fate changed. In 1946, Chicago luminaries Elizabeth and Walter Paepcke came to Aspen at the suggestion of Austrian skiing champion and 10th Mountain Division veteran Friedl Pfeifer. There was skiing on Aspen Mountain before the Paepckes arrived: In fact, the first trails were cut during the summer of 1937 for a big winter sports carnival held during the winter of 1938. But it wasn't until the Paepckes came to the region and recognized its potential that Aspen's destiny was sealed. The Paepckes invested time, energy and money into the town and the mountain and, in 1946, founded Aspen Skiing Company with Pfeifer, Johnny Litch- field and Percy Rideout. Their vision for the area's potential is a big part of what made it what it is today.
In the years that followed the installation of Lift 1 on Jan. 11, 1947—at the time the world's longest chairlift—Aspen began to gain recognition as a world-class ski town, holding many cross-country and ski jumping events that drew international attention. In 1950, Aspen hosted the FIS World Alpine Championships, the first sanctioned international alpine competition in the U.S. World-class skiers took note, and Aspen's future as an international skiing destination was made.
In 1949, the Paepckes persuaded eminent theologian Dr. Albert Schweitzer to come to Aspen as a guest lecturer at the Goethe Bicentennial Convocation and Music Festival. The successful and much-reported visit sparked the creation of summer cultural institutions that make this mountain town the cultural draw it is today, including the Aspen Music Festival & School, Aspen Institute and International Design Conference.
As the years have passed, Aspen's skier demographics have radically changed. During the cultural awakening of the '60s, a younger generation of "kids" wanted to ski while putting out the vibe that they were roughing it. (A lift ticket in 1967 was $6.50!) My mother, who came out to Colorado from Chicago to attend the University of Colorado during that era, remembers the ladies riding up the chairlifts in their fur coats only to send them back down the chair to rest on the split rail fence and be collected for the next ride up.
The 1970s brought a new jet-set crowd to what was still a somewhat sleepy town. The more posh set's arrival ushered in the first phase of the pedestrian mall in downtown Aspen, as well as the art museum, which opened to enthusiastic crowds. Aspen was on its way to becoming an international cultural destination.
You can't write about Aspen and not mention John Denver. From an early age, I remember listening to his records spin in our family's living room. When Denver wasn't traveling, a neighborhood called Starwood in Aspen was his home, and you often could find him singing in one of the locals' spots.
Modern Aspen rivals Los Angeles as a celebrity hot spot. It is now known as a town that favors live music, luxury fashion and the rich and famous lifestyle. Between the beauty of the Roaring Fork Valley and all that Aspen has to offer in terms of culture and out-
door activities, you can see why many of the world's wealthiest and most famous people choose to live here for at least part of the year.
Many successful businesses call Aspen home, too. Klaus Obermeyer founded Obermeyer Sport in 1947 as a way to help keep his ski school students warm. His business still calls Aspen its headquarters today. When asked about the town's anniversary, Klaus notes, "Aspen has gone from a ghost town to one of the best ski resorts in the world. It was Pfeifer who got me to Aspen as a ski instructor. My first season was in the fall of 1947; we had seven instructors that season. Now the skiing company has well over 1,000 ski instructors."
Happy 75th anniversary, Aspen. Colorado is a better place because of you.
Elizabeth Hamilton is the group publisher at WiesnerMedia and periodically contributes to writing for Colorado Expression.