Music, Drama, Opera: New Season Offerings
Two Colorado opera companies set the stage for anniversary seasons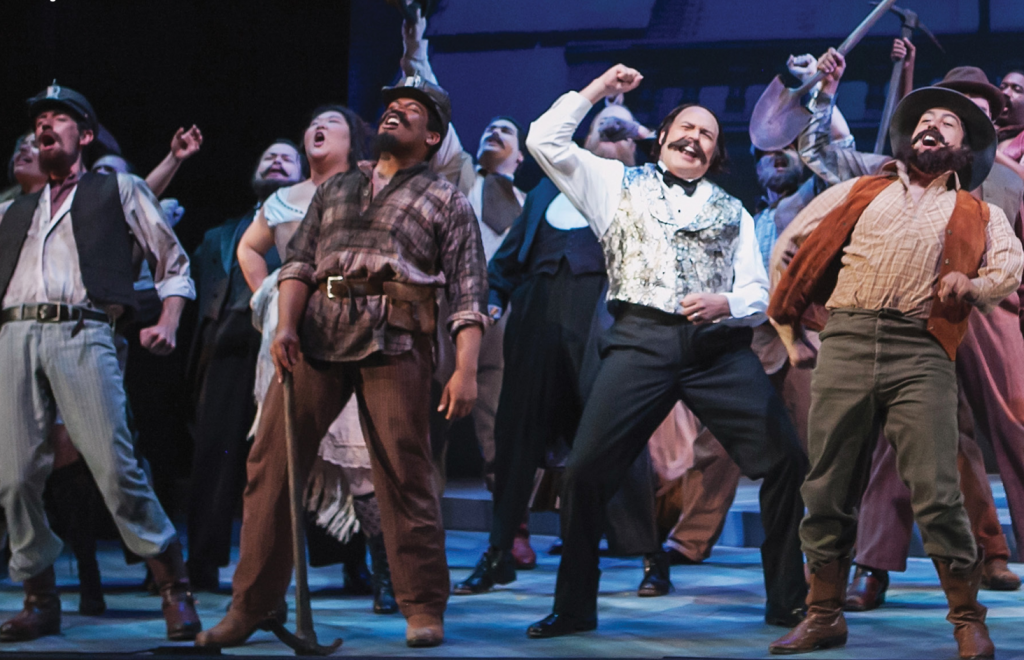 MORE THAN 400 YEARS after Jacopo Peri composed "Dafne," believed to be the world's first true opera, the art form commonly described as "drama set to music" continues to delight audiences worldwide—including right here in Colorado.
For 90 years, Central City Opera has attracted opera lovers from around the world to the former mining community of Central City for the annual Summer Festival. The series of classic and new operas is staged in the historic, 550-seat Opera House, a granite-walled structure built in 1878 for the Cornish and Welsh miners who came to the mountains west of Denver seeking their fortunes. The miners wanted a place modeled after the European opera houses where they could enjoy music from their homelands.
In 1932, Anne Evans, daughter of Colorado's first territorial governor and a founder of the Denver Art Museum, and Ida Kruse McFarlane, daughter-in-law of builder and one-time Central City Mayor Peter McFarlane, established the Central City Opera House Association, whose first production, "Camille," starring Lillian Gish, took place in July of that year.
Central City Opera, the fifth-oldest opera company in the nation, gained nationwide attention when it commissioned "The Ballad of Baby Doe," an opera based on the life of Elizabeth McCourt "Baby Doe" Tabor, the second wife of one of Colorado's richest men, the legendary silver baron Horace Tabor. Its 1956 premiere at the Central City Opera House was a celebration of the company's silver anniversary season. Two years later, it was performed by the New York City Opera, with Beverly Sills in the title role, and since then "The Ballad of Baby Doe" has been produced by opera companies throughout the world.
Artistic director Pelham "Pat" Pearce strives to present "a variety of operas— a more classic repertoire, with which people have some familiarity," according to Gail Bransteitter, the company's marketing and communications director. It also offers newer operas, musical theater pieces and a one-act production put on by those in its Bonfils-Stanton Foundation Artists Training Program, whose graduates include such stars as Denyce Graves, Cynthia Lawrence, Je- sus Garcia and Emily Pulley. "Our goal," says Bransteitter, "is to make opera as comfortable as possible for as many people as possible. We want to meet people where they are with regard to opera. We have subtitles, affordable ticket prices, and we want our audiences to dress up or dress down … whatever makes them the most comfortable."
In addition to the Summer Festival, Central City Opera has year-round programming that takes artistic and educational programs to schools throughout the state and to under-served communities.
The legalization of small-stakes gambling in 1991 brought many changes to the town, including an influx of casinos, but the opera "weathered the storm," says Bransteitter. In fact, proceeds from slot machines that have since been removed from the Teller House, which is owned by the opera, kick-started a $20 million endowment campaign, Voice Your Dreams, which is more than halfway to its goal.
The opera company also owns 27 historic properties in Central City, which are used to house Summer Festival performers, some of whom can arrive worried about how they'll be able to perform at Central City's altitude of 8,500 feet above sea level. But as Bransteitter points out, "They soon discover that once you've sung at this altitude, you can sing anywhere."
Nathaniel "Nat" Merrill and his wife, Louise Sherman, started Opera Colorado after being recruited by a group called Friends of Opera in 1982. Merrill, who died in 2008, had spent 27 years as a director and stage manager at New York's fabled Metropolitan Opera. Sherman, who died in 1998, also was a Metropolitan Opera veteran, having put in 20 years as a musical director and vocal coach, during which time she worked with artists that included Luciano Pavarotti, Beverly Sills and Joan Sutherland. Opera Colorado's first season, in April 1983, was launched with three performances of Verdi's "Otello," followed by Puccini's "La Bohème," starring the world-famous tenor Placido Domingo.
The Nat Merrill years were good ones, says Greg Carpenter, who joined Opera Colorado in 2004 as director of development and was promoted to the dual roles of general director and artistic director in 2007. Merrill's great connections from his years at The Met enabled Opera Colorado to feature high-caliber singers such as Sherrill Milnes, Samuel Ramey, Catherine Malfitano and Aprile Milo.
Hao Jiang Tian, who has been a regular at The Met for more than 20 years and has amassed some 1,400 performances of 50 operatic roles worldwide, got his start at Opera Colorado, Ryan Speedo Green, a Grammy-winning bass-baritone who is performing in opera houses worldwide, was an Opera Colorado resident artist in 2010-11. Mezzo-soprano Katie Beck was in the Young Artist Program in 2017-18 and went on to perform with the Chicago Lyric Opera. She begins a contract with the Metropolitan Opera this spring.
In its early years, Opera Colorado was known for presenting two main-stage productions "in the round" in Boettcher Concert Hall. In November 1992, to celebrate the company's 10th anniversary, a third production was added, with performances at the Temple Hoyne Buell Theatre.
The Ellie Caulkins Opera House became Opera Colorado's home in 2005, and the season that followed launched with Bizet's "Carmen," starring Denyce Graves and Beth Clayton, who alternated in the title role.
Under Carpenter's leadership, Opera Colorado has had significant milestones, including:
• A commitment to new works and community outreach, as exemplified by the commissioning of a bilingual opera, the one-act "La Curandera," for its Outreach Ensemble to perform in schools and community venues, and a move to expand the board of directors to "about 40 people who truly represent the community we serve," according to Carpenter.
• Two world premieres: Lori Laitman's "The Scarlet Letter" in 2016 and Gerald Cohen's "Steal a Pencil for Me" in 2017-18.
• The formation of its own orchestra, in 2012, with Ari Pelto as conductor and music director. "It's an incredibly fine ensemble that can stand up to any in the U.S.," Carpenter says.
• The December 2017 grand opening of the Opera Colorado Opera Center in Engle- wood, which put the company's administrative offices and rehearsal studio under one roof for the first time.
As for the future, Carpenter is relying on focus groups and other sources of community input for direction. "Our industry has tried to push to reinvent the art form, like doing productions in a bar or a warehouse where drinks flow and you don't have to dress up. We tried that but got no traction" until an "opera curious" focus group, made up of individuals between the ages of 24 and 35, revealed that people their age were indeed interested in dressing up and going to a classic opera house setting. "For me, it's less about what everyone else is doing; it's about listening to those who buy the tickets and delivering something better than what they expect."
THE DETAILS
CENTRAL CITY OPERA
4875 Ward Road, Suite 100 Wheat Ridge, CO 80033
303-292-6500
centralcityopera.org
OPERA COLORADO
4121 S. Navajo St., Suite 100 Englewood, CO 80110
303-468-2030
operacolorado.org
Joanne Davidson may never sit through the 15-hour, four-opera production that is Wagner's "The Ring Cycle," but she does enjoy such audience-pleasers as "Aida," "Carmen" and "Madama Butterfly."