Spring Cleaning at Local Colorado Spa Resorts
Rejuvenate your mind and body with a getaway spa experience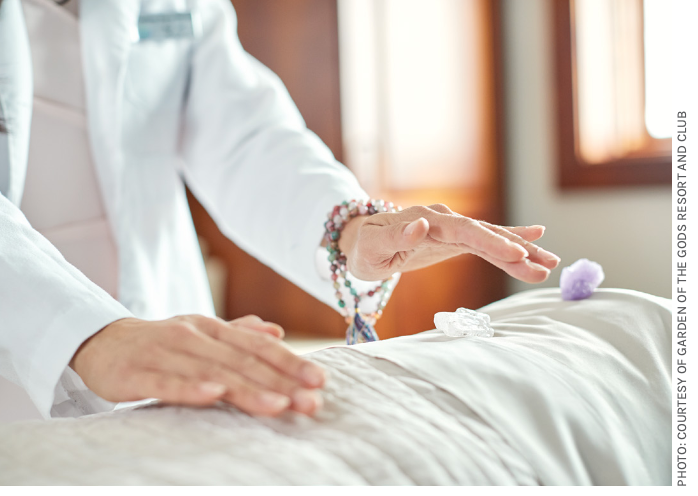 IF YOU THINK the idea of spring cleaning is just for your home, think again. Yes, spiffing up one's abode from top-to-bottom is
a springtime ritual, but that same idea can be applied to face, body and mind. Whether you've spent most of your winter cloistered indoors with windows closed and the heat on high or doing a balancing act between inside time and outdoor recreation, the shift into spring is the perfect time to rid the body and mind of all that stale winter air and energy.
And what better way to plan a physical and mental reset than with a weekend spa getaway? Lucky for us, Colorado has plenty of stunning locales where you can commune with nature while indulging in treatments like a hydrating facial, a deep tissue massage or a full-body exfoliation and detox. In short: A spa weekend away can help you recover from both the winter blues and dull, dehydrated skin—and get your mental and physical glow back.
If you're making the trek to the Vail Valley, be sure to book time at Spa Anjali at The Westin Riverfront Resort. Though it offers an extensive menu of facials and massages, specialty treatments like the relaxing and refreshing Travel Recovery Massage and the deep-tissue Barefoot Recovery Massage for pain relief are standouts. Another major draw here are the Spa Anjali Journeys (anjali means "divine offering" in Sanskrit). Choose from three separate "excursions"—Rocky Mountain, Alpine or Himalayan—where each destination offers distinct healing and revitalizing treatments based on traditional practices and ingredients. For example, the Rocky Mountain Journey uses indigenous herbs and local organic ingredients in its treatments, like red clover for a healing body scrub, or heated sage, pine and lavender for a poultice to ease tension.
Spa Anjali at The Westin Riverfront Resort, 126 Riverfront Lane, Avon, 81620, 970-790-3020, spaanjali.com
Need to get away, but don't have time to drive to a mountain destination? Then take a short jaunt to Boulder for a stay at the luxurious St. Julien Hotel and Spa. Look for special experiences like the Gemstone Chakra-Balancing Treatment, which combines a full body massage with energy work delivered by crystals, as well as an infrared crystal rainbow chakra mat to heal mind, body and spirit. If you want to address a multiple of skincare issues—dehydration, discoloration, fine lines, uneven texture— then book a HydraFacial session. This non-laser skin resurfacing procedure uses patented technology to cleanse, extract and moisturize the face. The deluxe option adds an LED light treatment to stimulate collagen production for luminous, hydrated skin.
St. Julien Hotel, 900 Walnut St., Boulder, 80302, 720-406-9696 or 877-303-0900, stjulien.com
Sure, Spa Monarch at the Monarch Casino has an extensive menu of classic and specialty treatments—facials, massages, body wraps and scrubs—but the real standouts here are the multiple experiential retreats. Monarch spa-goers can choose to spend time in the nature-themed Experiential Shower that combines sound and scent therapies to relax body and mind or the Aqua Spa Lounge, with its jetted pool and waterfall massage. There's also the Laconium Relaxation Lounge—a soothing heated space that's an alternative to a traditional sauna—and the Brine Inhalation-Light Therapy Lounge that features a waterfall of salt crystals and rotating colored lights to let you indulge in breath and light therapy. Monarch Casino Resort Spa, 488 Main St., Black Hawk, 303-582-1000, monarchblackhawk.com
If you're heading up to Vail, make time to relax at the Sonnenalp Spa. Located in the heart of Vail Village, this European-style spa offers enticing amenities like heated indoor and outdoor pools and whirlpools, and adobe fireplaces to sit around while sipping tea or water. Their focused menu of massage and facial treatments is thorough and allows for plenty of customization (more on this below). For a unique service, try out their signature Dry Brush Body Treatment—a full-body exfoliation and massage to help improve digestion and detoxification. Customize your face and body treatment by adding on services like a lymphatic facial massage, a full-body CBD treatment, reflexology or a hot oil scalp massage. For those experiencing altitude sickness or low energy, there's even an oxygen bar located inside the spa café. Sonnenalp Spa, 20 Vail Road, Vail, 866-284-4411, sonnenalp.com
Strata Body is the internationally acclaimed integrated wellness spa at the Garden of the Gods Resort and Club. In addition to offering a variety of customized massages and facials, the spa boasts specialty treatments like a Pink Himalayan salt room, where you can indulge in halotherapy (which may help ease respiratory conditions, such as asthma), an herbal steam room, and even a weightless Haslauer bed to ease and relax muscles and joints. If you want to float in this high-tech cocoon and feel like a queen, book the Cleopatra's Milk & Honey Float. This indulgent, revitalizing treatment combines rich creams, organic honey and nourishing oils with a scalp and facial massage. Or get energized with the Aypa Energy Body Treatment, which features indigenous plants and fruits from Peru traditionally used by Andean Inca. It's a luxurious way to exfoliate, detox and hydrate the body while invigorating all the senses.
Garden of the Gods Resort and Club, 3320 Mesa Road, Colorado Springs, 800-923-8838, STRATAwell.com
In keeping with the Viceroy Hotel and Resorts' model of creating luxury properties that reflect the local culture and environs, The Spa at Viceroy Snowmass features earth tones and natural décor elements like an antler chandelier, curved wood ceiling tiles and a soothing waterfall that tie it back to its Rocky Mountain locale. The spa also drew on local indigenous tradition when creating its signature therapies. The Bear Dance Ritual, which takes its name from the Ute ceremony symbolizing the awakening of the bear from hibernation, includes a full-body exfoliation, a detoxifying body wrap and a stone massage that leave you feeling restored. Other treatment options include a variety of refreshing facials and balancing massages, as well as hydrotherapy from the multiple showerheads in the Vichy shower room.
The Spa at Viceroy Snowmass, 130 Wood Road, Snowmass Village, 970-923-8007, viceroyhotelsandresorts.com
Georgia Alexia Benjou is a regular contributor to Colorado Expression.