African-American Barbecue & Traditions
Denver author Adrian Miller delves into the history and traditions of smoked meat by African-Americans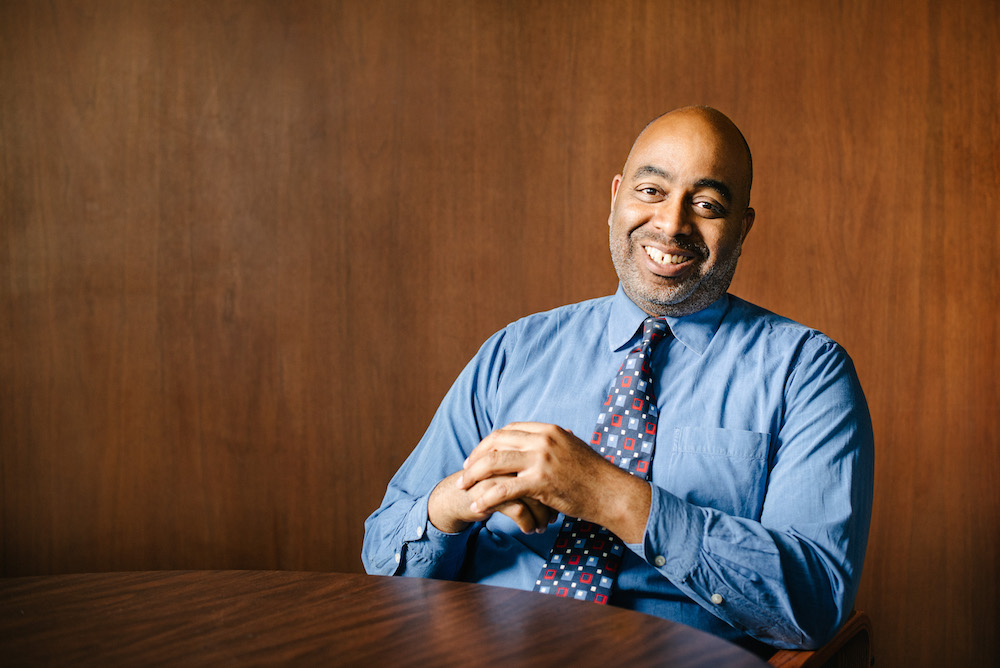 America and the world are mad for smoke. Witness scores of cookbooks, television shows, festivals, food trucks, competitions and blogs dedicated to the sweet delights of barbecue. There's Texas, Kansas City, North Carolina and Memphis-style barbecue. Everyone has a favorite meat and preparation, be it ribs, hotlinks, pulled pork, beef brisket or burnt ends. Turn on the TV or access social media and you'll find a plethora of pit-masters, Michelin-starred chefs, celebrities and food media personalities offering their barbecue gospel.
Culinary historian, James Beard Award-winning author, attorney and certified barbecue judge Adrian Miller had one question: Why are the 'cue cognoscenti overwhelmingly white?
"For two centuries, African-Americans were the standard-bearers of barbecue. However, in the 1990s, foodies who discovered barbecue looked to food media to tell them what was good and where to find it. Unfortunately, when food media designated the curators of barbecue, the often predominately white food writers and television producers chose other white people," Miller says. And just like that, barbecue culture became mostly white.
A quick survey of food television reveals how white barbecue coverage is. "Food media content producers are quick to throw up their hands and claim they can't find anyone of color. Really? You couldn't find a single Black-owned barbecue restaurant?"
This observation sent Miller on a culinary, historical and sociological odyssey into one of our favorite foods. There are great Black, white and Latino barbecuers, Miller says, but he set out to "show some love to the African-Americans and Native Americans" who created the cuisine we crave by telling the real story of barbecue, and honor its Black cooks, restaurateurs and entrepreneurs. "I wanted to show how barbecue developed over time, and how it's traditionally prepared."
Miller's new book, Black Smoke (University of North Carolina Press) is an exhaustive history of barbecue and its purveyors that also includes recipes from legendary cooks. He explores the origins of styles of barbecue and explains the regional differences. He celebrates how African-Americans used barbecue as a path to freedom, business and economic success, and community cohesion. Miller traveled the country meeting the true keepers of barbecue gospel.
This is Miller's third book. His first, Soul Food: The Surprising Story of an American Cuisine, One Plate at a Time, won the James Beard Foundation Award for Scholarship and Reference in 2014. He followed in 2017 with The President's Kitchen Cabinet: The Story of the African Americans Who Have Fed Our First Families, From the Washingtons to the Obamas.
Before specializing in cooking and food history, Miller served as a special assistant to President Bill Clinton and as a senior policy analyst for Colorado Gov. Bill Ritter. He also is currently the executive director of the Colorado Council of Churches and, as such, is the first African-American, and the first layperson, to hold that position.
BARBECUE IN DENVER
Miller, who lives in Denver, acknowledges that the city is not known for a unique barbecue style today but says that 50 years ago, it was all about lamb and bison. "Colorado is famous for lamb. Its quality has been compared to New Zealand lamb. President Obama served Colorado lamb at his last state dinner in the White House," Miller says. The "Denver rack" of lamb ribs was the delicacy to order from a local barbecue restaurant, and this cut of meat still is available at quality butcher shops. A Denver rack isn't smoked, but grilled hot and fast for what Miller calls a "showoff dish."
The words "church" and "barbecue" seem to go together, and one Denver restaurateur was the epitome of the concept. The late "Daddy" Bruce Randolph opened his restaurant in Denver's Five Points neighborhood in 1964 on what is now Bruce Randolph Avenue. Deeply spiritual, Randolph served his own version of the biblical loaves and fishes. He fed the multitude with barbecue. His legendary Thanksgiving feast, which included turkey, ribs, potatoes, beans and bread, grew to an estimated 50,000 meals each year, served by an army of volunteers. Randolph died in 1994, but the Thanksgiving tradition has continued. As the official caterer of the Denver Broncos, Randolph accompanied the team to the Super Bowl in 1978, flying on the team jet with "a bunch of ribs, four hams and five big briskets," Miller writes.
Randolph served his grandmother's pungent, vinegary barbecue sauce. It's a simple sauce with (at least) one secret ingredient: love. Be careful swooning over sauce; Miller warns never to ask anyone for their sauce recipe, although a sauce inspired by "Daddy" Bruce is included in the cookbook, and shared here.
FINDING THE REAL THING
Barbecue is being redefined, which is OK, but not if you lose its essence, Miller says. "Now you have fine dining chefs emphasizing only high-quality meats, housemade whatever, and craft. It's haute barbecue," Miller laments. "The damage at a typical barbecue joint now is 50 bucks!"
Miller suggests his methodology for finding the best barbecue: Pose the question on social media and read the alternative weeklies and monthlies because they tend to cover people of color. Then check Yelp or Trip Advisor. Word of mouth is best, though, because the top places probably aren't as good at social media and don't have great websites. Don't be afraid to explore a new or different part of town.
Most important, be adventurous.
RECIPES FROM ADRIAN MILLER'S NEW BOOK, BLACK SMOKE (University of North Carolina Press)
JOHNETTA MILLER'S BANANA PUDDING
Makes 12 servings
My late mother's banana pudding recipe embraces the old and the new. It's got an old-fashioned custard to bring the main ingredients together and a homemade meringue to top it all off. Instead of making the bread component from scratch, I use vanilla wafer cookies. This is a very sweet dessert and a definite crowd-pleaser.
PUDDING
1 cup sugar
1⁄2 cup all-purpose flour
1⁄2 teaspoon salt
4 cups whole milk
4 large egg yolks (reserve whites for meringue)
2 teaspoons pure vanilla extract
6 small, ripe, firm bananas, cut into thin rounds (about 6 cups)
8 ounces vanilla wafers (about 60 cookies)
In a large, heavy saucepan or in the top
of a double boiler, whisk together the sugar, flour, and salt. (If using a double boiler, fill the bottom about one-third full of water and bring to a simmer.)
Whisking continuously, add the milk in a slow, steady stream until smooth. Whisk in the egg yolks. Cook over medium heat, stirring continuously with a heatproof spatula, until the mixture thickens to the consistency of thick pudding, about 15 minutes. Remove the pan from the heat and stir in the vanilla.
Line the bottom of a large glass serving dish with vanilla wafers. Top with a layer of banana slices. Pour a thin layer of custard over the bananas, spreading it with the spatula. Repeat the layers until you have used all of the remaining ingredients, ending with a top layer of custard.
MERINGUE
4 large egg whites
1⁄2 teaspoon cream of tartar 1⁄2 cup sugar
Preheat the oven to 350 F. Place the egg whites and cream of tartar in a clean, dry metal or glass bowl. Beat with an electric mixer set to high speed until the whites begin to hold soft peaks. With the mixer running, add the sugar in a slow, steady stream. Continue beating until the whites are glossy and hold stiff peaks. Spoon the meringue over the warm pudding, making sure it touches the edges of the dish.
Use the back of the spoon to make a pretty design in the meringue.
Bake until the tips of the meringue are golden brown, about 15 minutes.
Let cool for 15 minutes and then refrigerate until the pudding is chilled. Serve cold.
MASHED POTATO SALAD
Makes 4 servings
This recipe is adapted from Texas barbecue expert Robb Walsh's Legends of Texas Barbecue Cookbook. Walsh noted that this "soft and fluffy" style of potato salad is common in East Texas. I've added mustard because I like mustardy potato salad.
11⁄2 pounds russet potatoes
1⁄2 cup mayonnaise
2 tablespoons prepared mustard, or to taste
2 green onions, sliced
1 tablespoon pickle relish
4 teaspoons pickle juice
4 teaspoons hot pepper sauce
Salt to taste
Peel the potatoes and cut them into 1-inch chunks. Place the potatoes and enough water to cover in a 4-quart saucepan. Bring to a boil over high heat. Cover and simmer 15 minutes, or until potatoes are tender. Drain.
In a large bowl, coarsely mash the potatoes. Stir in the remaining ingredients. Serve at room temperature.
SYLVIE CURRY'S MARINATED GRILLED RACK OF LAMB WITH MINT- PARSLEY CHIMICHURRI SAUCE
When I meet someone who loves to cook, I often ask them what their showoff dish is. Something they would make for someone special. This is what Sylvie Curry told me. A rack of lamb may not be what you expected, but the results here are marvelous.
GARLIC-ROSEMARY INFUSED OLIVE OIL
2-3 cloves of garlic, minced rosemary sprig
1⁄4 cup olive oil
Whisk ingredients together and use immediately.
MINT-PARSLEY CHIMICHURRI SAUCE
2 garlic cloves
2 tablespoons wine vinegar
1⁄2 teaspoon salt
1⁄4 teaspoon black pepper
1⁄4 teaspoon red pepper flakes
1⁄2 teaspoon oregano
1⁄4 teaspoon rosemary
6 tablespoons olive oil
1 cup fresh mint
1 cup parsley
Using a food processor or an immersion blender, mince 2-3 cloves of garlic.
Add the red wine vinegar, salt, pepper, red pepper flakes, oregano, chopped rosemary and olive oil. Blend. Add 1 cup mint and 1 cup parsley. Blend until it reaches desired consistency.
RACK OF LAMB
Rack of lamb (7-8 bones)
Pecan wood
Rosemary sprig
Heat a grill for indirect cooking with a reverse sear. The lamb will be cooked by a hot and fast technique. French trim each rack. Remove silver skin and excess fat. Sprinkle a moderate amount of salt and pepper to front and back of rack. Coat with the garlic-rosemary-infused olive oil. Set aside at room temperature for 20-30 minutes.
Place lamb on top of cooling rack in a pan. A temperature probe may be inserted in meaty section of rack of lamb. Set it for 118 F. Add pecan wood chunk and rosemary sprig to charcoal.
Place lamb on indirect grate. Once it reaches 118 F (15-20 minutes), remove from indirect grate to sear over direct heat for 2-3 minutes on each side or until it reaches an internal temperature of 125 F for rare or 135 F for medium-rare. Let rest before slicing between bones. Serve with chimichurri sauce.
"DADDY" BRUCE'S BARBECUE SAUCE
This recipe is adapted from one attributed to "Daddy" Bruce Randolph Sr., a legendary barbecue man in Denver. The barbecue sauce is a hybrid between a standard Eastern North Carolina sauce and a Deep South barbecue sauce.
1 cup ketchup
1⁄2 cup Louisiana-style hot sauce
3⁄4 cup Worcestershire sauce
2 cups white vinegar
4 cloves garlic, chopped
1 cup brown sugar
1 tablespoon salt
1⁄2 tablespoon pepper
1⁄2 cup lemon juice, freshly squeezed
Heat ingredients to dissolve sugar, and then bottle. This sauce improves with time and shaking.
A few of Adrian Miller's go-to barbecue restaurants
A complete list can be found at adrianemiller.com And follow him on Instagram @soulfoodscholar
OWLBEAR BARBECUE
2826 Larimer St., Denver, CO 80205
720-667-1181
owlbearbbq.com
ROAMING BUFFALO BBQ
2387 S. Downing St., Denver, CO 80210
303-722-2226
roamingbuffalobbq.com
WAYNE'S SMOKE SHACK
406 Center Drive, Superior, CO 80027
303-554-5319
waynessmokeshack.com
Colorado author and historian Kimberly Field is blessed with a husband who smokes a mean pork butt. Sweet tea, vinegary slaw, extra sauce and white bread to sop it up, please.