Brook Griese: Judi's House in Denver
A place for families to come together and find connection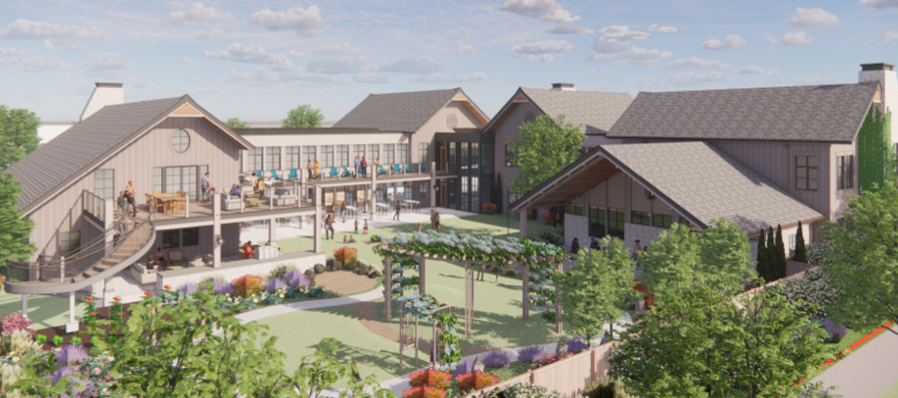 Brook McClintic was a Ph.D. candidate in clinical psychology at the University of Colorado when she met Brian Griese at his first pre-season game as a quarterback for the Denver Broncos.
It was her first time attending a National Football League game, and she knew next to nothing about the sport. Thus, it was both a relief and a surprise when, on their first date, the subject of football didn't come up. Instead, the conversation turned to children.
Brian, who is now the quarterback coach for the San Francisco 49ers, shared the profound effect that losing his mother in his youth had had on him. Brook told him about growing up in a small Michigan town with few resources for individuals like those seen by her mother, a psychiatric nurse, and father, the head of a social services agency.
By the date's end, the consensus was that their futures would include doing something meaningful for children. And though they may not have realized it at the time, the foundation had been laid for what was to become Judi's House.
In 2002, two years before Brook and Brian were married, the couple opened Judi's House in Denver to provide a safe space for grieving children and families to come together to find connection, healing and the opportunity to grieve honestly and openly. It is named for Brian's mother, Judith Ann Griese, a nurse who succumbed to breast cancer when Brian was 12.
"At first we had no idea how much these services were needed," Brook recalls. They soon found out that the need was both acute and immediate. To date, Judi's House has provided free services to 12,000 children and young adults.
"Death is a part of life, but for kids, it can be very traumatizing. One in 13 children will lose a parent, sibling or other loved one before they turn 13, and without appropriate support, unaddressed grief can disrupt or even derail a child's development," says Brook, now a clinical psychologist specializing in childhood trauma and loss.
"We are grateful that our community has embraced our efforts to help prevent the many negative outcomes that they are at risk of experiencing—socially, academically and in terms of their long-term health and well-being."
Today, as Judi's House celebrates its 20th year, Brook reflects on how it has increased in size from a small Denver Square in the City Park West neighborhood to a larger, turn-of-the-century Victorian home at 17th and Gaylord to a 26,000-square-foot, "purposefully built" campus near Stanley Marketplace in Aurora.
Brook describes the $21 million building as "an easy door to walk through. It has tons of light and a welcoming, neighborhood feel." It also is home to the JAG Institute, a "sister facility" that elevates the Judi's House concept through research and by training young clinicians to better serve grieving youths in Colorado and beyond.
The Grieses had toyed with the idea of taking Judi's House national, but in the end, decided that instead of building houses in other cities, the cause would be better served by addressing the shortage of grief-trained clinicians who could take what they learned to practices across the country through training received at the JAG Institute.
Brook, who is also an artist specializing in oil painting, served as chief executive director of Judi's House before passing the title to Jessica Maitland Mayo in 2019. She now chairs the boards of both Judi's House and the JAG Institute.
Recently we spoke with Brook and dove deeper into her personal life:
Where did you grow up?
I grew up in Ithaca, Michigan, a rural town of 3,000 people in the middle of the mitten.
What brought you to Colorado?
I moved to Colorado in 1997 to earn my Ph.D. in clinical psychology at the University of Colorado Boulder and to be mentored by Dr. Louise Silvern—one of the most amazing and compassionate women I know. She taught me the power of integrating research, practice and community to promote resilience and healing in children and families.
How many children do you and Brian have, and how old are they?
Lia, 16, and Nate, 13 (and we all adore our 6-year-old miniature Golden Retriever, Ivy).
Is Colorado likely to be your forever home?
Yes, we plan to grow old here in the rocking chairs on our mountain porch.
What do you and your family enjoy most about Colorado?
We love that we can experience all the vitality that Denver has to offer as a city, but also be in the quiet beauty of nature with just a short drive west.
When it comes to leisure time, what's a favorite way for you to relax?
There is nothing I find more relaxing than curling up with a good book—especially if I have the luxury of dozing off for a delicious nap.
What were the highlights of being the wife of a very well-known Denver Bronco?
Being a part of the Broncos helped us meet some of the most passionate members of our community—the devoted fans, as well as the generous philanthropists and volunteers who are the foundation of a healthy, thriving city and state.
Also, how perfect it is that Sharon Magness Blake is also being featured in this issue?
She was one of our first supporters and even threw our first event for Judi's House at her home 20 years ago. I remember her putting her arm around me and telling me that she would take me under her wing and help me get to know the philanthropic community—which she certainly did! As Sharon said, we women need to help lift and support one another. Two decades later, I hope that I can do the same for the young women who will continue to help our community grow stronger.
Is there anything that you miss about Brian's time with the team?
It was exciting to feel so invested and en- gaged in the games when Brian was playing—the adrenaline of it all when he was integral to the outcomes of the competition. The kids were too young to experience this, so I'm looking forward to enjoying some of that feeling with them now that he is back on the field as a coach.
Do you have any advice for Ciara as she and her husband, the Broncos' new quarterback, Russell Wilson, take their place with the team?
I'm sure Ciara doesn't need any advice from me! But given her incredible success as an artist and entrepreneur, I do hope that she will get deeply involved in the community and use her platform to inspire our girls and women to dream big, work hard and give back. I was thrilled to see that she is already supporting Colorado nonprofits by speaking at the Women United Luncheon this fall. I'm a huge fan of Mile High United Way and Christine Benero—another incredible woman in our community—and I will be there to cheer them both on!
Besides Judi's House, are you involved with any other Denver-area charities?
I'm proud to serve on the Denver Public Schools Foundation board of directors. As a public school graduate, Denver Public Schools parent and child psychologist, I believe wholeheartedly in the importance of ensuring equitable access to not only high-quality education but also to school- based social-emotional and behavioral health supports. I also currently serve on the UCCS Lyda Hill Institute for Human Resilience advisory board, which serves as the national model in resilience-based trauma research, healing, and community empowerment solutions; Mental Health Consortium; and Mayor Michael Han- cock's Denver Education Compact. I was honored to serve on the Governor's Colorado Behavioral Health Task Force Children's Subcommittee and the CU Helen and Arthur E. Johnson Depression Center board of directors.