Ellie Phipps: Saving the Wild Mustang
A match made in horse heaven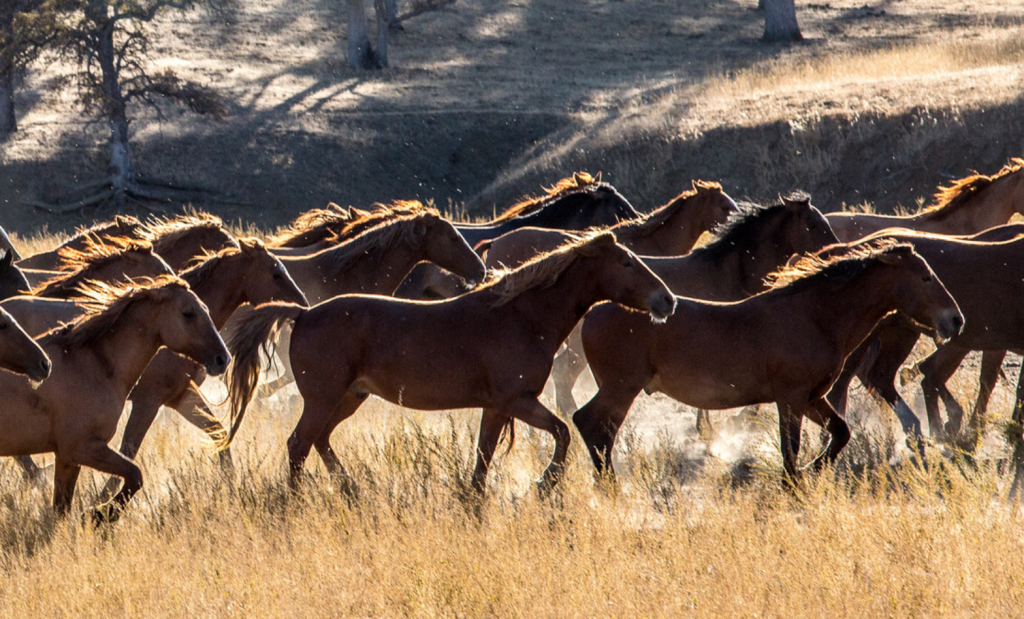 I grew up in the 1970s in Greenwood Village on a magical dead-end road. It was a simpler time, when we rode our horses down the Highline Canal or up University Boulevard to Orchard for a summer ice cream. I knew every neighbor, played in every yard. But one neighbor managed to inspire me forever. Ann Allott was a true horsewoman, an adventurer who taught me to love life on a horse. She was also the district attorney, ran an immigration law firm, and hailed from a prominent political family as the daughter-in-law of Gordon Allott, who served in the U.S. Senate for 18 years.
On the weekends, though, Allott was ready to ride. She would bring me along, and some Saturdays we'd trailer our horses south on University until the road turned to dirt, somewhere around County Line Road, where there was a gate with a lock … but we had the key. That key unlocked not just the gate but also all of my best days when we ran wild and free.
"Watch out for the holes," Allott would yell at full gallop.
She also took me foxhunting at the Arapahoe Hunt Club, a sport rooted in profound tradition and honor. As the
youngest, my job was to untack the horses for the old guys. One of those "old guys" was Lawrence Phipps III, the owner of our playground. But alas, one day had to be our last there—Phipps was selling the ranch. The wide-open range where I had played was to become a planned community: Highlands Ranch, paved and tamed.
The Phipps family arrived in Colorado in 1901, making significant contributions to the state. Lawrence Cowle Phipps came to Colorado after a storied career with Carnegie Steel and served as a U.S. senator representing Colorado for 12 years. Lawrence Phipps Jr., his son, had a granddaughter named Ellie, born and raised in California. However, due to her father's health issues, Ellie moved to Colorado to live on their 22,400-acre ranch in "the big house," known today as the Highlands Ranch Mansion, a place of history and pride in the sprawling suburbs.
Years later, Ellie would return to her grandfather's fox hunt and meet Chris Towt. A graduate of Cherry Creek High School, Chris was a true Colorado horseman who loved the vast wilderness and life on horseback. He was Ann Allott's nephew and a keen foxhunter. On a serendipitous autumn hunt in 2005, he met his future bride, Ellie Phipps. Both hailing from former Colorado political families, with a true love of wide-open spaces, the thrill of the chase, and adventure beckoning just ahead, it was a match made in horse heaven.
Chris and Ellie now live in California, owning and running the Durell Vineyard in the heart of the Sonoma Valley. Their signature chardonnay and pinot noir are aptly named Dunstan Wines after the once-favored English saint who is said to have made a deal with the devil never to enter a place with a horseshoe hang- ing over the door—their lucky logo.
Her love of animals and a deep dedication to the wilds of the American West led Ellie to her passion for protecting America's wild horses.
When Ellie learned of the atrocities occurring to the free horses across the West, she followed her heritage with a call to action. Initially, She worked with a group of horse activists to save a wild herd of 172 horses in Nevada that had been rounded up and sent to auction. With nowhere for them to go, Ellie and Chris purchased Montgomery Creek Ranch, located 21⁄2 hours north of Sonoma wine country, to serve as their home.
The Wild Free-Roaming Horses and Burros Act of 1971 states that mustangs are the "living symbols of the historic and pioneer spirit of the West" and "enrich the lives of the American people" while also declaring their protection from capture, harassment or death under the care of the Bureau of Land Management (BLM). But times have changed— the wild mustang is in danger again.
Chris, an avid pilot, flew me over this untainted 2,000-acre horse paradise to see the herd of 216 beautiful wild horses and rescue burros. Chris called each horse by name and explained why they seek refuge from the public land round-ups that regularly plague 13 states across the U.S.
"We have a saying," Chris shares, "The best life insurance for a horse is training."Their 501c3 works to train and adopt 20 horses a year to forever families.
Public lands are leased for many reasons—sheep, cattle, mineral rights— and with all the competing interests, horses are seen as pests. According to Ellie's feature documentary, American Mustang, there are 50 times more cattle on the open range, but the horses suffer the blame of overgrazing.
"There is a solution to better protect and manage wild horses, but it will take a commitment from all sides to get the job done," Chris explains.
In Colorado, there are currently fewer than 2,000 mustangs remaining, spread across four wild horse herd management areas (HMA) totaling approximately 400,000 acres. While that number may seem manageable, the BLM has deemed the appropriate number to be less than half, at 812 horses. The BLM faces a complicated issue, and its solution is horse round-ups—where the horses are separated from their family bands and struggle to survive relocation. Though expensive, traumatizing and inhumane, round-ups appear more convenient than potentially better solutions like the PZP fertility control vaccine. Thus, old methods plague our national treasure.
"We can do better," Chris asserts. "Darting mares with PZP is one option that should be tried in more HMAs. Ellie and I are both certified darters—it's a thrill to dart a mare knowing fewer foals will be born while maintaining the herd dynamics in the wild."
Ellie is the president of the board of the American Wild Horse Campaign, the nation's leading wild horse protection organization. With over 700,000 supporters, it is dedicated to preserving the American wild horse and burros in viable, free-roaming herds for generations as part of our national heritage.
Unfortunately, this year alone, over 145 horses from the Sand Wash Basin round-up have died of an equine influenza virus. Something must change—and fast—because this Fall 2022, 750 wild horses are scheduled for removal from the Piceance- East Douglas HMA by helicopter round-up. Ellie says that both she and American Wild Horse Campaign are committed "to working with Colorado-based animal welfare organizations, the governor, and the BLM to implement alternative solutions to keep more Colorado wild horses wild on public lands in the state."
As Ellie and Chris continue in their work to preserve the wild horse legacy, their desire is rooted in the zeitgeist of a bygone era, a former generation who knew the Wild West intimately and tried their best to preserve it. Somewhere between romance and reality, Colorado holds power to protect our living heritage, a small herd of wild mustangs. May they remain wild and free!
Shana Marie Gilbert is a Denver-based writer, documentarian, and local literature teacher who draws her inspiration from a life-long love of all things Colorado and nostalgia.