Telluride Fly-Fishing
A "Girl's" Guide to Fly-Fishing in Telluride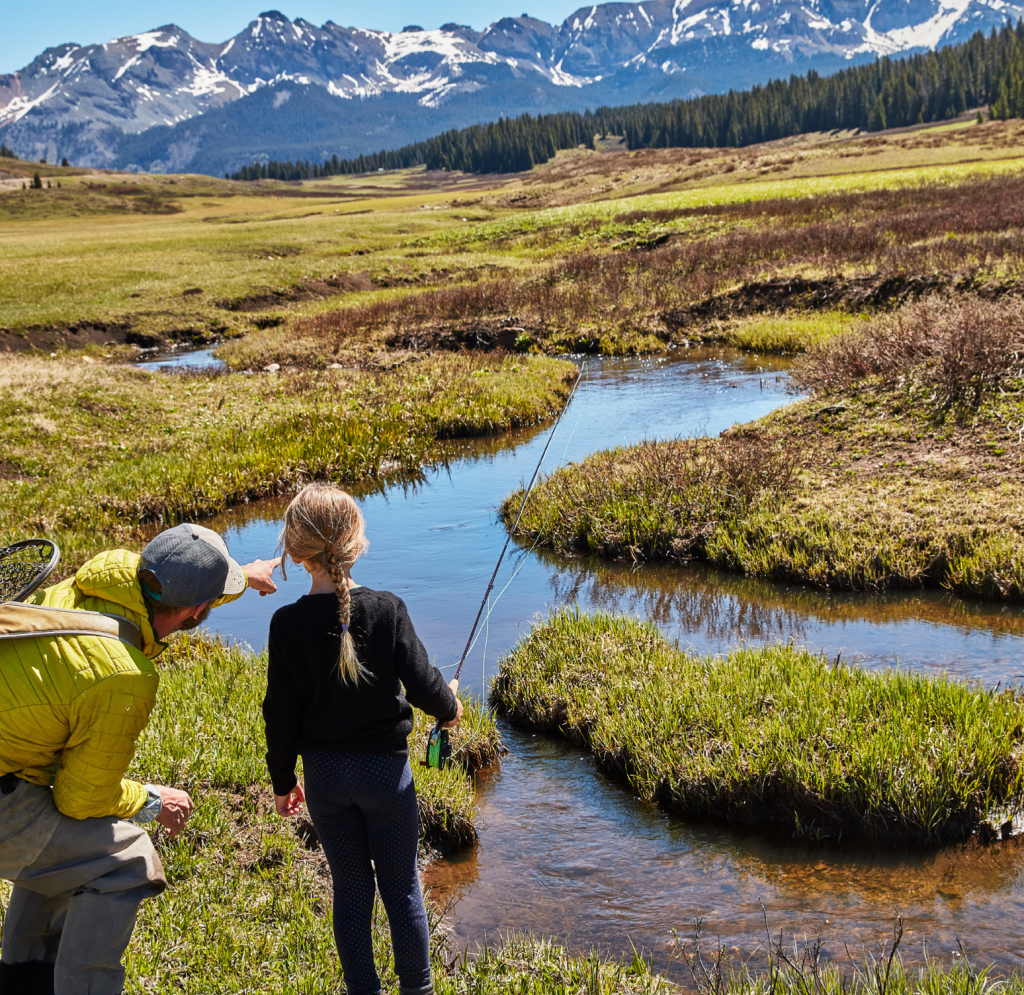 I never understood why fly-fishing is considered a man's sport. There is nothing manly about it. Yet, only 36 percent of all anglers are female. The one advantage men might have is in deep-water wading, where their relative strength helps them withstand a powerful current. But other than that, the sport does not require muscle. World champion fly-caster Joan Wulff weighs about 100 pounds and stands 5-foot-4. It's all about finesse, timing, knowledge and passion.
For me, every care melts away as the sun-dappled waters mesmerize my senses and calm my being. It is a serene, relaxing and focused activity. When I get a strike and reel the little creature to shore, it's exciting but not the highlight.
"Catching a fish is just the means to the end," says Troy Youngfleish from Telluride Outside, a retail shop and guide service in Telluride. Both his mother and sister are anglers, and he can teach you the basics in half-day or full-day fishing trips. The shop partners with Madeline Hotel for guided trips for guests.
We reviewed the five essential disciplines in fly-fishing: casting, tying knots, studying bugs, reading the water and fish behavior.
Fly-casting
The goal is a perfect snap of the line in a dozen or so types of casts, all designed to lay the dry fly with a feather-like touch on top of the water … without hooking the bushes. Or to lower the line for sub-surface fishing on the stream bottom with nymphs … without snagging the rocks.
Tying knots
Tying knots should come easy to anyone who has ever sewn a button or mended a seam. This is where I think women have an edge. It requires deftly twisting, looping, threading and pulling to tie the tippet, a piece of line as thin as a strand of hair, to the leader, which is not much thicker.
Matching the hatch
The most scientific part lies in entomology—recognizing insects and knowing which ones the fish are feeding on that day and matching them with what's in the fly box. You can scoop up stream rocks to see what nymphs are attached or look for insects tangled in nearby cobwebs. If that sounds squeamish, going into the nearest fishing shop and asking, "What are the fish eating?" works, too.
Reading the water
When you can't see the fish, knowing where they like to hang out is key to catching them. Reading water pat- terns comes with experience. Spend some time with a guide and you'll quickly learn.
Fish behavior
This requires a sort of stalking tactic, similar to hunting animals. Fish are alert and guarded, so the notion of being smarter than the fish is a strategy fishers spend a lifetime perfecting.
The timing of two split-second events—the fish taking the hook and the fisher setting it—calls for much experience and a trained eye. When that first happened for me, it was like giving birth: a tug here, a rest there, cajoling the squirming little life to join me on shore.
Finally, I delicately but firmly scooped it up into my hands and gazed on its body, a miracle of nature. Succumbing, it seemed to know it was utterly at the mercy of my grasp.
And then, deftly freeing the hook from its mouth like cutting the umbilical cord, I laid it back in the water for its long journey upstream.
BEST PLACES TO FISH IN TELLURIDE
San Miguel River
The scenic San Miguel River flows through town, offering 47 miles of fishing with peak dry fly-fishing from early July through mid September. During fall months, the river is low and easier to wade.
Dolores River
Dolores River is 20 minutes or so from Telluride. The Upper Dolores at 9,000 feet is best in early June through September. Full-day trips are offered on Lower Dolores, where insect hatches are copious beginning in April.
Uncompahgre River
Uncompahgre River, less than an hour from Telluride, is dam-controlled, so the flow is consistent all year. It's great for winter fishing.
Gunnison River
Gunnison River through the Black Canyon, two hours from town, is ideal for one-day float trips and overnights.
THE DETAILS
Denver native Claudia Carbone is an award-winning journalist, author and longtime contributor to Colorado Expression. She also writes for the London Sunday Telegraph, GoWorldTravel.com, RealFoodTraveler.com, MTNTown Magazine, The Denver Post and other publications. Visit her travel blog Sleepin Around on GoWorldTravel.