Artistic Penthouse Home in Cherry Creek
Homeowners' appreciation of art drives design of Cherry Creek North penthouse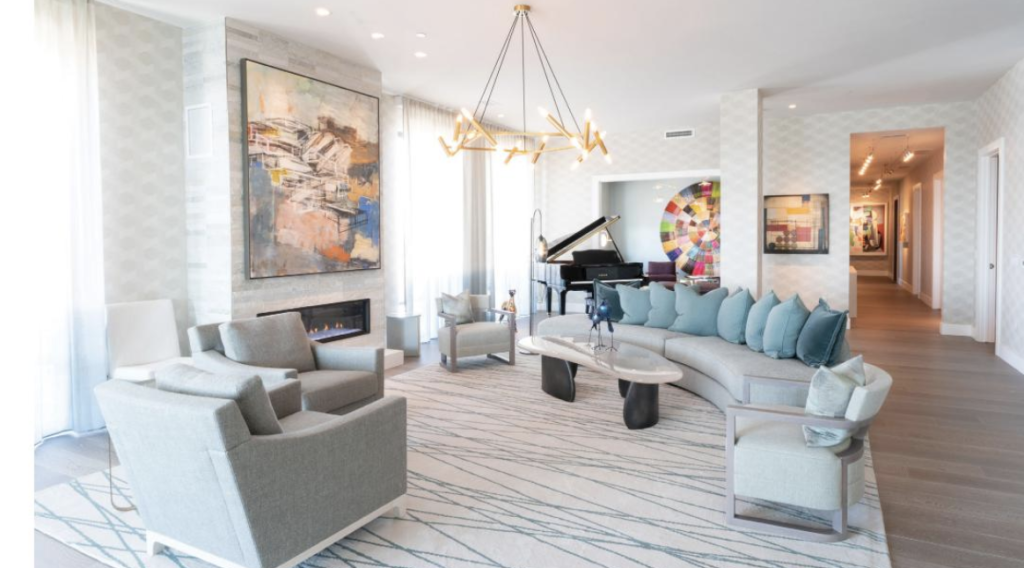 Beyond the threshold of Betsy and George Wiegers' Denver penthouse, the first captivating visual is the expansive bird's-eye view. Colorado's snow-capped Rocky Mountains form a dramatic background. The Mile High City skyline looms in mid-distance. And 12 stories below, Cherry Creek North bustles. This expansive and elevated wild new West panoramic view did not exist prior to the redevelopment of once quaint Cherry Creek to include high-rise buildings and now, sky neighbors.
Inside, the Wiegers' art collection steals the show. Installed throughout the spacious interior, vibrant paintings, whimsical sculptures and an enormous textural circle of multicolored broom heads catch the eye.
"My wife, Betsy, led the idea of collecting. She's an artist, a painter, mostly watercolors and pastels," George Wiegers says. "We have a very nice art collection in New York, but mostly flowers and nature motifs, landscapes. This is a bit more abstract."
The couple's appreciation of visual art comes as no surprise given their devotion to high culture in the high country. The Wiegers, named Vail Valley Foundation Citizens of the Year in 2019, helped bring to Bravo! Vail the esteemed philharmonic orchestras from New York City and Philadelphia, as well as The Juilliard School to the Vail Dance Festival.
"The raison d'être of our family foundation has been to provide music and dance. Culture: That was our objective and plan. Betsy was the engine," says Wiegers, whose wife enjoyed a successful publishing career at Time-Life Books while he was an investment banker on Wall Street.
At 84, George Wiegers is mostly retired, though his coffee table holds several hardbound books about business as well as magazines about business and fishing. Alpine skiing originally lured the Wiegers to Colorado. "I've been a skier all my life, so that was the motivation behind Vail," George Wiegers says. "Vail was home for about 30 years." The couple also made a home at Sky-lark Ranch near Kremmling. An avid fly-fisherman, Wiegers enjoys angling the Colorado River. "Our family is mostly here now: Denver and Vail. Colorado has spread its wings in our family," says Wiegers, a sixth-generation New Yorker.
Asked what the American West offers that the East Coast does not, Wiegers answers, "Everything! Freedom and variety and informality."
The Wiegers' Mile High City penthouse manages to feel informal yet luxurious. When he purchased the property in 2019, the sale set a record for cost per square foot in Cherry Creek North, one of Denver's toniest neighborhoods.
But the closing was just the beginning. A team of artisans and craftspeople went to work on stark white walls, harsh right angles, largely commercial-grade construction.
"It was a blank canvas," says Megan Bee, the owner's representative/project manager for the penthouse's interior design. "George wanted to offset all of that severity. And he wanted color."
Bee got involved in the project through her mother, Maeve McGrath, a long-time personal friend of the Wiegers.' McGrath, a seasoned art consultant, worked with the homeowner to acquire works for the penthouse.
After purchasing his posh aerie in Denver, Wiegers visited a home in Jacksonville, Florida.
"He was very impressed with the renowned collection of contemporary masters acquired over at least a half-century, particularly the Abstract Expressionist pieces. He brought back the catalog of this collection and declared that he wanted art to be the prominent interior feature of his home," McGrath says.
McGrath initially showed Wiegers offerings of the New York auction houses.
"That was not the route he wanted to take. No single painting really spoke to him at all," says McGrath.
"Make it fun" was Wiegers' main directive to his creative crew personalizing his Denver penthouse.
He says, "I buy art based on a feeling: 'Cheer' is the best word for it. I figure you could go around with a cloud over your head and be blue, or be cheerful." Yet Wiegers knows full well that good cheer is not always readily bidden simply by gazing upon fine art. The founder of Wiegers Capital Partners based in Denver, he's also one of Colorado's most generous philanthropists. In Denver, Wiegers provided seed money for the Helen and Arthur E. Johnson Depression Center at the CU Anschutz Medical Campus. Having witnessed his mother's ineffectively treated clinical depression, Wiegers—inspired by a psychiatrist's op-ed piece in The New York Times—helped establish a national network of depression centers providing high-quality, stigma-free, evidence-based mental health care.
At The Depression Center, art adds to the ambiance of wellness. Weigers says, "The art is more subtle, but it's there, it's part of it."
Wiegers' penthouse collection includes some of Colorado's finest artists. McGrath says roughly 40 percent of the artists live and work in Colorado, and another 40 percent are represented by Colorado galleries.
Wiegers was an investment banker of the first magnitude, and he says art can prove a wise investment.
"I didn't buy for that reason. I could never do that," says Wiegers, "but obviously art has been a wonderful investment. Just look at what happens in these auctions. Art is a great investment for astute participants."
The Details
Worth Interiors oversaw the interior design of this Denver residence with direction from Eddy Doumas, owner, and Maggie Dinger, project manager and design associate. worthinteriors.com 970-949-9794
"I thought of Dorothy's line in The Wizard of Oz: 'She didn't have to look any further than her own backyard,'" says Megan Bee, a Denver native who served as the homeowner's representative and project manager and prioritized local art and merchandise. meganbee.com
General Contractor: Mark Harrell / Harrell & Associates
Lighting Design by Eric Naughton / Electrical Logic, Crested Butte
Electrical Contractor: Wrangler Electric
Colleen Smith—who renovated a 100-year-old Craftsman bungalow in historic central Denver— writes about the arts, gardening and other topics for many publications.