Byte Bars: A Healthy Snack for Active Lifestyles
Colorado Cousins with a dream to improve energy bars found in retail markets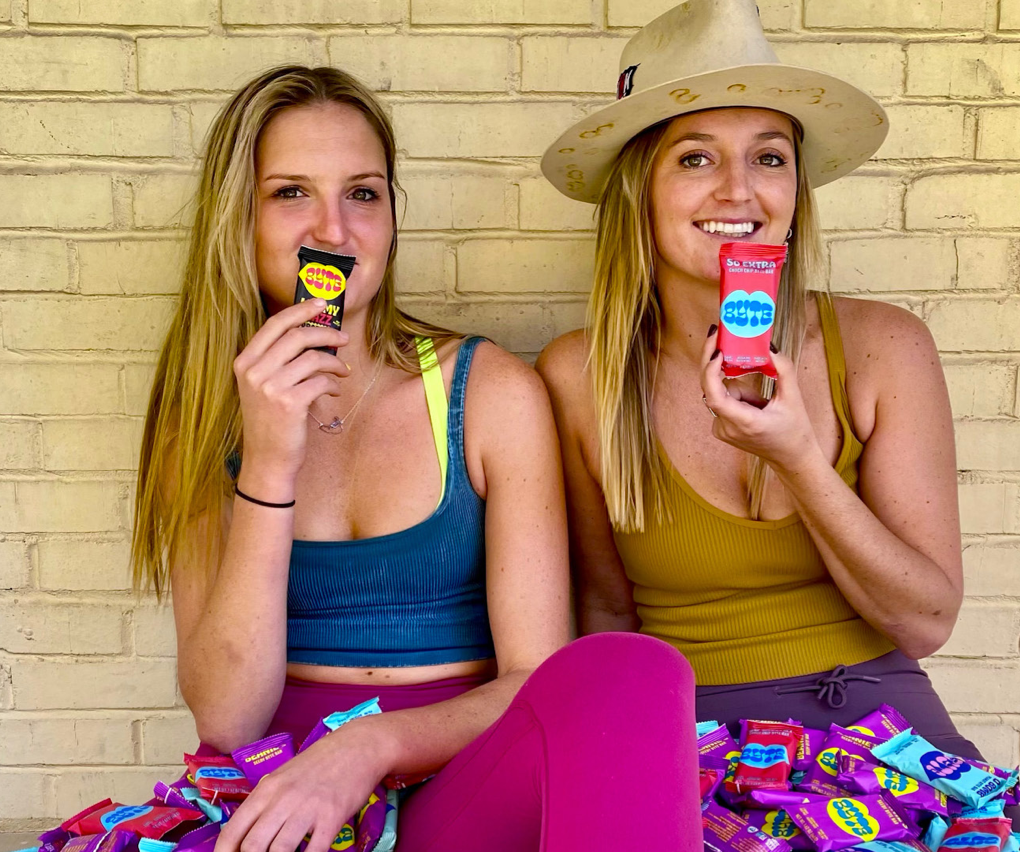 What began as a kitchen dream to improve energy bars found in retail markets has burgeoned into reality for a pair of locals who wanted a healthy snack that fit their own and others' active lifestyles. Cousins and University of Colorado alumnae Casey Nunnelly and Sabina Rizzo co-founded Byte Bars in 2018 with confidence that their product would succeed.
The willingness to try, fail and try again has been ingrained in these two women from childhood. The cousins come from a family of entrepreneurs, including a grandfather, Herman Dupre, who patented the first snow-making gun. Additionally, "Our moms are the two oldest of nine girls, and so we come from a big female-empowered family—and that runs through both of us and helps us in the business world," says Nunnelly. The folks in Boulder's natural foods community also were quick to assist when the pair needed help.
"We had our whole brand identity before the actual bars," says Nunnelly. "We've always been stoked about the branding and knew that would be just as important as our product." The pair are active outdoors people who wanted their brand to represent "being healthy and comfortable in your own skin." Additionally, they value their playful nature and love for the Rocky Mountains—assets that are ingrained in their branding and their product.
Nunnelly and Rizzo started with five ingredients and a tablespoon, "which is kind of where the byte name came from, scooping the blended mixture out of a food processor," says Nunnelly. Their kitchen recipe included healthy, raw and organic items like oats, peanut butter and dates, says Rizzo. When they concocted a recipe that they thought would work, they approached a manufacturing facility to help convert the kitchen recipe into a mass recipe.
"Unfortunately, the bars were too crumbly," shares Nunnelly. "The product essentially came out as granola." So the women sought out a food scientist for advice. After a bit of reformulation, the bars eventually made their debut at a Boulder library café, and Byte Bars was off and running.
In just a little more than a year from the kitchen concept, Byte Bars were being sold in Whole Foods Market stores throughout Colorado. Other locations in the state soon followed: Choice Market, Leevers Locavore, Marczyk Fine Foods and a variety of mom-and-pop coffee shops.
After listening to consumers, the Byte team added a protein bar to the product line and started offering nut-free bars. "People would look at our wrappers, looking for more protein and complex carbs. Others said they loved the branding but were allergic to peanuts," Rizzo explains. "That's when we decided to have a nut-free option to expand our reach."
At the same time, the business partners tweaked their original recipe, adding monk fruit—a natural sweetener without calories or sugar—to enhance the flavor and MCT oil, a fat derived from coconuts that, says Rizzo, feeds the brain and "helps kick cravings."
In January, the Lemmy Razz Protein Byte Bar joined the updated Choco Chip, Cinna Cherry and Peanut Butta "no-regrets" energy Bytes. The bars are packaged into two squares in each wrapper for portion control.
Two more protein bar flavors are in the future, as well as an expanded shelf presence and marketing campaign. Later this year, Byte Bars will be found in King Soopers stores, and the women hope to move the product into Whole Foods stores in other regions. A variety of locations in California and Washington state also stock Byte Bars.
Byte Bars
bytebars.com
Cynthia Pasquale is a Denver writer.