CBD For Beauty and Wellness
Based in Denver, Jihi offers products to aid skin, soothe muscles and promote sleep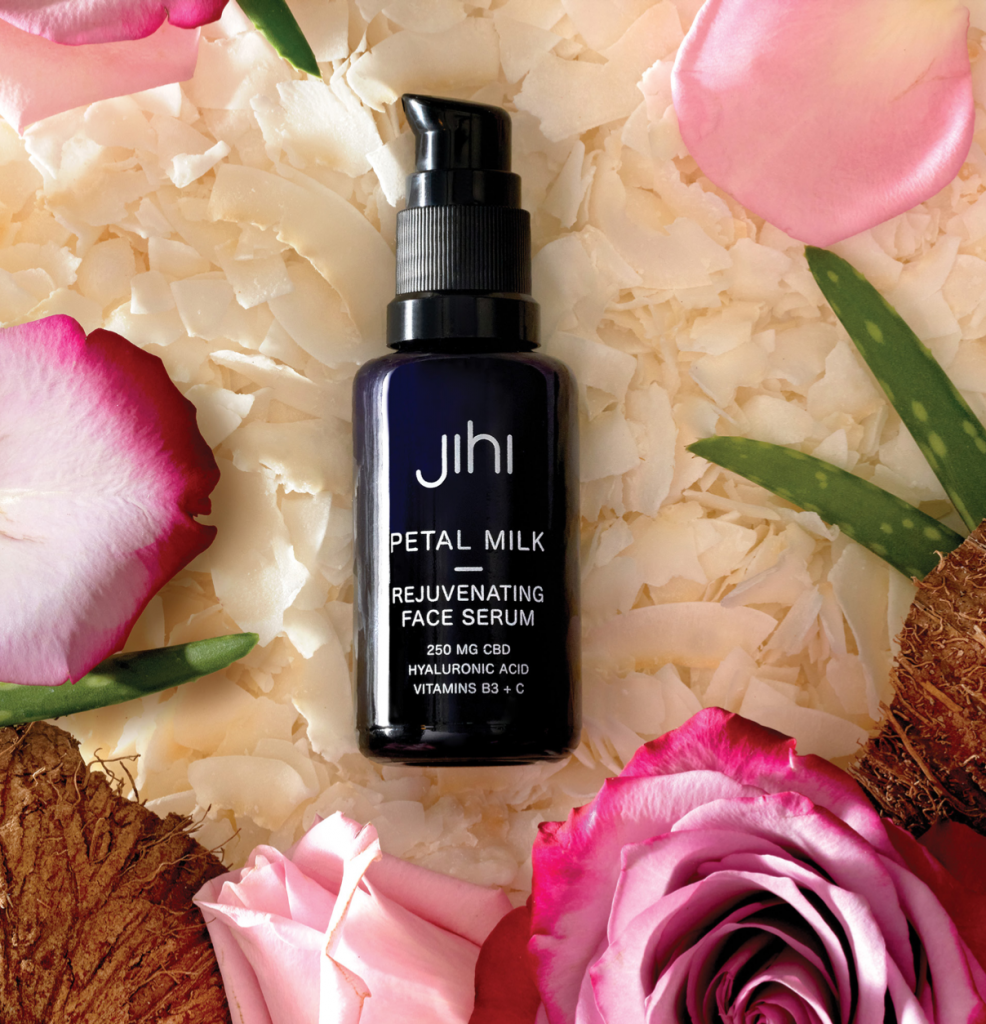 CANNABIDIOL—better known as CBD—has been a buzzy skincare ingredient for nearly five years. It's become such a popular trend in skincare that Jennifer Beck says she's tired of hearing about it.
That sounds slightly counterintuitive, since Beck is the co-founder and CEO of her own CBD company. The entrepreneur and her husband, Chase, launched a self-care
brand, Jihi, in 2019 to harness the power of hemp-derived CBD in products to help those with sensitive skin.
Beck is a huge believer in CBD as a skin- care ingredient, especially for anyone expe- riencing breakouts and signs of aging (and who isn't having one of these issues lately?). But, she says, some companies eager to jump on the CBD bandwagon have infused it into products with a lot of fillers or hyped it as a miracle cure for everything from anxiety to psoriasis.
Overinflated claims aside, Beck said it's time to get real about CBD. "I believe we need honest marketing as to how CBD performs and how it can best be used to enhance your inner and outer wellbeing," she says. And just in case you're wondering: No, CBD will not get you high.
If it sounds like Beck knows a lot about CBD, there's a good reason for it. In 2013, Beck and her husband launched Cannabase, which at the time was the first and largest online wholesale marketplace for the legal cannabis industry. They eventually sold the company in 2016, but continued to follow the CBD industry and its booming use in skincare. After trying a variety of products, the Becks were convinced they could do better by putting their cannabis knowledge to use.
And what the data suggests, says Beck, is that applying CBD topically can help block the degradation of our own naturally produced cannabinoids. That means over time the benefits to our skin could be significant. "The cannabinoid system in our skin helps manage oil regulation, skin cell turnover, and inflammation," Beck says.
After taking a year to formulate the products, the Becks launched Jihi—a Japanese word for compassion—in January 2020. The products skew toward an older audience, and Beck says she even wanted Jihi to have a "mature-hippie feel." But if you're expecting patchouli oil and tie-dye packaging, think again: Jihi leans more sophisticated than psychedelic, with its upbeat colored packaging and sleek, dark bottles.
Jihi's current three-product range—Petal Milk Face Serum, Merriment Body Balm and Reverie Herbal Supplement—addresses such issues as fine lines and wrinkles, aching joints and sleep problems.
The formulations use naturally active ingredients—no fillers, fragrances or sub- stances known to aggravate the skin—and Beck infused each of them with triple-tested CBD to fight inflammation and restore skin balance.
Petal Milk Serum, $55, includes a medley of non-comedogenic oils such as camellia and meadowfoam seed, making it a hydrating and restoring addition to any anti-aging regimen either on its own or layered under a moisturizer.
Merriment Balm, $50, is a cooling, tingling salve that helps ease joint and muscle pain with the addition of menthol and arnica. (Beck even suggests applying it to condition nails and cuticles.)
Reverie Supplement, $75, is a sweet orange-flavor nighttime tincture that Beck proudly says is probably the best tasting hemp-based elixir available. This non-habit forming combination of CBD, calming skullcap, and a touch of melatonin is designed as a sleep aid. If you suffer from middle-of-the-night wakeups, follow Beck's advice and combine Reverie with Merriment to turn off your mind, soothe muscles and get back to sleep quickly.
Going forward, Beck's goal is to round out her line by giving each product a partner. In 2022, look for new launches including Petal Milk Cream (hydrating moisturizer rich in collagen and black tea to complement the serum), and Merriment Body Balm in a stick formulation (perfect for traveling, stashing in a drawer at work or even to use while on the golf course or to relieve tennis elbow). And for Jihi's popular Reverie supplement, Beck created an antioxidant-rich, high-powered overnight face mask.
As Beck expands her line, she continues to show how she's rethinking the CBD skincare landscape and creating mindfully sourced and formulated products for delicate skin. So far, Beck has been pleased with Jihi's reception, as she has yet to have anyone contact her with an adverse reaction to the products. "We take skincare seriously," she says.
THE DETAILS
Jihi products, priced from $55 to $75, at jihi.com
Georgia Alexia Benjou is a regular contributor to Colorado Expression.