Top Floral Fragrances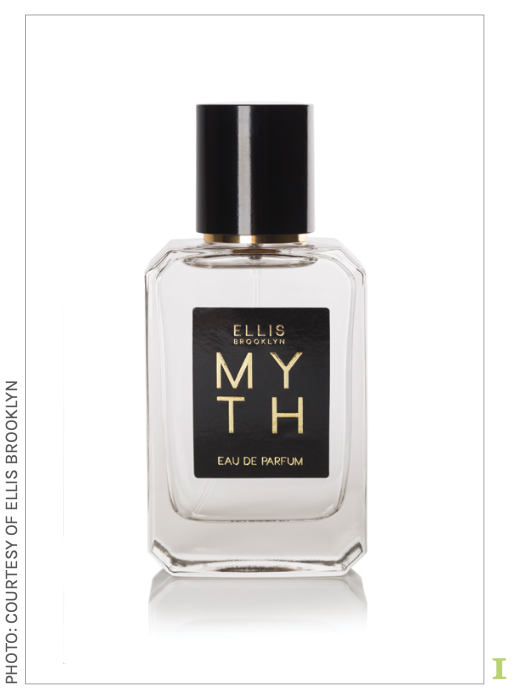 In the world of perfume, a heart of flowers can harmonize an entire scent
A CLASSIC FLORAL fragrance tends to evoke thoughts of a big, heavy floral bouquet. We're thinking notes of heady, velvety gardenia and intoxicating, sweet jasmine. But today's master perfumers are experimenting with floral fragrances by crafting modern yet dreamy scents that are accented with citrus or woody notes. Here, we've rounded up our favorite floral scents that pair perfectly with this most romantic of seasons.
1 For an au courant twist on a classic floral, try Myth by Ellis Brooklyn. Launched in 2015 by Bee Shapiro and named after her daughter Ellis, this line of fragrances combines clean beauty ingredients with sophisticated scents. Shapiro, who is also a beauty columnist for The New York Times, crafted Myth as a soft, powdery blend of jasmine petals and tiger orchid with a base of white cedar and musk. It's feminine without being overpowering.
Ellis Brooklyn Myth, $105 for a 50 mL eau de parfum or $30 for 10 mL travel spray at Sephora, sephora.com and ellisbrooklyn.com
2 Inspired by the ancient central Asian city of the same name, Gallivant's Bukhara is an exotic take on a floral scent. A sophisticated warm- and-woody floral, it opens with spicy and fruity notes, while its heart is comprised of iris with just a hint of jasmine before settling into a base of resin, amber, musk and wood. Star perfumer Ralf Schwieger, best known for his work with Frédéric Malle, crafted Bukhara. This unisex fragrance is just one of many scent journeys that Gallivant founder Nick Steward takes around the world in perfume.
Gallivant Bukhara, $95 for 30 mL eau de parfum, at Modern Nomad, 2936 Larimer St., 303-862-5091, modernnomaddenver.com
and gallivant-perfumes.com
3 Renowned French nose Francis Kurkdjian is regarded as one of the most visionary perfumers working today. His Aqua Vitae Cologne Forte is best described as a bright floral, with brilliant citrus top notes of mandarin orange and bergamot. It then opens into floral and solar notes that are accented with musk and Indian sandalwood. Think Italy in summer—it's warm, citrusy, floral and sensual all at the same time.
Maison Francis Kurkdjian Aqua Vitae Cologne Forte, $135 for 1.2 fl. oz. or $225 for 2.4 fl. oz., at Neiman Marcus, neimanmarcus.com; Bergdorf Goodman, bergdorfgoodman.com; Saks Fifth Avenue, saksfifthavenue.com; Bloomingdales, bloomingdales.com; Cos Bar, cosbar.com; Nordstrom, nordstrom.com; and franciskurkdjian.com
4 Founded in 1760 and having relocated to Paris in the mid-1850s, the House of Creed is one of the most historic perfume maisons still crafting scents today. Its light and fresh Floralie is an ode to flowers, with top notes of marigold, Bulgarian rose, tuberose and lilac. Its heart of lily of the valley is delicately anchored by amber and cedarwood. A soft, sophisticated feminine floral, Floralie is sweet, rather than saccharine or girlish.
Creed Floralie, $415 for 2.5 fl. oz., at Neiman Marcus, 3030 E. First Ave., 303-329-2600, neimanmarcus.com and creedboutique.com
5 Boulder-based niche perfumer Dawn Spencer Hurwitz has been crafting scents for nearly 30 years. She has also worked with top designers to create exclusive perfumes, and had a line of concept fragrances that were sold at Barneys New York in Tokyo. The beauty of the Taj Mahal and its adjoining Paradise Gardens inspires her recent olfactory creation, Taj Garden. Blending happy clementine with cool green leaf top notes, it opens into a lush floral heart of water lily, marigold, rose and jasmine and finishes in a super soft drydown. Spencer Hurwitz says it's one of the most uplifting perfumes she's ever created—which makes it a perfect scent for celebrating spring's romance.
DSH Taj Garden, $80 for 30 mL eau de parfum or $145 for 60 mL voile de parfum spray, at dshperfumes.com
Georgia Alexia Benjou is a regular contributor to Colorado Expression.