Beauty Products to Boost Your Self-Care Routine
Revamp your skincare and wellness routines with beauty products and treatments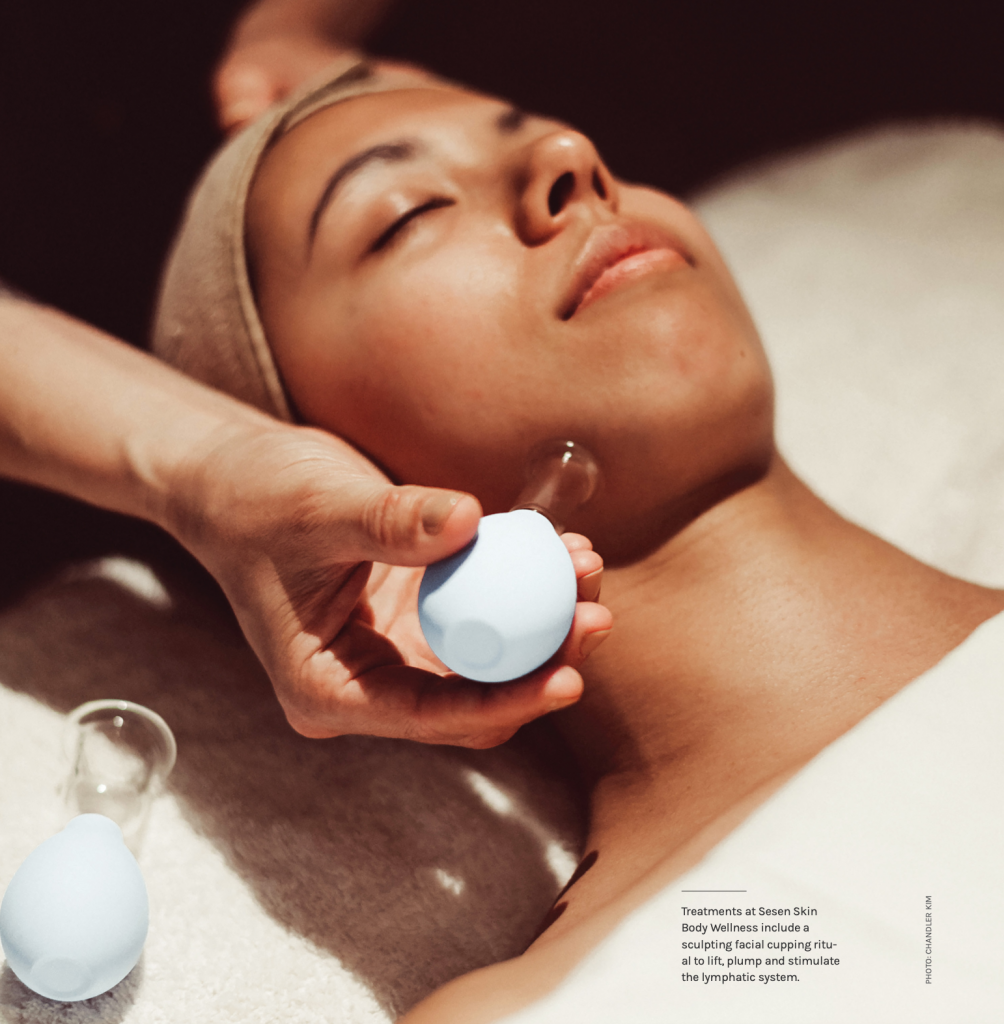 GOODBYE BOOZE, BONBONS and blowout meals. Come January—after weeks of indulging in food and drink, dealing with travel anxiety and holiday-induced stress—it's not unusual to look in the mirror and see skin that's less than glowing. In short, the season of giving can leave skin dehydrated, reactive, sensitive and puffy, with more pronounced wrinkles and even breakouts.
That's why now is the perfect time to recalibrate your skincare and wellness rituals. Whether you're looking to target fine lines with the latest at-home beauty device, level up your grooming regimen, or want to find the most effective spa treatments, we've rounded up some of our favorite products and services to boost any self-care routine.
SKINCARE
WE TURNED TO local beauty and wellness guru Michael Moore for tips on how to quickly rejuvenate skin. At the top of his list: the Euphoralight LED Pro Device by Truth Treatment Systems ($350). This rechargeable LED Mask treats both the outermost layer of skin as well as the dermis layer below it by delivering three different intensities of LED light treatment, allowing for a customized experience. "This LED mask treats anti-aging by stimulating collagen, firming skin's elastin and promoting blood circulation," Moore says. Available at Moore for Life, 3035 E. 3rd Ave., 303-484-1857, mooreforlife.com
For a moisturizer upgrade, Moore recommends Omega 6 Healing Cream by Truth Treatment Systems ($79). This rich cream combines Vitamin C and Omega 6 fats to help improve skin hydration levels, while refining texture and smoothing fine lines. "Use this cream on anything that needs a little TLC," Moore says. "It's even amazing for dry cuticles, lips and hands." Available at Moore for Life, 3035 E. 3rd Ave., 303-484-1857, mooreforlife.com
Swap out your usual serum for one that improves skin hydration. Denver-based Intelligent Elixirs Vitamin B-5 Hydrating Serum ($50) is a clean, oil-free, hyaluronic acid gel that co-founder Cat Tatman says reduces transepidermal water loss to balance the skin's internal hydration level. "While a moisturizer treats dry skin on the surface by acting as a protective barrier and helping it hold moisture, a hydrator helps the skin hang on to its internal moisture," Tatman says. It's also lightweight and suitable for any skin type. Available at ieskincare.com
Retinol improves skin texture, increases collagen production, and reduces fine lines and wrinkles, but the downside is it can cause dry and irritated skin, and even peeling. Dr. Dennis Gross's latest launch—Advanced Retinol + Ferulic Intense Wrinkle Cream ($75)—has a hydrating formula that includes retinol and natural retinol alternatives to handle heavy-duty anti-aging concerns, while antioxidants hydrate the skin and repair the moisture barrier. Available at Sephora, Sephora.com
IF YOU HAVE AT LEAST 60 MINUTES
If your skin is in need of some serious TLC, head to Sesen Skin Body Wellness for either the Lymphatic Facial Ritual ($185) or the Sculpting Facial Ritual ($190). Both are ideal winter skin treatments that provide lymphatic support, hydration, gentle exfoliation, and imbue the skin with targeted nutrients. Founder and chief skin specialist Stacy Webb advises choosing the lymphatic ritual for a focus on lymphatic drainage, and the sculpting facial for lifting and a deeper massage. Sesen Skin Body Wellness, 1220 E. 17th Ave., 720-443-2715, sesenskinbodywellness.com
MEN'S GROOMING
MEN'S SKIN TENDS TO BE THICKER and oilier than women's, and shaving can cause irritation and ingrown hairs. The takeaway? Men need products specially formulated for their faces. Here are a few products that will make every man's grooming routine more effective.
In 2002, French chemist Marie Veronique developed her own line of natural, nontoxic skincare products after finding nothing on the market to effectively address her rosacea. Today, her line melds nature and science to solve skincare issues for men and women without the hype of current "it" ingredients. Her Shave Prep + Daily Wash ($35) includes D-panthenol and lactic acid to clean and gently exfoliate the skin. Follow it with her post-shave Finishing Oil ($65), which is rich in free fatty acids and ceramides to restore and rebuild the moisture barrier. Available at Vert Beauty, 3442 W. 32nd Ave., 303-623-8378, vertbeauty.com
Skincare doesn't extend just to your neck but also your scalp. To help keep hair and scalp healthy, pick up one of Carbondale-based Leaf People's scalp oils, each one with its own combination of potent botanical ex- tracts and cold-pressed plant oils. The Scalp Support Oil ($65-$122) with strengthening ashwagandha nourishes dry or depleted scalp and promotes overall radiance, while the Scalp Boost ($72-$135) with Swiss apple stem cells helps maintain healthy follicle cells, especially for hair that tends to be oily. Available at leafpeople.com
HYDRATE
IF YOU'VE BEEN SKIING, snowboarding or enjoying other outdoor winter sports, sometimes your skin needs more than a cream. That's where Boulder brand Skin by Tru's Perfection Balm ($97) comes in. This professional-grade, small-batch skincare line's nearly scentless balm (it has just a hint of vanilla) is for anyone experiencing serious winter dehydration. We love its fluffy texture (so unlike the waxy feel of most balms), and the combination of potent Vitamin C and ceramides that help reduce environmental damage, fade discoloration as well as calms skin and reduces sensitivity. Available at truskincare.com
Though we frequently think about swapping out our face moisturizer or serum for a more hydrating formulation during the winter months, we don't always extend that thought to our body care. But just like your face, it's easy for the rest of your body to become dehydrated, irritated and even itchy due to colder outdoor temps and dry indoor heat. Here are a few of our favorites to help protect your skin from moisture loss and premature aging.
Those with sensitive skin who want to avoid scented body moisturizers have options. The Body Lotion by Nécessaire ($25) is both unscented and hydrating. Its formula is rich in vitamins B, C and E, as well as Omega 6 and 9 fatty acids to moisturize and strengthen skin. Available at necessaire.com
Body oil is an excellent way to seal in moisture, and Osea Malibu's Undaria Algae Body Oil ($48) is a cult and celebrity favorite. This seaweed-infused formula is high in antioxidant minerals and fast absorbing, so it doesn't leave any residue on clothing. Apply it to damp skin to seal in moisture. Available at Aillea, 144 Steele St., 720-708-5168, aillea.com
Upgrade your hand lotion with one from Boulder-based Pangea Organics. Its formulas are crafted with a proprietary blend of essential oils and plant-based bioactive ingredients, all sourced from more than 50 organic farmers around the world. "We harness the best ingredients from nature in our formulations, at active levels for real results you can see and feel," says Jaimee Holmes, senior vice president of sales and marketing. The deeply replenishing Hand Cream ($48) includes soothing calendula and nourishing green tea, as well as anti-aging Reishi mushroom to protect like a second skin. Scents include Egyptian bergamot and geranium or Moroccan cedar and sandalwood. Available at pangeaorganics.com
Georgia Alexia Benjou is a fashion stylist, editor and brand consultant whose work has been seen in numerous national and interna- tional publications, as well as a variety of fashion and lifestyle advertising campaigns.