Global Livingston Institute: Helping Underserved Communities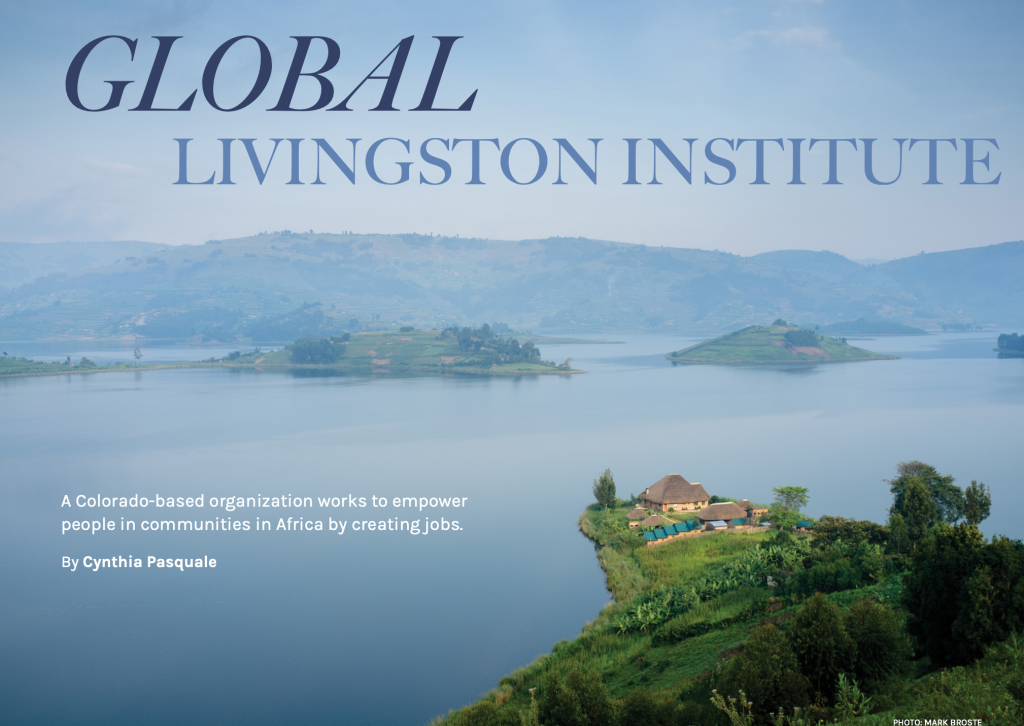 A TRIP TO EAST AFRICA in 2016 with the Global Livingston Institute opened Amber Valdez's eyes about the ways many organizations strive to help underserved communities but sometimes fall short. In northern Uganda, she saw churches that had been abandoned and decrepit schools, built without plans for future maintenance. "Americans go in and we absolutely think we understand what is best, but a lot of time, we're not listening to what the people we're trying to serve actually need," says Valdez.
She had just graduated from the University of Colorado Denver with a master's degree in public administration when she visited Uganda and Rwanda to learn more about GLI's community development model. "The motto of GLI—Listen. Think. Act.— showed me that if you want to do work in other countries, you need to listen to what [communities] need, not just do what we think they need," Valdez says.
GLI was founded in 2009 by Jamie Van Leeuwen, who named the organization after Johnston R. Livingston (1923-2008), an entrepreneur and philanthropist from
Colorado. Van Leeuwen, who visited Uganda and Rwanda in 2007 as part of the Livingston Fellowship he received from the Bonfils-Stanton Foundation, came away with the impression that good intentions did not always produce results. Through GLI, Van Leeuwen aimed to engage with East African communities, not "fix" them, and to teach others that "there is another model to community development that we can take, one that empowers communities rather than creates dependence."
Over the years, as CEO of the organization, Van Leeuwen has partnered with academic institutions, community leaders and philanthropists to help reach GLI's goals of transforming lives, with an emphasis on creating jobs. In Uganda, for instance, two recycling centers, developed in partnership with the University of Denver, are gearing up to eliminate 50 metric tons of plastic from the environment every month. The centers not only provide jobs, they also generate revenue. Also thanks to GLI, in northern Uganda, about 1,000 former child soldiers are now farming, and GLI is helping to move their crops to market by building more efficient systems. That project was done in partnership with students from Cornell University.
GLI also produces large festivals in East Africa, where musicians from the United States—including many from Colorado—have teamed with those in Uganda and Rwanda for concerts. The festivals, says Van Leeuwen, not only share culture and music with rural communities, but are also a way to connect young people and women with access to HIV testing and other health services.
Over the years, more than 3,000 people have participated in GLI's immersion programs, traveling to Africa to learn more about the countries and develop best prac- tices. The journey ends with a stop at the Entusi Resort and Retreat Center, which was established in 2012 in southern Uganda as a place for students, leaders and travelers to relax, learn and discuss social issues. The center, which is operated by Ugandans, hosts various events, including women's leadership retreats, youth summits and mental health training conferences.
GLI is preparing to rebuild the center with the help of BuildStrong Education, the foundation of Oakwood Homes. Company founder and CEO Pat Hamill is a long time supporter of GLI and pledged to match the first $100,000 for the project. Training practices developed by BuildStrong Academy will teach Ugandans the skills they need to participate in the Entusi remodel and prepare them for employment after the project is complete. "We think we've got something unique in the academy model that demonstrates how to do capital projects in hard-to-serve parts of the world," says Amy Schwartz, executive director of BuildStrong Education.
In November, GLI released Listen. Think. Act.: Lessons and Perspectives in Community Development, a textbook in which Ugandan and U.S. authors detail GLI's work. And while GLI's focus is international development, Van Leeuwen knows that visits to Africa or GLI's virtual learning sessions can be translated into good works at home. During her trip to Africa, Valdez participated in a women's retreat where participants shared tips on supporting each other and the next generation. Now she practices what she learned through her lobbying firm, Valdez Public Affairs, as she works to ensure there is diversity that reflects the population in government. She also uses the listen-first model as a board member of a group building a community center in the Westwood neighborhood of southwest Denver. "Before the project got funding and before we made any moves, we talked to neighbors in nine different languages and asked them what they wanted. We talked to other organizations in the neighborhood so that we wouldn't repeat efforts but would create an ecosystem that works in the area," she says.
In 2020, she also became chair of GLI's board of directors. "I'm really thankful to Jamie for opening up my world view and to GLI for being able to show me how small this world really is and that we have so much in common with people that we think we might not have."
THE DETAILS
GLOBAL LIVINGSTON INSTITUTE
1031 33rd St., Suite #235
Denver, CO 80205
globallivingston.org
Global Living Institute partners with academic institutions, community leaders and philanthropists to transform lives through job creation in Africa. It also offers immersion programs to train leaders in development practices.
Cynthia Pasquale is a Denver-based writer.