Colorado's Holiday Season Events & Activities
Celebrate the holiday season throughout Colorado with these events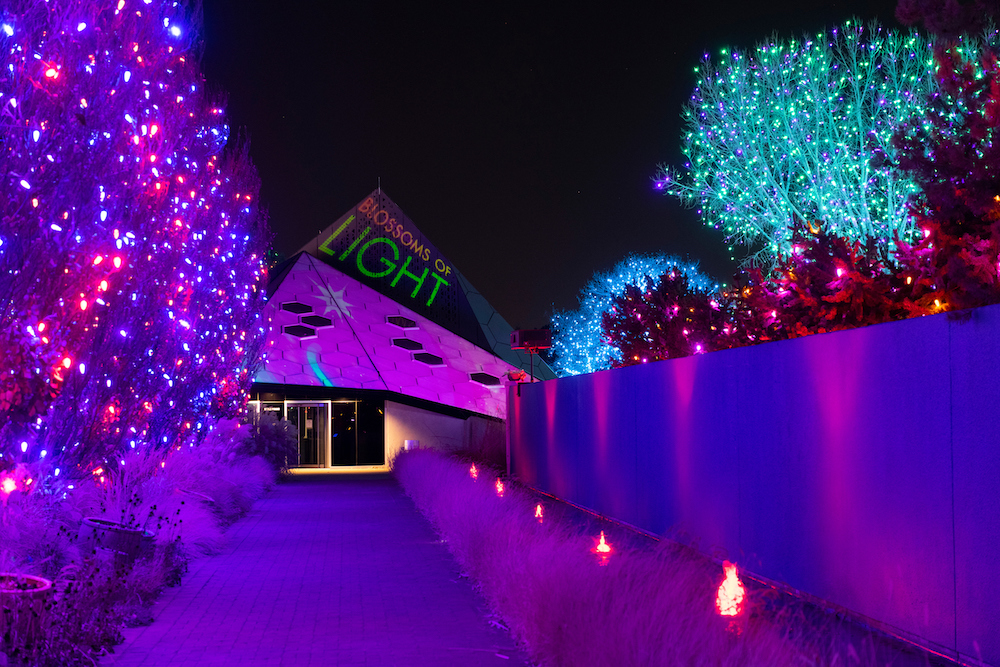 COLORADO IS A FANTASTIC PLACE to revel in the holiday season, whether you want to experience dazzling light displays and Old World shopping or train rides and yurt dinners.
Here are a dozen ways to make the most of the season throughout the state
1 Step Inside the Mile High Tree
At 110 feet tall, the Mile High Tree is an immersive art installation in downtown Denver. The dazzling music and lights show runs for 5 minutes every 15 minutes and is fun to experience from inside the tree.
Mile High Tree
16th and Welton streets, downtown Denver
Nov. 19-Jan. 1
Free
denver.org/milehighholidays/tree
2 Hop on The Polar Express
All aboard the train ride and show at the Colorado Railroad Museum in Golden, which recreates the magic of the beloved children's book, The Polar Express, and leaves every passenger believing in Santa Claus. Tickets include a cabaret-style show with holiday caroling and the "Hot Chocolate" song and dance in the heated Polar Express Pavilion. Then passengers get a ride to the North Pole aboard vintage coaches pulled by a coal-fired steam locomotive.
The Colorado Railroad Museum is operated by the Colorado Railroad Historical Foundation, which provides education and programming about the history of railroading in Colorado, and is sponsored in part by the Scientific and Cultural Facilities District.
Polar Express Train Ride
Nov. 11-Dec. 23
Tickets are $80 per person, ages 2-15; $100 per person, ages 16 and up.
Colorado Railroad Museum
coloradorailroadmuseum.org/polar-express
3 Strap on Some Skates
The world's largest Zamboni-groomed outdoor ice rink is at Evergreen Lake. All ages can skate the lake or play hockey. Reservations are required for individual public skating and private group skating. On-site skate rentals are available.
Ice Skating
Monday through Friday, 3-7 p.m.; Saturday, 8 a.m. to 8 p.m.; Sunday, 8 a.m. to 7 p.m., weather permitting.
Rates: $8 per hour for individuals; rent the rink for up to 10 people for $40 per hour on Evergreen Lake.
Call 720-880-1391 before visiting; weather may affect hours.
4 Trek to a Gourmet Dinner
Snowshoe or cross-country ski along a 1-mile trail from the Peanut Lake Trailhead in Crested Butte to the yurt, where your tour guides will become your servers, offering a five-course dinner prepared by chef Tim Egelhoff, paired with local libations and live music as you warm up and enjoy a leisurely evening.
Yurt Dinners
Select dates starting Dec. 22
$155 per person, including snowshoes or ski equipment.
Crested Butte Nordic Center
cbnordic.org/things-to-do/magic-meadows-yurt/yurt-dinners
5 Experience the Holidaze
The spirit of the holiday season is imbued in this Broadway-style musical with a twist of circus and a splash of Vegas, in a family-friendly format. Touring nationwide, the show integrates seasonal favorites and top performers in imaginative, glitzy costumes while putting a new spin on the old favorites.
Cirque Dreams' Holidaze
Nov. 19-Jan. 2
Tickets start at $29
Bubly Theater at Gaylord Rockies tickets.
gaylordrockies.com
6 Stroll Through the Vignettes of Camp Christmas
The over-the-top immersive holiday display designed by multimedia artist Lonnie Hanzon and presented by DCPA Off-Center is inspired by "gaudy holiday windows" and could not be any more festive and over-the-top. Each scene transports visitors to Christmas in different times and places, and the entire exhibit is a wonderland of selfie stations. You will see animals made of glitter, ornament chandeliers and neon trees in the flashiest sight of the season. Don't miss the Christmas cocktails at the Santa Bar and the Blucifer tree ornaments in the gift shop.
Camp Christmas
Nov. 18-Jan. 2
Prices TBA
Heritage Lakewood Belmar Park 303-893-4100
denvercenter.org/tickets-events/camp-christmas
7 Shop German-style at Christkindlmarket
Reminiscent of Old World Germany, the longstanding Christkindlmarket is hosted by the German American Chamber of Commerce. The market is filled with artisan merchants, and you can purchase pretzels, pierogis, speck, knodel and blinchikis, as well as German beer, glühwein, schnapps and hot chocolate. Entertainment is also on the schedule and you can meet St. Nikolaus, Krampus and the Christkind herself. Keep an eye on the events calendar to learn more about Canine Christmas, Ugly Sweater Night, '70s Night and other fun events.
Christkindlmarket
Nov. 19-Dec. 23
Free admission
Civic Center Park
christkindlmarketdenver.com
8 See a Gingerbread Extravaganza
The Broadmoor Hotel is home to one of the top gingerbread displays in the country. What started with a single gingerbread house on view in 1964 grew into life-size displays by 2013 and has since included a gingerbread chapel, train, and even a replica of the Colorado Springs resort. Last year's display was a replica of the newly redesigned Broadmoor Manitou and Pikes Peak Cog Railway. The cookie creations are created by the Broadmoor's in-house pastry chefs. This year's theme will be a secret until it is unveiled on Nov. 24.
Broadmoor Gingerbread
Nov. 24-Jan. 1; free Broadmoor Hotel
broadmoor.com/holidays
9 Be Dazzled by the Lights
Blossoms of Light at the Denver Botanic Gardens started in 1988 and creates new designs and features each year to keep annual visitors intrigued. The volume of LED lights, estimated at more than a half-million, are custom strung and interwoven throughout the garden—a feat that takes 13 months to design, plan and execute. Treats and warm drinks are available at the Hive Garden Bistro. Timed tickets must be purchased in advance.
Blossoms of Light
Nov.19-Jan. 8
$16-$19 for members and $18-$21 for nonmembers.
Denver Botanic Gardens
botanicgardens.org/events/special-events/ blossoms-light
10 Sip Tea at The Brown
Afternoon tea has been a favorite elegant tradition for many generations, and what better setting than The Brown Palace Hotel, where they deck the halls — as well as the archways, the tree, the eight-story atrium and the chandeliers for the holidays. The pastries, scones and tea sandwiches are handmade; the Devonshire cream is flown in from across the pond. Holiday reservations are typically made
a year in advance, but the regular tea is a treat throughout the year as well.
Afternoon Tea
Monday through Sunday, noon to 4 p.m.; prices start at $42
The Brown Palace Hotel and Spa
brownpalace.com/dining/restaurants/afternoon-tea
11 Listen to a Live Orchestra while Watching a Muppet Classic
As Kermit the Frog navigates Christmas past, present and future following the original Dickens tale, the Colorado Symphony Orchestra plays the movie soundtrack of A Muppet Christmas Carol. The movie is projected onto the big screen and the songs are amplified in a live concert. The unconventional event draws those who are new to the symphony and delights symphony regulars.
Disney's A Muppet Christmas Carol in Concert
Dec. 22-23; tickets start at $15
Boettcher Concert Hall
tickets.coloradosymphony.org/6022
12 Enjoy a New Take on The Nutcracker
This modern holiday mashup is true to E.T.A. Hoffman's original story written in 1816, set to Tchaikovsky's classic score, with a vibrant New York City backdrop replacing the traditional 19th century Germany. In lieu of ballerinas, the cast is composed of all-star hip hop dancers, a DJ and a violinist.
The Hip Hop Nutcracker
Nov. 19-20
Prices TBA
Buell Theater at Denver Performing Arts Complex
denvercenter.org/tickets-events/ hip-hop-nutcracker
Danielle Yuthas is a Denver native and the vice president of marketing for a franchise brand. Her articles have also appeared in Franchising World Magazine. Yuthas loves Christmas, and when she is not hosting holiday parties of her own, you can find her searching for vintage ugly Christmas sweaters and ornaments for her Barbie-themed tree.