Sophisticated Seafood at Water Grill
A steward of the ocean, Water Grill delights seafood lovers in our landlocked state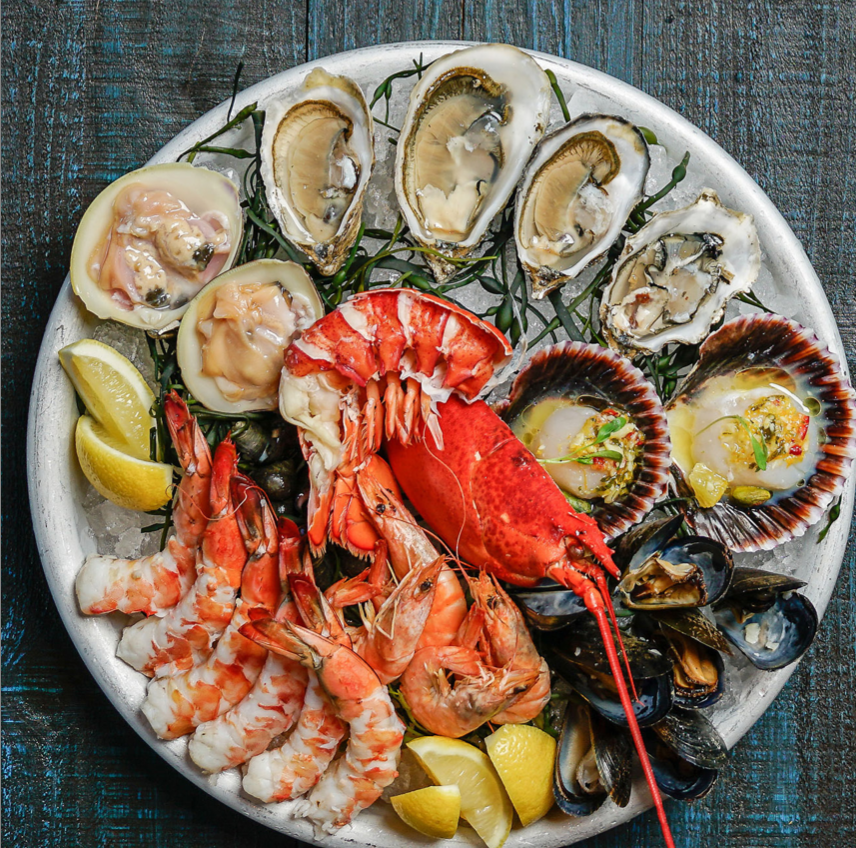 A
lthough Colorado has long been associated with another variety of oyster (cough, cough), we actually have come a long way in the seafood cate
gory, especially considering our state is 1,000 miles from the nearest ocean. Enter Water Grill, a new concept just off the 16th Street Mall proving Denverites to be sophisticated, mollusk-loving diners who want more than steak and potatoes.
There are six Water Grills (four in California, one in Las Vegas), yet the newly opened Denver outpost reports live-tank sales (crabs, lobsters and prawns) are up 40 percent over any other location, with raw bar sales up 30 percent. "It proves that Denver locals are searching for things they can't normally get here in Colorado," says general manager Travis Robinson. "Serving live product here is obviously challenging, so not a lot of restaurants are able to do it. But because we have our own distribution company, we can do it successfully."Robinson is referring to King's Seafood Distribution, a family-owned, 15,000-square-foot facility in Santa Ana, Calif., that has been in operation for more than 75 years. With a solid foundation in responsible sourcing and sustainability, co-founder and CEO Sam King opened his first Water Grill in 1989 in downtown Los Angeles, an ultra-fine dining establishment with white tablecloths and servers in tuxedos. "But by the early 2000s, the King family realized the era of stuffy fine dining was over," explains Robinson. "Sure, guests want Michelin-star service and food, but they also want a place to enjoy oysters on the way to a baseball game."
The new generation of Water Grill restaurants offers a more approachable environment where people can come gussied up for dinner or sit at the raw bar in T-shirt and flip-flops. This is one of the reasons they company chose the location in the heart of LoDo. "When we started looking to expand in Denver before Coors Field was built, it didn't feel right yet," remembers King. But he came back a few years ago and was blown away by the booming construction downtown. When King saw the new build at Market Station within blocks of Coors Field, Union Station, Empower Field and the Convention Center, he immediately realized the space had a foot-traffic pattern with great potential.
As for the 9,400-square-foot restaurant, it is massive, with low-key nautical decor and 237 cushy dining room seats in an elevated, swanky setting. Costa Mesa-based Hatch Design Group didn't want the space to feel "cookie-cutter," says Robinson, so they added details unique to the Colorado location, such as reclaimed wood, a stone hearth fireplace and cowhide booths using materials from local Angus. "Our biggest fear is being called a chain restaurant. So when we go into a new market, we strive to be different than our other locations," he adds.Also unique to Denver are certain local items on the menu, such as Mystic Mountain Mushrooms, striped bass, bison short ribs and Colorado draft beers. "We want to source local products as much as possible," says Robinson, who is currently in negotiations with Golden-based Grateful Bread for their rolls and breads, and is looking to source peaches from Palisade. His favorite dishes on the extensive menu include the Live King Crab, Farmed Peruvian Bay Scallops, Charcoal-Grilled Australia Spiny Lobster, Chilean Sea Bass, Alaskan Black Cod, and the Clams Chorizo. "Oh, and the key lime pie has such a great reputation," he says.
The stunning 36-seat market-style raw bar offers a more casual space, with up to 24 varieties of oysters offered at any given time and two to three shuckers doggedly keeping up with demand. Along with a glistening copper bar top, 10 beer taps and flat-screen TVs, the garage door-style windows open all summer to absorb the energy from the city and embrace the open-air atmosphere. King says the raw bar is akin to the European brassieres that showcase grand seafood counters with colossal iced shellfish platters. "We want to celebrate seafood," he says.
Yet, the lingering question remains: Can our Water Grill actually get fresher oysters than its sister restaurants in California? Robinson says yes, then explains: "Depending on the day of the week and time of day, driving from our Santa Ana distribution center to Water Grill San Diego will take eight hours door to door (this includes stops and deliveries at the other restaurants)," he says. "Compare that to a two-hour flight to Denver, plus driving time, and you receive your seafood in half the time. It's a crazy concept."
So can we finally put the Rocky Mountain Oyster jokes aside, please? It's clear we can do a lot better.
THE DETAILS
Water Grill
1691 Market St., Denver
303-727-5711
watergrill.com/denver
Open at 4 p.m. daily, with lunch service starting mid-summer. Water Grill receives live seafood shipments every Monday, Wednesday and Friday. Three private dining rooms will be added to the space this summer.
Rebecca Gart is a freelance writer living in Denver with her husband and teenage son. An avid home chef, she is the former food editor for Delicious Living and has written for Cooking Light and Natural Health. Her favorite oyster is the kumamoto.