Carboy Winery: Colorado Grapes to Wine
A glimpse into the tactics and traditions that Carboy Winery uses to make its award-winning wines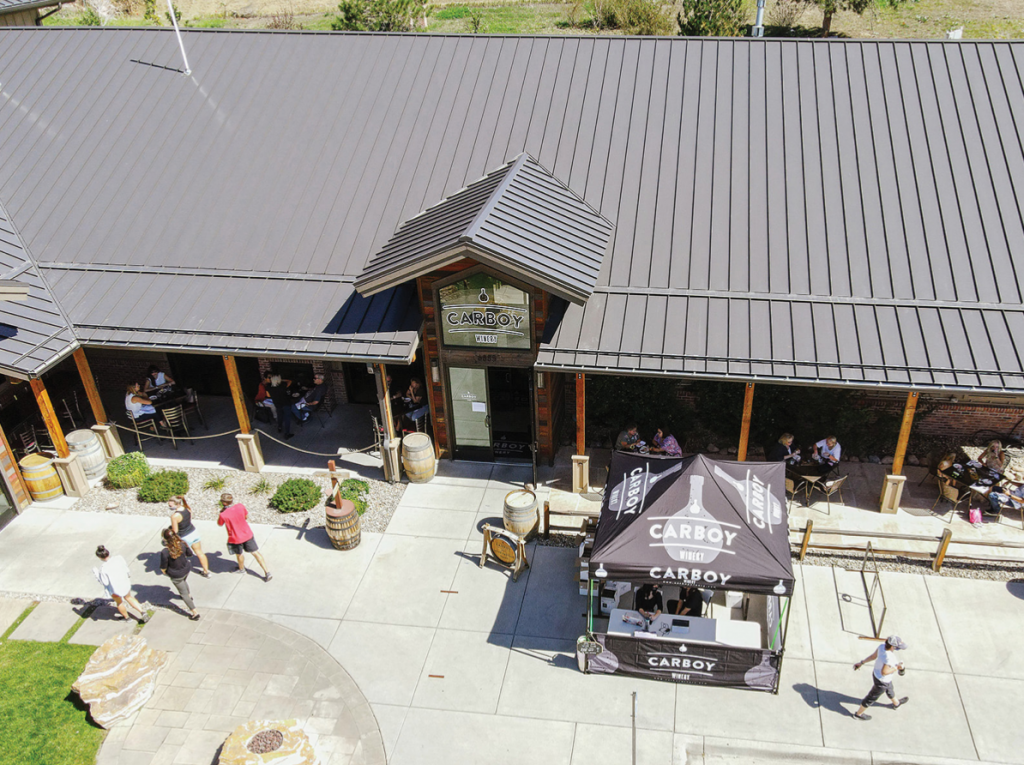 ONE OF THE SECRETS of turning Colorado grapes into good wine is to let the fruit be. "You have to listen to what the grape is saying," says Carboy Winery's CEO, Kevin Webber. With a shorter growing season and loamy, mineral soil, Colorado grapes have a high acidity and "lend themselves to a leaner, food-friendly, European-style wine."
Webber calls Carboy's winemaker, Tyzok Wharton, a grape whisperer for producing attention-getting, award-winning wines. "Early in my career, I was leaning more to- ward numbers—pH and sugar content," says Wharton. "Over the past 16 years, I've learned to get out and taste the grapes. The instrument of the palate is sometimes more in tune than chemical analysis."
The winery's Teroldego won the Best of Show award in the 2021 Governor's Cup Winemaking Competition, topping 257 other wine submissions from 41 Colorado wineries. It was Wharton's first endeavor making wine from the Teroldego grapes, which originated in northern Italy.
Webber says the Teroldego is "like a Syrah, but more approachable, with some fun, alpine-fresh characteristics to it." The first release was small, but Carboy is planting more of the cold-hardy vines for future vintages.
Carboy opened its first winery in 2016 in Littleton. Since then, Breckenridge and Denver sites have been added, and in September 2021, Carboy purchased two vineyards and a winery in Palisade. Each location has its specialty: The Littleton location produces still wines; the Brecken- ridge winery is known for its cider brand; and Denver produces small-batch sparkling wines. "We feel like sparkling wine is something that will put Colorado on the map," says Webber, and so that will be the focus of the Palisade production facility.
Each location has a tasting room where you can sample selected flights or settle in with a glass or two and enjoy appetizers, salads and sandwiches. "The whole point of Carboy is to bring innovative experiences and an unpretentious attitude to wine," says Webber. Carboy also partners with a vineyard in Washington state, which produces wines served on tap.
Carboy hosts reserved tastings where guests try selected wines, learn winemaking basics and the history of Carboy. Sensory tastings help wine lovers learn to identify aromas and flavors in wines. (Can you distinguish the yellow pear, banana skin, lemon pith and starfruit in the Albariño?) Virtual tastings can be arranged, as can private tours. In addition, Carboy has a wine club, and it also entered the wine seltzer market in July 2021 with Cold Vines, seltzers in four fruit flavors made from Colorado's cold-hardy grapes.
Climate change impacted Carboy and vineyards around the world in 2020. Webber said they projected a 150-ton harvest in 2020 but only realized 100 because of the weather: Late-season, higher-than-normal temperatures followed by a hard freeze didn't allow the vines to acclimate properly, causing some vine death and lower crop yields. In 2021, Carboy hoped to harvest 170 tons but ended up with 37 tons, again because of climate issues.
Carboy is heeding Mother Nature's warnings and greening up all its facilities: The Palisade location is being renovated with a gray water system and solar panels. At the Littleton and Denver locations, energy usage is monitored, and Carboy hopes to add solar panels to those sites in 2022. Electric vehicle charging stations for those sites also is on the agenda.
The company was awarded bronze level status with Colorado's Environmental Leadership Program for its efforts to reduce waste by serving wines on tap. "With the use of our tank serving vessels, which are 300-gallon kegs, we saved over half a million bottles and corks from going into landfills and recycling bins," says Webber. "We're trying to continue to find ways to become more sustainable and have an eye toward energy use."
THE DETAILS
Carboy Winery
Carboywinery.com
Explore the website to learn about the winemaking process, find winery recipes, get tips on wine pairings, and build your wine vocabulary.
Locations:
Denver, 400 E. 7th Ave., 720-617-9410
Littleton, 6885 S. Santa Fe Drive, 720-531-5252
Breckenridge, 103 N. Main St., 970-771-3944
Palisade, 3572 G Road, 970-464-0941
Cynthia Pasquale is a Denver writer.