Sun Valley Resort Idaho Getaway
Idaho resort boasts history, nostalgia and superb skiing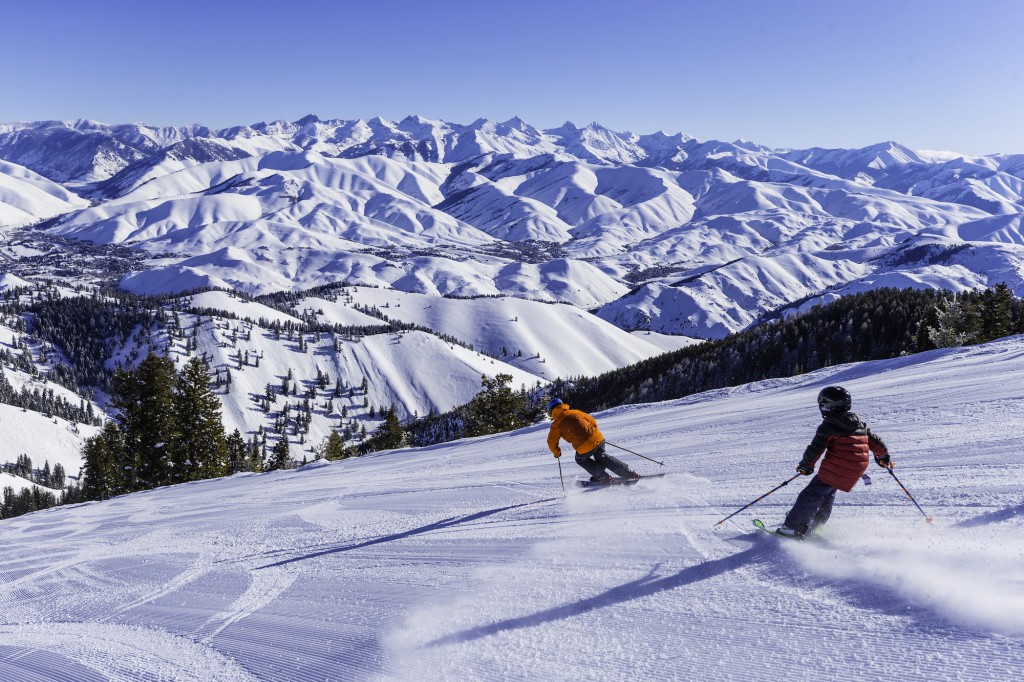 WHETHER YOU ARE a diehard shredder, love relaxing by the fireside, or want to spend your days lounging by the pool, Idaho's Sun Valley Resort has a plethora of lodging, dining and off-slope activities—tempting even the staunchest Colorado loyalist to make the trip and see what the mountains of Idaho are all about.
I am one of those Coloradans who can't fathom leaving this great state for ski season, but when a last-minute spring break trip presented itself, my family and I jumped at the chance to experience something new, and headed for Idaho.
There is something special about visiting a resort of yesteryear where one cannot help but feel the history. It's where Frank Sinatra and Ava Gardner schmoozed in between schussing on the slopes, and Ernest Heming- way visited to fish and write. As a privately owned resort that launched in 1936, Sun Valley became an elite getaway for movie stars and cinema moguls of the 1940s and '50s. Since then, it has remained a popular ski town, which had guest room and facilities updates in 2015. Today, with its modern amenities, the resort manages to preserve the charm of the past and meet the contemporary needs of travelers.
PANORAMIC PLAYGROUND
Skiing is, of course, at the top of Sun Valley's must-do list. Its more than 2,000 skiable acres offer panoramic views and a delineation that keeps beginners safe and gives experts plenty of terrain to tackle. Sun Valley has two diverse downhill areas: Dollar Mountain, with exposed beginners and intermediate terrain, and Bald Mountain, with tree skiing, expert chutes and deep powder.
Families like mine with littles of their own can feel great about leaving their children at Sun Valley Ski School on Dollar Mountain. In fact, our 4-year-old was recovering from a broken leg; the ski school team helped ease our concerns and our son had a blast while regaining his confidence on the slopes. One could argue that the best part of Sun Valley is indeed the skiing, but those who don't enjoy the sport will have just as good a time exploring other offerings. Ice skating, Nordic skiing, snowshoeing, bowling, pool time, game time, shopping in town or just relaxing make Sun Valley perfect for all generations of travelers.
Wandering through downtown Ketchum is just a short shuttle bus ride from the resort. A true main street experience, boutiques sprinkle the town, tempting window shoppers with high-end women's clothing at Panache and specialty local artisan gifts at Fox Creek Interiors. Antique Alley is fun for treasure hunters and, of course, ski and snowboard gear shops abound to keep you prepared for whatever the mountains throw your way.
RELAX AT THE SPA
Sun Valley's relaxation game is strong, with a massive heated pool, cabanas for sun protection and a full-service spa. Whether you want to enjoy a martini poolside after a day on the slopes, burn off energy in the water with the kiddos, or take in the alpenglow while wading in the water, the pool is the center of the resort's relaxation station.
The spa offers treatments with a holistic approach to wellness. Massages, facials, hair and nail care are standard options, but what truly sets the spa apart is the Body Ritual packages. Balancing, healing, detoxifying and restoring treatments will not only soothe your body but also provide a deeper dive into what full-body treatments look like. These experiences partner a massage component with cupping techniques, dry brushing stimulation, sound healing, or Nordic-inspired relaxation techniques.
Sun Valley's lodging, with its elegantly updated rooms, condos and homes, reflects a timeless design. From luxurious private residences for multigenerational gatherings to individual hotel rooms, each property is cozy, updated and equipped with everything you need to make your visit comfortable and restful—a true home away from home. While downtown Ketchum has a smattering of other lodging options, none compare to Sun Valley Resort's, which start at $210 per night.
DINING OPTIONS
It's great to not have to drive anywhere when on vacation, and this is where a resort environment really shines. Dining at Sun Valley is convenient and restaurants are eclectic. You can transport yourself on a new culinary adventure with each meal. Sample European pastries at Konditorei for breakfast fare; refresh yourself with regional craft beers and cocktails at Duchin Lounge off the resort's main lobby; or enjoy casual comfort food at Village Station with the whole family.
On-mountain dining is at its best at Roundhouse, with sweeping vistas, vintage ski paraphernalia, and delectable dishes to fuel your afternoon of powder hunting. The multiple base lodges provide traditional ski fare with plenty of room to spread out and nosh when looking to take a lunch break (or you need to bribe the kiddos with another hot chocolate).
One of Sun Valley's most unique adventures is dinner at Trail Creek Cabin. This memorable experience includes a round-trip, horse-drawn sleigh ride through a winter wonderland that drops guests at the historic Trail Creek Lodge.
Taking my family outside of our Colorado comfort zone was definitely worth it. Short lift lines, incredible skiing, charm for days, off-slope entertainment, and a family-friendly atmosphere will definitely tempt us back to this stunning valley.
Based in Boulder, Jordan Martindell blends her love of aesthetics and the outdoors, documenting adventures that are delicious, exciting and sometimes unexpected. She has written for Elevation Outdoors Magazine, Outdoor Retailer Magazine and offyonder.com.