Welcome Back, Zaidy's
Longtime fans and new diners help the iconic bakery and deli settle into its new home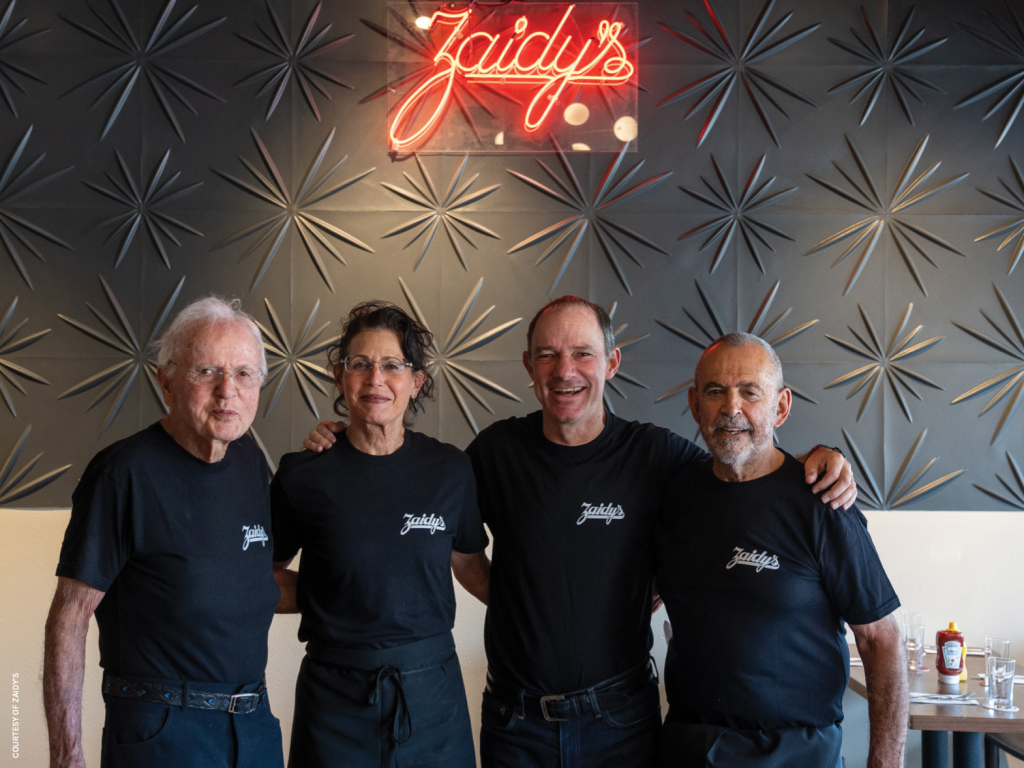 JOEL APPEL, the new co-owner of the reincarnated Zaidy's Bakery & Deli, says his restaurant is a "two-stop shop," meaning diners stop by two tables to schmooze on their way in, and at least two more on the way out. This, he explains, is the true definition of a neighborhood treasure where the community comes to gather. The name alone evokes family and closeness, he says, as Zaidy translates to "grandfather" in Yiddish.
Appel, along with his 90-year-old father, Max, and local baker and restaurateur Beth Ginsberg, are the powerhouse team behind Zaidy's 2.0, a brighter, shinier version of the iconic deli that sat on the corner of East First Avenue and Adams Street in Denver for three decades but closed in October 2020— another casualty of the pandemic.
Gerard Rudofsky, who owned the original restaurant with his son Jason, agrees the new Zaidy's is a renaissance of the original, with a modern vibe that's headed into a new century. Now serving as "Zaidy Emeritus" in a host position at the deli, the 81-year-old Rudofsky plays a title role in welcoming back his regulars and meeting new customers. "I'm just thrilled to be back in business and part of the action once again," says Rudofsky, who works six days a week.
The new space, located in Leetsdale Marketplace Shopping Center on South Holly Street, is decorated in a modern but subtle palette of gray, orange and dark brown, with a contemporary bar seating area in back (think Bloody Marys and mimosas all week long), with sunshine streaming in through the large windows in front and a large outdoor patio to welcome guests in warm-weather months.
Although the former deli in Cherry Creek hosted thousands of family dinners and events over the past 30 years, it was time to find a new location, says Ginsberg. "We looked at the original space and decided there were no advantages to staying there," she says. "It would have needed a tremendous amount of work to bring it back into code. Plus, the parking was awful."
The new restaurant has plenty of parking spaces and is still close to the Cherry Creek, Crestmoor and Virginia Vale neighborhoods. Ginsberg plans to open a bakery and carry-out market next door early this year in another 2,500-square-foot space, with bagels and a variety of cream cheeses, smoked fish, delectable cakes, Jewish pastries and even a halvah bar.
Although the dated green pleather booths and plastic-covered menus of the original space are long gone, the team was sure to bring the original neon Zaidy's sign, as well as the iconic black-and-white photos from the original restaurant. Of course, deli mainstays remain on the menu (like the Reuben, smoked fish platter and omelets), but much has changed within the food program, says Ginsberg, who also owns Trompeau Bakery on South Broadway and is the former owner of The Bagel Store on Monaco. Almost everything is now made in-house, including bagels, breads and pastries. The chefs cure and smoke salmon, hand-blend cream cheese flavors, and roast 1,700 pounds of pastrami and corned beef every three weeks that Ginsberg ships in from Los Angeles.
Since the grand opening in August, Appel says the reception has been off-the-charts. "Zaidy's customers really missed it, but we're doing things fresher and better now," he says with a small smile. "And there's parking!" The regulars are almost all back in their Saturday and Sunday morning groups, and were quick to tell Rudofsky what they wanted back on the menu that had been taken off. "They definitely missed the chopped liver sandwich," he says. "It wasn't exactly right in the beginning, but our customers gave us latitude. They were gracious."
Next up for the deli is a Friday night Shabbat dinner service with two seatings and a rabbi present to bless the meal, adding to its already expanded catering business for baby namings, bris ceremonies, box lunches for local businesses, bar and bat mitzvahs, and every type of family celebration in between.
Opening the new Zaidy's has been like a reunion, says Rudofsky. "The old customers were so sad we closed—including me—but they came right back. It gives me a great feeling that this is what Zaidy's meant to the community," he says. "And that's the bottom line: These people are like family. It's the name, the feeling, the gathering space."
Appel, too, feels positive about the future of Zaidy's. "With Beth's experience and reputation and Gerard's history, we are ensuring it's going to be here for a long time. I joke with Gerard that he'll have to be here another 35 years!"
THE DETAILS
Zaidy's Deli & Bakery
600 S. Holly St.
Denver, CO 80246 303-333-5336
zaidysdeli.com
Open seven days a week,
7 a.m.-2 p.m., with dinner service to start in early 2022.