A Luxury Stay in North Carolina at Old Edwards Inn & Spa
Historic Old Edwards Inn and Spa in North Carolina beckons with luxury and pampering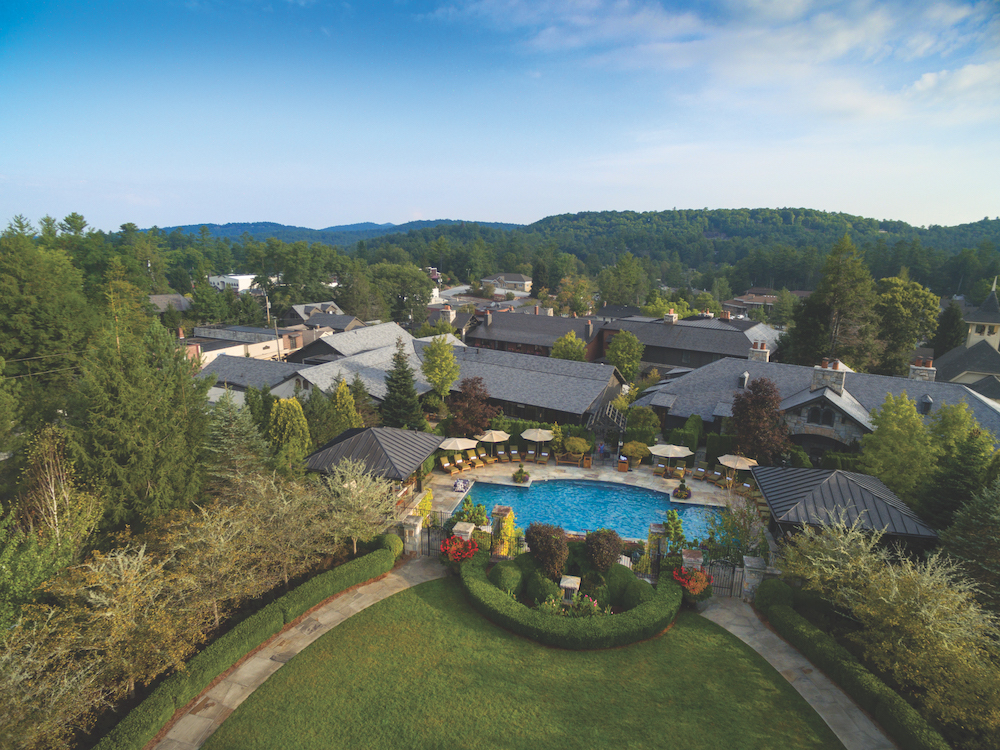 Photography Courtesy Old Edwards Inn
Just as the Colorado mountains attract vacationers who long for cool summer evenings and outdoor adventures, so does the high country of North Carolina. Among the more popular destinations in the southern Appalachian Mountains is Highlands. This mountain town was settled in the late 19th century, and between its historic charm and its proximity to such attractions as Great Smoky Mountains National Park and the Blue Ridge Parkway, it offers many reasons to visit.
One of the top places to stay in the region is the Old Edwards Inn and Spa on Main Street in downtown Highlands. The property was originally a boarding house known as Central House in the 1870s, and it changed hands numerous times before becoming Old Edwards and earning the prestigious Relais & Chateaux designation. Welcoming and luxurious, it regularly ranks among the top resorts in the South by such publications as Travel + Leisure, and is listed on the National Register of Historic Places.
When you check into the inn, the staff welcomes you with a glass of Champagne as you settle in to the most elegant lodging imaginable. You feel a sense of relaxation and quiet even though you are in the middle of town. Spanning almost four blocks in downtown Highlands, there are several different entities under the Old Edwards Hospitality Group's umbrella. The Lodge is in the middle of things, along with a pool and a croquet lawn. Accommodations include rooms, suites, cottages and full vacation homes. The inn rooms are decorated with period antiques, original artwork and Italian linens.
There are multiple places to eat and drink throughout the resort, with Madison's being the signature restaurant. It serves farm-to-table fare and such Southern specialties as shrimp and grits, and liver and onions, as well as steaks and seafood. Old Edwards also frequently hosts special dinners throughout the year in its Chefs in the House series, such as the Laurent-Perrier Champagne dinner it hosted in late July and an annual Oyster Fest in September.
Facials, massages and body treatments are offered at The Spa at Old Edwards. Therapists use natural ingredients—some sourced from the property's gardens—to soothe and pamper their guests with indulgent treatments like the Warm Wisdom Mud Mask.
Located 120 miles north of Atlanta, Ga., Highlands is the highest incorporated town east of the Rocky Mountains. Even for Coloradans who have climbed many mountains, these are a must-see. Located in one of two temperate rainforests in North America, Highlands averages 80 inches of rain a year. Visitors come to experience the waterfalls and scenic views in every direction. When driving around, those who get a little motion sickness should plan to put their phones down and focus on the horizon. The twists and turns in local roads make Berthoud pass seem like a walk in the park.
The season in Highlands is typically late May through Thanksgiving. Leaf-peeping season in the autumn is a great time to visit. And whether you vacation in summer or fall, from hiking in the morning to a round of golf in the afternoon, you will have breathtaking views to take in.
Just minutes from the bustle of downtown, Half-Mile Farm is the boutique little sister to the inn and lodge. This luxury country estate features 34 lovingly appointed guestrooms, with three stand-alone historic cabins, lush gardens, a mineral water pool and special Serenity Suite for spa treatments on-site. A chef-prepared breakfast is included with each room, as are complimentary hors d'oeuvres at social hour each evening. There is a canoe for paddling Apple Lake, or take a seat by the fire pit and just enjoy the bucolic surrounds.
A little farther down the road toward Cashiers is Glen Cove by Old Edwards, which offers "a lifestyle for generations." This community is a newer addition to the properties and a private club. The residential property has 32 cottages and 17 five-acre lots with mountain and golf course views. Residences have 2,400- to 4,700-square-foot floor plan options that include three to six bedrooms. These properties come with such extras as the fitness and wellness center. The Old Edwards Club is a five-minute drive from Glen Cove and owners can take advantage of all the amenities, including the golf course, pool and restaurants.
It's no surprise that families return to Old Edwards every year, just as people do to Colorado's dude ranches. The atmosphere is welcoming, and it's a place where memories are made.
Elizabeth Hamilton is the group publisher of Colorado Expression and Colorado Homes & LIfestyles.